Tusk to Tail: You know it's a bad night in Auburn when toilet paper hits the trees before the game ends
Join the team
If there's one thing Razorback fans know, it's that anything can happen. Sign up for our free headlines and never miss another play.
story by David Rice
Editor's note: Welcome to the fifth season of Tusk to Tail – the sport of tailgating as organized, performed and perfected by a group of Hog fans who have been tailgating together sober and otherwise for more than a decade. Members of the Tusk to Tail Team are Sean Casey, Jack Clark, Dale Cullins, Greg Houser, Craig May, David Rice and Mark Wagner. Tusk to Tail is managed by Talk Business & Politics against the advice of attorneys and family. The diehards may also be followed on their Facebook page. Or follow the crew on Twitter — @TuskToTail
––––––––––––––––––––
Late in the first quarter at Auburn, the Tigers held a three touchdown lead, requiring only about three minutes of game clock to do so. It only got worse in the 56-3 rout.
Last week we thanked God for Mississippi, the perfect opponent for the Razorbacks to get back to their winning ways. After getting whipped for the third time in eight weeks without much rest in between, Tusk to Tail now says thank God for the bye week.
Though the game got ugly quickly, the tailgate and the rest of the roadtrip experience came up aces. It all began Friday morning as Dale Cullins and Greg Houser left Fayetteville to meet up with Craig May's carload of Little Rock tailgaters. We convened at the Rendezvous in Memphis for our traditional lunch of sausage, cheese, ribs, and beer.
TTT has been doing this for years, nearly every time we travel East for an SEC game. We may be starting to show signs of our age. These aren't just regular calendar years; they are tailgating years, punctuated by 18-hour days of travel and gluttonous consumption. All of the guys are in our forties or older, so perhaps it should come as no surprise that our lunchtime conversation turned to our health. We discussed gout, prostate exams, and CPAP machines to prevent snoring. In an election season that once focused on "locker room talk," it is evident that Donald Trump talks in an entirely different locker room than the men of Tusk to Tail.
Auburn has been one of my favorite SEC destinations for quite some time. Toomer's Corner, their idyllic town square right off the campus, feels less like a college town than a quaint historic downtown you will find throughout Arkansas and the rest of the old South. Take away the neon beer signs from the bars lining the main drag, and it's the Mayberry of college football.
The fans at Auburn are generally nicer, as well. Across the state in Tuscaloosa, visiting fans will be harassed and catcalled mercilessly before, during, and especially after a game against the vaunted Crimson Tide. As much as 85% of Alabama's fanbase did not go to school there or have any other affiliation to the team, other than the Tide have won a lot of championships, and everyone loves a winner.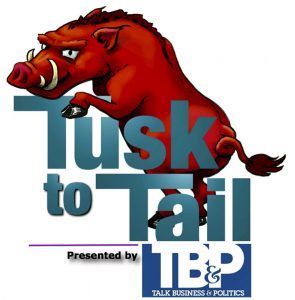 Things are different at Auburn. They too have won championships, and boast three Heisman trophy winners, but most of their fans live nearby or went to college there. It contributes to a much more civil atmosphere. The average Auburn fan dresses nicer and seems generally more refined than his Bama counterpart. It is quite common to be greeted and welcomed by each of the Tigers fans passing by. There's still some good-natured ribbing, and the occasional heated remark hurled our way. But violence just seems less likely when you're talking to a guy who knows which one is the salad fork.
Auburn has a couple of great game day traditions. Before kickoff, their live "war eagle" mascot is released, circling high above the fans before landing at midfield. On a sunny day like Saturday, the eagle's enormous wingspan casts an impressive shadow upon the stadium below. The experience will leave you glad you were not born a rodent.
Following a victory, the student body and thousands of other fans converge at Toomer's Corner to roll the famous oak trees and anything else that can be streamed with toilet paper. Tusk to Tail has seen a handful of Arkansas victories there where the trees were left untouched. On Saturday, however, Tigers fans didn't even bother to wait for the game's conclusion before launching roll after roll of tissue.
It was that kind of night.
Throughout the week, much attention was paid to the point spread set by the Las Vegas casinos. Many questioned why Auburn was favored by 9.5 points over Arkansas, who came into this game ranked higher. Wasn't Auburn head coach Gus Malzahn on the hot seat? If LSU had an extra fraction of a second on the clock the night they lost at Auburn, Les Miles may still be coaching, and Auburn could have been led by interim coach Rhett Lashlee.
Turns out the guys who built those beautiful billion dollar casinos knew what they were talking about. Auburn had already won the bet in the first quarter. It only took one play for the Tigers to score their first touchdown, a 78-yard run outside that took just 11 seconds off the clock. They tacked on two more quick scores in the opening frame, and eight touchdowns overall. Malzahn's job appears safe, at least for now.
That's life in the SEC., where you are only as good as your last game. Malzahn and Arkansas coach Bret Bielema have been coaching their respective teams for the past four years. These two men crafted the general shape of each program, including the recruitment of most of the players on the field Saturday.
Malzahn was considered an offensive genius who literally wrote the book on the no-huddle spread offenses so common in the SEC today.  Gus started out hot at Auburn, reaching the national title game in his first year as head coach.  Since then, however, he has won fewer games each year, losing favor with fans and potentially the Auburn administrators.
Bielema takes the opposite approach, grinding out yards and time with a methodical balanced approach. Bielema took over a massive rebuilding project at Arkansas, but has the Hogs on a steady upward trajectory. His Hogs have been ranked in the Top 25 most of the season, despite blowout losses to Texas A&M and Alabama, who were both unbeaten before playing each other Saturday.
No matter the offensive philosophy, if a team can run the ball and keep the other team from running, they will generally be successful. Evidence of this could be seen in our victory over Ole Miss, when running back Rawleigh Williams III earned SEC Offensive Player of the week. It could also be seen in each of our three losses. The A&M game will be remembered both for the Razorbacks' inability to gain a yard near the goal line, as well as allowing Aggie QB Trevor Knight to run for 157 yards and a pair of TDs.
Arkansas was on the wrong side of the equation again Saturday. The Tigers' stout defense limited Arkansas to a mere 25 yards rushing. Offensively, Auburn rushed for a staggering 543 yards en route to the worst SEC loss in Arkansas history.
I'm not sure if the loss can be attributed to playing eight straight weeks without a break, but it certainly didn't help. The only bright spot offensively was Adam McFain's career long 54-yard field goal at the end of the first half. It would have been nice to take some momentum into the bye week, but our players clearly need some time off to lick their collective wounds.
On the trip back to the hotel, Mark Wagner pointed out another highlight of the Pain on the Plains we just encountered.
"The kick return yardage allowed by Arkansas was the lowest of the season."
Nevermind that we only kicked off twice, once after the field goal and again to start the second half.
---
---
---