Tusk to Tail: With politics and football … sometimes all you can do is move forward
Join the team
If there's one thing Razorback fans know, it's that anything can happen. Sign up for our free headlines and never miss another play.
story by David Rice
Editor's note: Welcome to the fifth season of Tusk to Tail – the sport of tailgating as organized, performed and perfected by a group of Hog fans who have been tailgating together sober and otherwise for more than a decade. Members of the Tusk to Tail Team are Sean Casey, Jack Clark, Dale Cullins, Greg Houser, Craig May, David Rice and Mark Wagner. Tusk to Tail is managed by Talk Business & Politics against the advice of attorneys and family. The diehards may also be followed on their Facebook page. Or follow the crew on Twitter — @TuskToTail
–––––––––––––––––––
In every bar and barbershop, church and café in the state, it seems that everyone is either talking about the election or Arkansas football. And though the Electoral College never played an SEC schedule, it's remarkable how similar the two are.
Think about it.
With all due respect to Gary Johnson and that other lady, it's a two-party race. In the past, one would decide which party's values aligned with his own and vote accordingly. You still pick a side these days, but for a different reason.
Two parties is now the dividing line. It's us against them. Their candidate would surely drop the country to hell in a bucket. Only our guy or gal could set us right. You're either for us or agin' us. Vote for me or vote for doom.
No team on the Razorbacks' schedule brings out that level of intensity better than the LSU Tigers. The Boot trophy may have ratcheted up the rivalry a tad, but honestly it's just easy to hate these guys. Let's just say the Venn Diagram of LSU fans and obnoxious assholes has a considerable amount of overlap.
Our Godfather of tailgating Craig May, enjoying his 222nd of the past 223 games since 1999, extended an early olive branch to the visiting fans.
"Welcome to Fayetteville, Tiger fans," shouted May to a small group passing by our tent.
"What did you say to me," demanded the one wearing the Fournette jersey over his yellow hoodie. He genuinely seemed taken aback by the cordial greeting.
"I said welcome to Arkansas."
"I live here, man." the guy in purple pants replied before carrying on to their tailgate where they probably ate corndog étouffée and drank bottles of Tabasco while somebody played an accordion.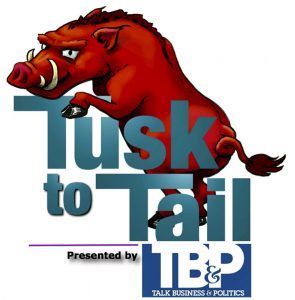 If we are comparing the LSU rivalry to our current political landscape, the Tigers would have to be Trump, right? The American voter is hungry for change, even if that means blowing up the establishment and starting anew. LSU fired their coach just four weeks into the season, virtually unheard of in the college game. It may be worth noting that LSU seems back on track following the shakeup, finally meeting lofty preseason expectations.
Until a viable candidate comes along, the third parties are basically just Alcorn State, allowed into the arena from some lower classification, but never taken too seriously. That would make Arkansas the Democrats, which feels right too. As my dad said, the Hogs are equal opportunity providers. They give up big chunks of yards to both the run and the pass.
Tusk to Tail was also in the giving mood.
The last home game of the season is a total liquidation, red tag event at The Big Top. Everything must go. As the bar began to drain before kickoff, tailgating mastermind Dale Cullins diverted others to full coolers of beer.
"I don't want all this stuff in my garage," he explained, handing me a Lost Forty Pale Ale.
It was a week of unpredictable outcomes in both football and politics. When I first flipped on the election coverage Tuesday, Trump's campaign manager said it would require a miracle for them to win. The famed FiveThirtyEight blog favored Hillary nearly four to one. You know how that turned out.
On Saturday, just three weeks before the final College Football Playoffs selection, the second, third, and fourth ranked teams were all upset for only the second time ever. The last time that happed was 1985, and Arkansas was the fourth ranked team. When I mentioned that factoid to my son, he asked, "We used to be number four?" I pray for a brighter future for our children, America.
Of course the bigger news locally is the upset that didn't happen. The state paper's esteemed panel of experts unanimously picked the Razorbacks to hold serve over the Bayou Bengals for the third straight year. Two of these gentlemen work for the unbiased journal Hawgs Illustrated, while another produced the Zen series on "Being" head coach Bret Bielema for ESPN.
As attention shifts to questioning the pundits who whiffed on election forecasts, perhaps the sports media should be held equally accountable. I don't do this for a living, and even I can see that the Arkansas run defense, to use a technical term, bites the big one. Perhaps a visit by the best running back tandem in the SEC, if not the entire free world, should be cause for concern.
If anyone felt concerned in the misfortunately named Victory Village, it was not self evident. Every tent was turned up, a fall fashion catwalk of cardinal and white served with a generous helping of skirts and boots. In the age of Brexit and a non-politician elected to the most exclusive American fraternity of only 45 men, it was an end of the world party, just in case.
Like any other campaign, the season takes its toll. The two candidates have aged exponentially over the past couple of years like countless politicians before them. Likewise, quarterback Austin Allen has not been as crisp and effective in the past two games. Double-A, previously proclaimed this season's savior, absorbs hit after hit each week. They tape him up and throw him out there again. I can understand what he's going through. By week 11 and the last home game, I'm feeling pretty crispy myself, and nobody's tackled meonce.
One of Tusk to Tail's mottos has been if it's worth doing, it's worth overdoing. But we set up every week by 9 a.m., and don't go home until long after the final whistle. The key to survival is pacing one's self. It's best to consume excess in moderation. I was explaining this theory to our friend Micah Strother from the Razorback Foundation, who stopped by our tent before game time.
"I try to drink a lot of water," I told her.
"Yes, that's what I was thinking when I saw you. 'That guy's been drinking lots of water.'"
That was before the Hogs got run out of the building for the fourth time this season. I likely wore all five of Saturday's rushing touchdowns on my face as I returned to the Big Top for the final home teardown of the season. But just as with the election, there is nothing to do but move forward. Whining and protest don't change the result.
On to Starkville.
---
---
---