Tusk to Tail: Winning Razorbacks and a winning 'Savvy' point to a great party
Join the team
If there's one thing Razorback fans know, it's that anything can happen. Sign up for our free headlines and never miss another play.
story by David Rice
Editor's note: Welcome to the fifth season of Tusk to Tail – the sport of tailgating as organized, performed and perfected by a group of Hog fans who have been tailgating together sober and otherwise for more than a decade. Members of the Tusk to Tail Team are Sean Casey, Jack Clark, Dale Cullins, Greg Houser, Craig May, David Rice and Mark Wagner. Tusk to Tail is managed by Talk Business & Politics against the advice of attorneys and family. The diehards may also be followed on their Facebook page. Or follow the crew on Twitter — @TuskToTail
–––––––––––––––––
It was a fantastic weekend to be from the state of Arkansas, particularly Fayetteville. Three of the biggest stars in the Razorbacks' double overtime victory over #15 TCU Saturday were Fayetteville High alumni.
Linebacker Brooks Ellis returned an interception for a touchdown, and fellow Purple Dog Dre Greenlaw fell on an early TCU fumble deep in Arkansas territory to keep the Horned Frogs out of the endzone. Quarterback Austin Allen earned SEC player of the week honors for his epic scoring frenzy in the 4th quarter and overtime.
A few hours after the announcement that Arkansas had entered both major football polls at #24, Fayetteville's own Savvy Shields was crowned Miss America Sunday night.
The entire state has been basking in the afterglow ever since. The sun seems brighter, and the grass is greener, just like Jack Clark promised.
People who actually breathe through their noses are starting to call sports radio again.
Luck comes in streaks, and the Hogs are hot, hot, hot. Going back to last year, Arkansas has won eight of the last nine, the lone loss being a 1-point heartbreaker to Mississippi State where the Bulldogs blocked a last-minute short field goal to preserve the win.
Things are going so well, this weekend's game against hapless Texas State has completely sold out. I know nothing about the Bobcats except that their campus is somewhere down there in the hills of Chainsaw Massacre country. I'm sure they are all nice young men and their mothers love them very much. But the home crowd is going to be fired up to welcome back the boys that defeated the Texas Christian Horned Frogs.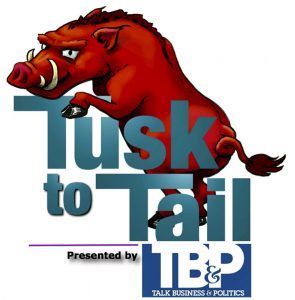 These heathen Bobcats shall be whipped thoroughly and mercilessly.
These Razorbacks still have some room for improvement, and this should be the time to work on a few things before going against #17 Texas A&M next week. An early lead could earn the starters some much-deserved rest, and possibly give some on-the-job experience to talented backups. Some of the players I would like to see get some meaningful reps include offensive linemen Zach Rogers and Jalen Merrick, running back Devwah Whaley, and quarterback Ty Storey.
The still-too-early-to-trust forecast says to expect some rain Saturday, but it looks like it should pass through before game time. Regardless, Tusk to Tail will be out there, calling the Hogs early and often.
In the meantime we are planning a welcome home party befitting the 24th best team in the land. As the Razorbacks get better, our tailgate gets bigger. Our tent has averaged between 80-100 guests this season, including one game on the road. Dale Cullins, the General Patton of our tailgating infantry, has been up to the challenge.
Cullin tries to plan the menu around the opponent. Since Bobcat didn't sound too appetizing, we chose to focus on the first part of our opponent's name this week, serving up Texas beef brisket. Party trays of chicken nuggets will be provided for the junior members of TTT, as well as baked beans and other traditional sides. We're hoping Dale's wife Kara makes her famous macaroni salad. It's so good your lips will jump off your face to kiss you on the cheek.
For a 6:30 p.m. kickoff, our bar will get an extra long workout. Our first Bloody Marys and mimosas will be poured about 12-hours before the final nightcap is consumed.
Whereas Hog fans once drank to drown our sorrows, we now raise a glass to victory. If last week is any indication, we should burn through a few hundred cans of beer.
Plenty of liquid inspiration will be provided to our wild band of Razorbacks fans. The stadium should be rocking Saturday night, and Tusk to Tail is anxious to be a part of it.
With great football comes a great party.
---
---
---