Tusk to Tail: Winner of Hog-Ole Miss game will be the best of the worst
Join the team
If there's one thing Razorback fans know, it's that anything can happen. Sign up for our free headlines and never miss another play.
The date (10-26) this prediction piece is posted is also Coach Bret Bielema's record in the SEC. Also, the first "Terminator" movie premiered on this date in 1984. And yes, the Tusk to Tail prediction for Bielema is that he'll be back.
When the football season is already shot to hell, bad puns from old movies are about as funny as it gets. Which is sad.
THE QUESTION
Who will be head football coach of the Razorbacks next year?
Willard Grandview
The Razorbacks' head coach in 2018 will be … (*vomits in trash can*) … Bret Arnold Bielema. Look, nobody's unhappier with this prediction than me because there's more than enough cause to send the monogrammed windbreaker either back to the hog farm in Iowa or to New York for a gig with CBS Sports.
But I'll refer you to Arkansas Athletic Director Jeff Long's comments on (of all days) September 11th: "Yes, winning is important," he said. "Now contrast that if you're a win-at-all-cost program, which we're not and I've said that many, many times, we're not. Then you don't worry about the academics, you don't worry about the conduct. You just win."
What screams win-at-all-cost more than cashing out your hand-picked head coach after even an admittedly hideous 14-game run? I don't think it happens. Not yet. I think some assistant coaches go, maybe the strength guy, too. But Bret, Jen and Briella get one more year to turn things around in the Ozarks. God help us all.
David Rice
While many seem ready to turn the page on the Bielema era, I think he gets one more chance. It would help if he and offensive line coach Kurt Anderson could appear to know what they are doing. Bielema frequently looks bewildered and confused on the sideline, while Anderson may be too depressed to even talk about it. Some wins would go a long way toward job security, starting this weekend. Another 0-8 conference record could be tough to overcome.
Todd Rudisill
Bielema will still be here. I just have a bad feeling Jeff Long is going to screw us. Again. It's time for a new AD. It's time for an AD with Razorback blood in them to take over.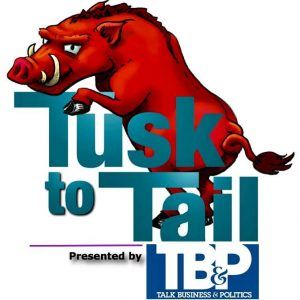 If Bielema is back, this 20-year season ticket holder will give some serious thought to letting his 4 seats go. I mean why continue to give a donation plus cost of 4 seats to the product that is being put on that field? You can always get seats to any game. I know others who are considering this as well. Jeff Long won't care though. As long as his new suites and loge boxes are filled, that is all he cares about.
THE GAMES
• Arkansas @ Ole Miss
Sean Casey
I'm not sure any of us know how to predict the winner of this game. Arkansas has lost their best lineman with Frank Ragnow, starting QB Austin Allen is out, and leading running back Chase Hayden is gone too. Ole Miss starting QB Patterson is out with injury, and their defense is awful against the run. Not sure why, and certainly no logic involved, I pick the Hogs to win 42-38.
Greg Houser
I have not given up hope on the Piggies. I have given up the idea that Bielema and his assistants can recruit and coach their brand of football. Everyone knows you can't out-Bama Alabama, but that doesn't mean you can't be the 2nd or 3rd in the west. I think the Piggies go down, even with the Ole Piss QB out for the season. 24-14.
Todd Rudisill
If Shay Patterson didn't get hurt, I would say the Landsharks win this one going away. Now it's a "battle" between back-up quarterbacks. Ole Miss has no run defense but Arkansas has no offensive line, especially with our man Ragnow now out for the season. What will give? Who will suck the least? I'm going to say the Hogs. I have no idea why. 'Backs 31-28.
• #11 Oklahoma State @ #22 West Virginia
David Rice
If you want to see offense, this is the game for you. The Cowboys lead the country in total yards per game. The Mountaineers are 8th. West Virginia is typically a hostile environment, but the 11 a.m. kickoff often leads to sleepy fans. Okie Light pulls away in the 2nd half, 42-31.
• #14 North Carolina State @ #9 Notre Dame
Don Moncrief
Where Notre Dame looked fantastic last week, NC State is a surprise team to me with nice wins over Louisville and Florida State, and they had an extra week to prepare. They also have a stout run defense. However, this is a big game at South Bend and Notre Dame is chasing a playoff berth. Notre Dame takes it.
• #4 TCU @ #25 Iowa State
Sean Casey
TCU enters Ames, Iowa with a top- 5 ranking, some impressive road wins (though not impressed by their win in Fayetteville), and an electric offense led by QB Kenny Hill. That said, TCU is facing a tough team in tough conditions. For the first time in more than a decade, Iowa State is ranked. The Cyclones road wins are more impressive than TCU's and includes a win in Norman where they planted the flag in the middle of Oklahoma's stadium. Game day in Ames is supposed to be pretty cold with a high of 42 and the possibility of snow that morning. I believe TCU is the better team but ISU comes away with the win. Cyclones win 35-31.
• #3 Georgia vs. Florida
Todd Rudisill
Strange things can happen in rivalry games, and it always seems to in this game in Jacksonville. Just not this year. Too much Dawgs. 34-13.
Greg Houser
The Largest Outdoor Cocktail party still delivers this year. Growing up in that area, I loved the 2-3 day parties leading up to this game. Both fan bases love football, and both programs rarely struggle. Population bases and athletic talent ensure that, but everyone is passionate about their teams. I'll give the edge to Georgia this year, but Florida could easily play above their ability. Bulldogs by 7.
• #2 Penn State @ #6 Ohio State
Willard Grandview
How can it take longer to bounce back from an our-coach-hired-his-mistress-and-lied-about-it scandal than it does to bounce back from a, well, an even worse scandal? Penn State has pulled it off with remarkable speed, and it's thanks in no small part to former Vandy head man James Franklin. He's recruited SEC-type speed and toughness to the Big 10 and it's paid off with one of the country's best teams. With that said, the Nittany Lions are +6 at the Horeshoe this weekend, facing a Buckeyes team with nothing to lose and a potential spot in the College Football Playoff to gain. I'd take Penn State and the points for entertainment purposes, but I like Ohio State to win the game 28-26.
Don Moncrief
This is a huge game for both teams. Penn State has looked great this season and Ohio State has played weaker competition. However, this is a payback game for Ohio State at home. I will take the favorite, but no doubt be aggressively yelling for James Franklin's bunch.
––––––––––––––––––––
Editor's note: Welcome to the sixth season of Tusk to Tail – the sport of tailgating as organized, performed and perfected by a group of Hog fans who have been tailgating together sober and otherwise for more than a decade. Members of the Tusk to Tail Team are Sean Casey, Jack Clark, Dale Cullins, Greg Houser, Craig May, David Rice and Mark Wagner. Tusk to Tail is managed by Talk Business & Politics against the advice of attorneys and family. The diehards may also be followed on their Facebook page. Or follow the crew on Twitter — @TuskToTail
---
---
---