Tusk to Tail: When Bielema said he'd give Arkansas 'something it has never had,' an 'Uncommon' amount of suck was not what we had in mind
Join the team
If there's one thing Razorback fans know, it's that anything can happen. Sign up for our free headlines and never miss another play.
It's been over a month since Athletic Director Jeff Long said Arkansas is "not a win at all cost program."
He's right.
The Razorbacks (2-5 overall, 0-4 SEC) don't win at all. Saturday marked the seventh consecutive loss to a Power 5 team, dating back to last year.
The comment had been made in support of head football coach Bret Bielema, assuring his job was secure for the moment. Long has been curiously quiet on the subject of football ever since, even reportedly forgoing the use of the luxury suite provided to visiting ADs last week at Alabama.
In the meantime, Matt Jones of the Arkansas Democrat-Gazette reported that Bielema's contract buyout may be a full $9.5 million less than the ludicrous $15.4 million sum previously thought to be owed if the coach was fired this year.
$5.9 million is still a lot of cheddar, until one sees the progress made on the suites and box seating being constructed in the north end zone of Reynolds Razorback Stadium. That project, scheduled to be complete by next season, has a budget of $160 million. Empty seats, like the tens of thousands that began to clear in the 3rd quarter after Auburn scored touchdowns on their first three drives of the 52-20 blowout, would not be a good look when Long unveils his latest vanity project.
So is Bielema's job secure or not? It's looking less likely each week that he's going to get things turned around. Coach said he would "give Arkansas something it has never had" as he detailed his five year plan to greatness upon being hired. All but the most foolish optimists may have been skeptical he could actually deliver a national championship.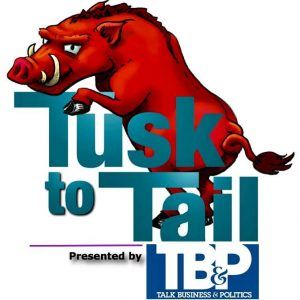 But this is year five. You want to talk firsts?
Bielema could become the first Razorbacks coach to ever have multiple winless seasons in the SEC. Danny Ford, Houston Nutt and even John L. Freaking Smith never went worse than 2-6 in conference. We've been paying this guy more than $4 million a year for what? Not one, but potentially two full seasons without a single win in the SEC. Bielema's conference win percentage (.278) is so ridiculously awful, it could be mistaken for a batting average near the bottom of the order.
No offense, Bret, but your five year plan sucks.
Of course most of that plan, just like our hopes, had been abandoned along the way. Remember when Bielema tried to sell Arkansas as a linemen factory that churned out bohemoths in the trenches? The biggest offensive line in football was featured on the cover of the 2015 media guide, as were their defensive counterparts the following year, each together as one cohesive unit.
Saturday was the eighth week of the season, including the bye week, and Bielema and his staff are still tinkering with the O-line. The same five guys haven't lined up in the exact same position for two consecutive games in ages. Of course that leads to sacks by the half dozen, including three that stripped the ball from quarterback Cole Kelley Saturday. Two of those fumbles were recovered by Auburn, the third bounced out of bounds.
Oh by the way, lowering turnovers was part of the plan too.
The number of penalties was also supposed to drop through the discipline of Bielema ball. So what's up with committing six in the first half alone, a whopping five called on that vaunted offensive line? Adios, Paul Ramirez, who was whistled three times before being benched.
It's hard to blame the line for looking shaky. In addition to lacking consistent reps, the old offensive strategy was seemingly thrown out the window. The same guy who once consistently called out the hurry up no huddle offense favored by Auburn coach Gus Malzahn decided to give it a go this week as well.
I'm sure Malzahn, who literally wrote the HUNH book, thought it was cute. The only thing our uptempo offense achieved in the first half was getting to 4th down a lot faster. The Hogs were 0-7 converting third downs to start the game.
There is one thing that has been incredibly consistent with Bielema's band of Razorbacks. When trailing at halftime, Bielema is now 0-18. And it's practically guaranteed Arkansas will be behind at the half. The Hogs have allowed 41 or more points in each of the four SEC losses. Auburn's first touchdown was such a foregone conclusion, we only sent nine men out to watch quarterback Jarrett Stidham saunter into the endzone.
And the wild thing is, half of these coaches who keep kicking Bielema's ass are in the hot seat themselves. That's good news for Ole Miss interim coach Matt Luke. At this rate, this week's performance against Arkansas will provide its share of career highlights.
––––––––––––––––––––––
Editor's note: Welcome to the sixth season of Tusk to Tail – the sport of tailgating as organized, performed and perfected by a group of Hog fans who have been tailgating together sober and otherwise for more than a decade. Members of the Tusk to Tail Team are Sean Casey, Jack Clark, Dale Cullins, Greg Houser, Craig May, David Rice and Mark Wagner. Tusk to Tail is managed by Talk Business & Politics against the advice of attorneys and family. The diehards may also be followed on their Facebook page. Or follow the crew on Twitter — @TuskToTail
---
---
---