Tusk to Tail: We were standing in line for a Pepsi when a pillow fight broke out
Join the team
If there's one thing Razorback fans know, it's that anything can happen. Sign up for our free headlines and never miss another play.
Arkansas' second consecutive opponent has an Aggie for a mascot. If the Hogs aren't 1-1 against Aggie-mascoted teams come early Saturday afternoon, expect social media to light up like the business end of a Kim Jong Un missile. There will be fire and fury about football. And maybe some other "F" words.
THE QUESTION
Bret Bielema's best record at Arkansas was 8-5 in 2015, including a win in the Liberty Bowl. Do you think he will ever do better than that here?
Willard Grandview
I can't believe we're talking about a year in which we lost at home to Toledo and Texas Tech as the potential high point of our head football coach's tenure. But the truth is that was an enjoyable year. Houston Nutt's 8-win seasons were enjoyable, too. Eight wins is not bad. But will Bret Bielema ever do better than 8? As Hjalte Froholdt might say, "nein." [Editor's note: Froholdt is from Denmark. It is unknown at this time whether he speaks German.]
Jack Clark
I've never thought Bielema was the right man for the job. He's a nice guy, but will never win more than 7 regular season games as our coach. Despite this, he will earn $333,333 dollars each and every game we play this year. Think about that for a minute. That's $75,000 a quarter. Fans need to remember that the next time they miss 1/4 of the game while standing in line for Pepsi products and the guy in the big sweatshirt on the losing sideline is stuffing money in his pants. I just hope the next coach is hired by a different AD.
Todd Rudisill
You can still be a Hog fan, support the team, and not be happy with the coach. I think Bielema has peaked and he doesn't know how to get the recruits he needs here to better than 8-5. He would be a great fit at Nebraska or his alma mater Iowa. Great man, just not a great coach in the SEC. I hope he proves me wrong, because he is here for at least another year.
THE GAMES
• New Mexico State @ Arkansas
Sean Casey
It's tough being a Razorback fan these days. Disappointment against TCU, followed by a tough, agonizing loss last week to Texas A&M and a fight in the locker room. Road games to South Carolina and Alabama both loom large. With this in mind, New Mexico State screams "trap game" for Arkansas. New Mexico State has some upper-class leadership and can be dangerous. Couple that with the lackluster Razorbacks, and there is some potential for upset, but my gut tells me the Hogs win ugly. Razorbacks pull of the victory 38-28.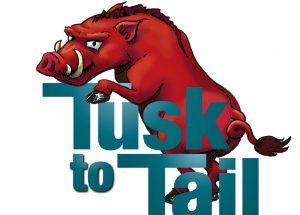 Greg Houser
Apparently New Mexico State has a big receiver and a fast, shifty running back. I'll take the Hogs, but still not sure our offensive line allows us to be very productive. Austin Allen should try getting rid of the ball quicker, but that means receivers need to be open earlier.
Todd Rudisill
This game should scare every Hog fan, especially coming off another emotional heartbreaking loss to A&M. Did it not feel like we were in the movie Groundhog Day, where every Hog fan wakes up on a fall Saturday and watches a big lead disappear to the Aggies and lose in overtime again? We wake up and relive it again, and then again. These Aggies coming to the hill Saturday are no pushover. They played Arizona State well, and blew out UTEP last week. Expect the Hogs to come out slow in front of the morning crowd, but open it up some in the 4th. Hogs win, 35-24.
David Rice
Go Hogs, beat somebody. If Arkansas is not better than these Aggies, Athletic Director Jeff Long will have a serious, expensive problem on his hands. I couldn't even give away my extra tickets to this early morning pillow fight, and we will soon have about 4,000 more seats to fill. Good luck with that.
• #15 Oklahoma State @ Texas Tech
David Rice
Alliteration loving Texas Tech coach Kliff Kingsbury's Red Raiders are 3rd in the country in total yards per game, most of it coming through the air. The Cowboys are 5th, so offense will be plentiful. Look for Oklahoma State to get back on track after a turnover-filled loss to TCU last week. The Pokes win by two scores.
• #24 Mississippi State @ #13 Auburn
Greg Houser
Miss State's QB still looks the part of an all-conference player. I wonder if their defense shores things up and keeps the game close, Gus is still scheming for his job, so I'll take Auburn in a close one.
Todd Rudisill
A lot of us thought the Dogs were ready for prime time after smoking LSU. Well, they weren't. Georgia smoked them. This is a game to decide who stays in the race to be the 2nd best team in the west. Auburn is coming off a blowout win against lowly Mizzou. The Tigers defense will make sure Auburn comes out of this on top. Aubbie wins 27-17.
• #7 Georgia @ Tennessee
Todd Rudisill
The lights went out on Georgia last year on the Tennessee 40+ yard hail mary at the buzzer. This is a game that Georgia should win going away to prove they are worthy of being talked about as a playoff contender. The Bulldogs D will be too much for the Vols shaky offense. The Dogs put another nail in Butch Jones coffin 34-17.
Jack Clark
I'll take Georgia over Tennessee.
• #5 USC @ #16 Washington State
Willard Grandview
Oh, baby. Friday night, Pac-12 football in Pullman. The Trojans are 4-point favorites, but they're 1-3 against the spread this season, and they're up against the cosmic freak show that is Mike Leach. I like cougars, and I like these COUGARS to pull off the upset. WSU 44 USC 38.
• #2 Clemson @ #12 Virginia Tech
Sean Casey
This rematch of last year's ACC Championship game will be a fun game to watch. Both teams enter the game 4-0. Virginia Tech has been destroying their competition. Clemson looks even better with a well-deserved #2 ranking. I was impressed (and amused) when Clemson went to Louisville and manhandled Bobby Petrino's team. I like Virginia Tech's 2nd-year head coach, Justin Fuente. He'll have the Hokies and their fans ready to battle, but it will not be enough. Expect an exciting game where Clemson pulls off a close win, 35-31.
–––––––––––––––––––––––
Editor's note: Welcome to the sixth season of Tusk to Tail – the sport of tailgating as organized, performed and perfected by a group of Hog fans who have been tailgating together sober and otherwise for more than a decade. Members of the Tusk to Tail Team are Sean Casey, Jack Clark, Dale Cullins, Greg Houser, Craig May, David Rice and Mark Wagner. Tusk to Tail is managed by Talk Business & Politics against the advice of attorneys and family. The diehards may also be followed on their Facebook page. Or follow the crew on Twitter — @TuskToTail
---
---
---