Tusk to Tail: Too late for liquor, too early for beer; let's not come back here
Join the team
If there's one thing Razorback fans know, it's that anything can happen. Sign up for our free headlines and never miss another play.
Who knew? Arkansas is more progressive than Texas at something. Unfortunately that bit of education cost the tailgate some libations last Saturday at Jerry World. And as it turns out, we really needed them.
I rolled into Dallas rather late Friday with my family and dropped them off with my sister-in-law in Plano. I pulled into the Specs Liquor just one exit down, and noticed it looked rather empty.
It was closed.
I was yet to be concerned and assumed it must have been the suburban location that chose such an odd, early closure. Nope, as I was soon to find out thanks to Google, it's the entire state. Texas retail liquor sales are prohibited after 9 p.m. and not allowed before 10 a.m. The Hogs played at 11.
It was final.
There would be no liquor at the tailgate. I had failed in my duties as Captain of the tailgate planning. It never occurred to me that the stores would or even could close before midnight. Lesson learned. I will either bring it with me or check store hours on future road trips.
So after swallowing that bit of failure we decided to grab some beer at Wal-Mart across the street from AT&T Stadium on Saturday morning. At 6:43 a.m., we roll up to the check-out only to be told they cannot ring up the beer until 7 a.m.
Foiled again by odd Texas Blue Laws.
We waited the 17 minutes. Now, this wasn't the worst news but it clearly was another sign that the day was not going to end well. We ended up with about 15 folks at the tailgate that morning and a nice assortment of chicken nuggets and pastries from a local shop.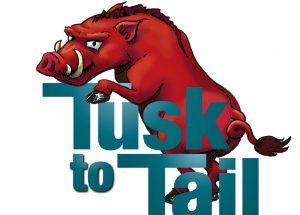 As we all know now, the Hogs could not stop the big plays and would lose in overtime to the Aggies last Saturday. Six in a row to a team the Hogs owned for decades. There are books written full of Aggie jokes, and this coaching staff can't get a single win against Sumlin. In my eyes, this is getting to be a serious problem for the program and the coaches. One of the big reasons the Hogs even play in Dallas is to help with recruiting. But if they can't win one of them occasionally, those losses can work against you in recruiting.
Personally, most everyone I speak with is tired of Jerry World and would prefer to play Home and Home with the Aggies. That could eventually be the only positive outcome of these six losses – the early canceling of the contract to play annually in Dallas.
Thankfully for me, this was my first real failure in logistics/planning and my friends still have faith in me to deliver the goods so I have a chance to redeem myself this weekend, back home in Fayetteville.
The Hogs are playing a different squad of Aggies and it is a team the Hogs should beat. New Mexico State is no gimmie, though. The Hogs will have to play hard and play to the finish. Kick Off is 11 a.m. again on what should be a beautiful day on the Hill.
We are going with a southwestern flavor for breakfast. We will set up a breakfast taco bar, with charizo, scrambled eggs, bacon, sausage and all of the trimmings including biscuits and gravy, chicken nuggets and plenty of sweets. A fan favorite the past couple of years has been a well-stocked Bloody Mary bar and champagne cocktails to wash it all down.
Sunrise is set for 7:11 Saturday morning. Greg Houser and I hope to have everything unloaded by then and mostly set up by the time the Little Rock guys arrive, so we can get right to the fun on such a short tailgating day.
A few simple tailgating tips. First, sunscreen. There will be very little shade to be found in the stadium at 11 a.m. so be sure to have that on hand.
Next, remember that Crock Pots aren't just for dips. I will keep the meat items warm in various crock pots and electric warming devices.
Lastly, mini donuts, sold at Wal-Mart or just about any other grocer, are great for the kids. I will pick up some Hostess donuts in bulk, because they are easy to eat and very economical in four different flavors.
Go Hogs, Beat (these) Aggies!
––––––––––––––––––––––
Editor's note: Welcome to the sixth season of Tusk to Tail – the sport of tailgating as organized, performed and perfected by a group of Hog fans who have been tailgating together sober and otherwise for more than a decade. Members of the Tusk to Tail Team are Sean Casey, Jack Clark, Dale Cullins, Greg Houser, Craig May, David Rice and Mark Wagner. Tusk to Tail is managed by Talk Business & Politics against the advice of attorneys and family. The diehards may also be followed on their Facebook page. Or follow the crew on Twitter — @TuskToTail
---
---
---