Tusk to Tail: Thoughts on the love-hate cycle of being a Hog fan
Join the team
If there's one thing Razorback fans know, it's that anything can happen. Sign up for our free headlines and never miss another play.
"Proud of the glory, stare down the shame
Duality of the southern thing."
– "The Southern Thing" by Drive-By Truckers
Being an Arkansas football fan is complicated. For proof, look no further than the Razorbacks' history with Texas A&M.
The members of Tusk to Tail grew up in the old Southwest Conference era, when the Hogs played the Aggies every season. A&M was usually pretty good, but rarely all that great. A loss to the Aggies usually signified a rebuilding year for the Razorbacks. When Arkansas left the SWC following the 1991 season, the Hogs had a record of 38-24-3 against the Aggies, but had lost the last two. Those were the first two consecutive A&M victories over Arkansas since 1970-71.
The series picked back up in 2009, before Texas A&M re-joined Arkansas in the SEC. The game was dubbed the Southwest Classic and played at the brand new Cowboys Stadium in Arlington, Texas. Bobby Petrino's Razorbacks continued to dominate the Aggies, winning the first three. The 2011 matchup was the last to be coached by Petrino, and it was an instant classic. The 18th-ranked Razorbacks spotted #14 Texas A&M a 35-17 lead before roaring back to win 42-38. That was the last time Arkansas beat the Aggies.
The series moved to home and home in 2012-13, once A&M entered the SEC. Things got ugly for the Hogs in a hurry. It seemed like Aggie quarterback Johnny Manziel ran and threw roughly half the distance between College Station and Fayetteville by himself. Interim coach John L. Smith should have been invited to Manziel's Heisman trophy presentation.
Bret Bielema's teams generally put up a good fight, but could never seal the deal against A&M. Three of his last four losses to the Aggies came in overtime. Of the dozens of times Bielema said, "We're close" to winning, I bet at least half of them were in front of the Southwest Classic press. Bielema's close losses were called moral victories, and occurred so often that we practically earned a bid to the Moral Victory Bowl.
Bielema's failure to win paved the way for Coach Chad Morris, a Texas A&M alum. If you can't beat 'em, join 'em, I suppose. At Arkansas, Morris signed former A&M running back Rakeem Boyd in 2018 and quarterback Nick Starkel in 2019. Morris' Hogs lost 10 games in his first season, the most in school history, including blowouts by North Texas and Vanderbilt. The loss to the Aggies, however, was only by a touchdown.
Most fans, including TTT, were willing to overlook last year's performance. Morris had been dealt a bad hand of Bielema's slow but friendly plodders. This was the true rebuilding year. None of us expected Arkansas to win the requisite six games to become bowl eligible in 2019. We just hoped to see consistent improvement and development of the young group of studs that Morris had lured to The Hill.
Despite low expectations, this year's model of Razorbacks generally underwhelmed for the first two and a half games or so. Then they scored 21 unanswered points in the fourth quarter against Colorado State, a team that had pulled ahead of the Hogs in the final frame the previous season.
The Rams are not a good team. They only had two other wins last year in a relatively weak Mountain West Conference. But following seven years of wandering the college football desert, that 4th quarter performance appeared as a welcome oasis to our group of Razorback fans. It turned out to be a mirage.
Last week's 31-24 loss to San Jose State, an even worse Mountain West team than the Rams, was a generational low point for Arkansas football in a generation filled with low points. Fans blamed coaches, coaches blamed players, and most of TTT felt they had been played like a used deck of casino cards.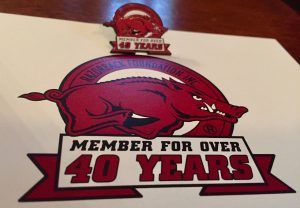 It was an unfortunate week to receive a pin from the Razorback Foundation acknowledging that my family had bought season tickets for more than 40 years. It would have been more appropriate to just send me a sucker.
That loss was the moment most of us changed our figurative Facebook status from "in a relationship" with the Hogs to "it's complicated." Of course we still loved the Razorbacks. We just weren't ready to follow them to Dallas for another guaranteed heartbreak. Only three from our crew made the trip, two of whom had attended the U of A back in the SWC glory days. Mark and Sam were in line to park in Lot 11 when the gates opened at 7 am Saturday.
"Getting ready to set up the tailgate," read Mark's text at 7:09. "Tailgate is set up," he replied two minutes later.
The hatch to Mark's Subaru was open to allow easy access to a single cooler. Sam sat in one of two folding chairs, hoisting a red plastic cup.
There were no tent, tables, or TV. Nobody else besides stadium security could be seen across the vast expanse of blacktop. Paid attendance for the game was reported to be 51,441, about 50% capacity of the cavernous stadium known as Jerry World. Those inside said it looked to be closer to 40,000.
From the outset, it seemed clear that the prior week's embarrassing loss had gotten the Razorbacks' attention. The coaches had scrutinized everything, and made several key changes. Defensive coordinator John Chavis moved from the field to the press box high above. Tight ends coach Barry Lunney moved from the booth to the field. When the Hogs won the coin toss for a remarkable fifth consecutive time this season, they opted to receive the ball rather than defer to the second half, as they had done each time previously. Morris was rumored to have taken more control of the offense, calling plays. Most of what they did seemed to have worked.
Leading receiver Trey Knox did not play due to injury, and Starkel was knocked out of the game before halftime, hurting his wrist while tackling a defender following an interception. Others stepped up in their place. Treylon Burks and Cheyenne O'Grady made clutch receptions from both Starkel and his replacement, Ben Hicks. The defense held the Aggies to only 89 yards rushing, highlighted by Kamren Curl's team-high 12 tackles.
Immediately after Starkel's interception, De'jon "Scoota" Harris scooped and scored on an A&M fumble to put Arkansas ahead. Montaric "Buster" Brown added his own defensive score on an interception return, and McTelvin "Sosa" Agim earned the first of four quarterback sacks by the Razorbacks with a jarring collision with Kellen Mond. The Hogs defense finished with eight tackles for a loss.
I texted our group, "We need more players with nicknames!"
"Just when I thought I was out, they pull me back in," replied Forrest.
The attitude was contagious. The Razorbacks' performance was not perfect, but "they fought bell to bell," said Morris in his postgame news conference. It was a refreshing change from the abysmal performance against the Spartans.
Despite the improved effort against the Aggies, the Hogs came up just short again, losing 31-27. Most of the traveling Arkansas fans stayed in their seats cheering and calling the Hogs until the last player had left the field. Morris reportedly hugged each player as they exited the chartered plane back in Fayetteville.
Some were not so gracious with their support, noting that the end result was still the same. Others wistfully claimed that a similar effort would have likely garnered wins against Ole Miss and of course San Jose State.
Such is the duality of this Arkansas football thing. Being a fan is complicated.
Editor's note: Now in its eighth year, Tusk to Tail is the sport of tailgating as organized, performed and perfected by a group of Hog fans who have been tailgating together sober and otherwise for more than a decade. The primary focus of Tusk to Tail will be to follow the Hogs through the fans' perspective with their insightful, irreverent, smart-alecky and sometimes practical style. Tusk to Tail sponsors are the Arkansas Lottery Scholarship program and Turn Key Construction Management. The diehards may also be followed on their Facebook page. Or follow the crew on Twitter and Instagram, all @TuskToTail.
---
---
---