Tusk to Tail: This 'Apocalypse Wow!' Hog season has the mild-mannered crew responding in ALL CAPS
Join the team
If there's one thing Razorback fans know, it's that anything can happen. Sign up for our free headlines and never miss another play.
When the win don't seem like a win, and what is witnessed can't be explained, sometimes all you can do is keep on tailgating and bust out the ALL CAPS.
THE QUESTION
The Razorbacks are 2-0 since Tusk to Tail predicted Bret Bielema would still be the head coach next year. Has your answer changed?
Willard Grandview
One day I'll tell my grandchildren that I was among the 15,000 souls that sat through all four quarters of the Great Arkansas-Coastal Carolina Shootout of 2017. That game revealed a lot about the stewards of our football program, and it revealed a lot about our fans. There was a palpable anger in Reynolds Razorback Stadium that day, a sense of disappointment, and a general feeling that bad things were going to happen. That's not healthy for anyone, nor is it sustainable. When we first considered whether Bret Bielema would be the head football coach next year I would have argued it was 90/10 he would be back. Now, I'm lowering those odds to a coin toss. And I'm not ruling out the possibility that he hits the road on his own. Remember, nobody saw it coming when he left for Arkansas. Would it be that big a surprise if he beat the sheriff out of town?
David Rice
I thought I was an outlier when I predicted Bielema would be back next year. To make that prediction now is practically heresy, but my reasoning has not changed. Bielema's buyout, aside from the ambiguity, is far higher than Arkansas has ever spent to can a coach. I figured injuries would be blamed, some coordinators and assistants would be fired, and Bielema would get one last chance to turn things around. But heading into the University of Arkansas Board of Trustees meeting, it sure feels like things have changed. Bielema and Athletic Director Jeff Long have both lost the swagger they had just over a month ago. Long needs a bold act of athletic directoring for his own job security, which may spell doom for Coach B.
Todd Rudisill
That should be 2-0 with a big asterisk next to Coastal Carolina. Yeah it was a W but it sure didn't feel like it. Hogs were a minute away from it being the worst loss in school history, even worse than the Citadel. The Citadel went 10-2 that year. This Coastal team is the worst team in the country and almost won with a backup QB and an interim coach. Now I'm going to write like Eddie from Clarksville yells on a local sports talk show. YES MY ANSWER HAS CHANGED. BIELEMA HAS TO GO. THIS STATE DESERVES BETTER. AND NOW LET'S BE REALISTIC. JUST BRING SOMEONE IN WHO CAN WIN 8 GAMES A YEAR, BE A TOP 25 PROGRAM, RUN A 21ST CENTURY OFFENSE, WIN THE WEST ONCE EVERY 10 YEARS (ONCE SABAN RETIRES), WIN A SEC TITLE ONCE IN MY LIFETIME. BE IN THE PLAYOFFS ONCE IN MY LIFETIME. THAT'S IT. THAT'S REALISTIC. IS THAT TOO MUCH TO ASK?
THE GAMES
• Arkansas @ LSU
Sean Casey
Winning in Baton Rouge this year is a tall order for the Hogs and nothing about this Razorback team, this season, or playing this opponent gives me a sense of hope. You can see it in the body language of players and coaches. This team is whipped. They will not rally to salvage the season. At this point I'm not sure how we salvage the program without significant changes on the sideline and at the top of the athletic department. I hope I am wrong, but LSU wins 49-3.
Jack Clark
LSU wins by 38 points.
Todd Rudisill
LSU is 5-0 in 11 a.m. games over the last 20 years. There will be still-drunk Cajuns everywhere. These "Jekyl and Hyde" Tigers held their own against Bama last week. LSU will gut the Arkansas "defense." Derrius Guice ran for 252 last year in Fayetteville. Expect the same this year. Bayou Bengals put another nail in the coffin, 38-10.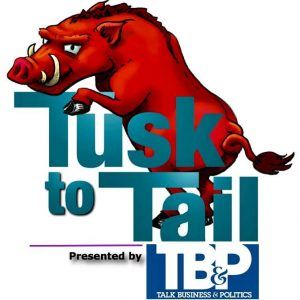 Greg Houser
Chatter concerning our Head Ball Coach has been leading the story line lately, but I'm not sure this rallies our players enough. LSU may not have had an identity early in the season, but they know who they are and what they can do against the Hogs now. LSU by 2 touchdowns. Can't wait to go back down there and get a W, but it won't be Saturday.
• #8 TCU @ #5 Oklahoma
David Rice
This is an intriguing matchup across the board that may come down to coaching. In that case, I like the cagey veteran Gary Patterson over newcomer Lincoln Riley. TCU's upset keeps the dream alive.
• #3 Notre Dame @ #7 Miami
Todd Rudisill
This is the biggest game in this rivalry since the original Catholics vs. Convicts. The winner stays in the playoff hunt and the loser is out. The Canes beat an okay Virginia Tech team last week. The Irish smoked a pretty good NC State team. Miami just doesn't have the offense to win this game. Irish 31-20.
Hal Fanick
I erroneously picked against Miami earlier in the season and will not make the same mistake this weekend. Notre Dame is banged up, playing as a favorite on the road against a team eager to prove they are back. Give Miami the "intangible edge" along with the win.
Greg Houser
With my childhood home being in the Sunshine State, I vividly remember the "U" as it used to be. Having said that, I think Richt is awesome and will do better there than he did at Georgia. He will not, however, get his boys through the season undefeated. The Fighting Irish come through.
• #2 Georgia @ #10 Auburn
Willard Grandview
Georgia at Auburn is about as good as it gets in college football. A 125-year rivalry. Two teams loaded with talent. Georgia's dream of a berth in the College Football Playoff in the balance. And the get-in-the-stadium price on StubHub is $200. It's such a big event Chick-Fil-A is opening a pop-up restaurant on the Georgia/Alabama border where it plans to give away free food starting three hours before kickoff. My prediction is for a physical, ruthless, bloody showdown with lots of injuries and broken teeth on both sides. And that's just in the line for chicken sandwiches. As for the game, the Dawgs opened as 2.5 point road favorites. I like them outright AND to cover the spread.
Todd Rudisill
This has all the makings of an upset. An Auburn D line that will give the young Georgia QB the best defense he has seen all season. But the Georgia offensive line will win this thing for the Bulldogs. Dawgs 28-24.
Hal Fanick
Two teams competing to be the clear number TWO in the SEC. Although Georgia has been impressive, they are not quite on Alabama's level. Yet. In retrospect, people overreacted to Auburn's loss to LSU. With their strong defense and home field, I think they have the advantage.
• #1 Alabama @ #18 Mississippi State
Sean Casey
I like Dan Mullen, I think he's a good coach who has done well for Mississippi State, but he'll need a lot of help to beat Alabama. State's Achilles heel is its run defense, both Georgia and Auburn embarrassed State's defense in crushing defeats, and neither team is as good as Alabama. To have a shot at beating Bama, Mullen will need a lot of luck, a much improved rush defense, and starting QB Nick Fitzgerald will have to have the game of his life. I think State will play hard and keep it respectable in the first half but Bama overpowers Mississippi State in the second half to win 49-10.
Todd Rudisill
The Tide have not lost to the Bulldogs since 2007. This will be a typical Bama game on the road where the defense just owns the game. Bama 31-14.
---
---
---