Tusk to Tail: These Hog faithful fear Ole Miss will get some 'Hunter Heave' revenge
Join the team
If there's one thing Razorback fans know, it's that anything can happen. Sign up for our free headlines and never miss another play.
Editor's note: Welcome to the fifth season of Tusk to Tail – the sport of tailgating as organized, performed and perfected by a group of Hog fans who have been tailgating together sober and otherwise for more than a decade. Members of the Tusk to Tail Team are Sean Casey, Jack Clark, Dale Cullins, Greg Houser, Craig May, David Rice and Mark Wagner. Tusk to Tail is managed by Talk Business & Politics against the advice of attorneys and family. The diehards may also be followed on their Facebook page. Or follow the crew on Twitter — @TuskToTail
–––––––––––––––
The post-season pontificating has already begun, with the primary question being: Should Hog fans begin to pack and plan for Nashville or Shreveport? Will it be a music city stop or a muddy river crossing?
THE QUESTION
Which bowl game, if any, do you think Arkansas (4-2 overall, 0-2 SEC) will play in this season?
Jeff Laman
Despite what people might think, the sky is not falling. The Razorbacks lost to two teams in the Top Six. The schedule is still rough, but as I wrote a couple of weeks ago, every year Bielema's teams improve as the season progresses. The Music City Bowl is where this season concludes.
Dooly McAlister
I see the Razorbacks camping in Shreveport for the Independence Bowl. Although the second half of the season has some opportunities, we still don't look like a team that can dominate or get on a substantial roll.
David Rice
Does 7-5 still get you to Nashville? Let's hope so. Bobby Petrino's Louisville Cardinals will play in one of the elite bowls or playoffs while the Hogs freeze their curly tails off.
THE GAMES
• #12 Ole Miss @ #22 Arkansas
Craig May
For the Hogs, this game comes down to a couple of things. The Arkansas defense has to come up with stops against a Rebel offense that scores points through big plays. On offense the Hogs will need to establish a run game that has been nonexistent at times this season. The Hogs can't afford for this game to turn into a track meet. Ole Miss 42, Arkansas 35.
Dale Cullins
The Hogs have been the victim of playing the two toughest teams on their schedule right out of the gate. It's unfortunate that #3 is up this week in Ole Miss. However, I think just as the Hogs had a real shot at beating A&M, they have a slightly better shot at beating Ole Miss. The match-ups are better and the O-line will have a better chance of establishing themselves as a run-first offense to grind out over 200 yards rushing. Ole Miss will get their points on our secondary, but the D will get some stops and pull out the win. Hogs 34, Ole Miss 27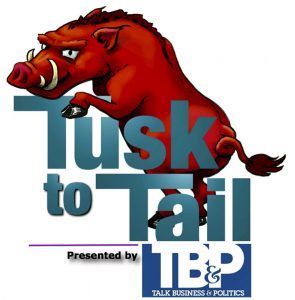 John Scott
I watched the "Hunter Heave" sick from my bed in Fayetteville last year, while keeping up with the TTT euphoria via text messages. Given that miracle's sting on Ole Miss's season, coupled with our play so far this year, I think this one is going to be tough.
Allen has been a warrior taking hit after hit. But I have concern that counting on him to throw it 45 times, about half of which end with him having to dislodge his facemask from the defensive player on top of him, is not a recipe for success. I am not smart enough to figure out how our highly regarded offensive and defensive lines are not getting things done.
Most concerning, we rarely make dual threat quarterbacks look like anything less than Heisman candidates. We gave up 45 and 49 points to A&M and Alabama in just over 20 minutes of possession each, and both teams averaged right at 10 yards per play. They call me the anti-homer, but I choose to call myself the pragmatist. Ole Miss 42, Arkansas 28.
Todd Rudisill
Well if you had told me before the season we would be 4-2 at this point, I would take it. There is a lot of anxiety amongst Hogs fans going into this Ole Miss game. With injuries to the secondary and our linebackers where we lacked depth already, it's scary. Plus our new assistant coach Kurt Anderson has yet to get the offensive line to gel going into the 7th game of the year. Quarterback Austin Allen has been hit on more than Miss America contestants around Trump. I have no idea how this young man survives the year unless something changes quickly.
This is the last chance for the Hogs  to get a "big" win over a highly ranked team this year. The Black Bears offense will score quickly and often this Saturday. We can only hope the Hogs can do the same, and it's a shootout like last year.  It will be loud again, but as last week showed, it doesn't matter if you can't play defense and not turn the ball over. Ole Miss is not Bama, but they are good. Rebels 42-32 for the "Hunter Heave" revenge win.
• #20 West Virginia @ Texas Tech
John Scott
These two teams are not bright on my radar, so at the risk of sounding like my wife picking an NCAA bracket, I will focus on the coaches. Kliff Kingsbury loses 2 points for his Kardashian-esque initials and for being a Ryan Gosling look-alike; neither of which spikes my testosterone. If the wind blows right WV Coach Dana Holgoren resembles Phish keyboardist Page McConnell, and Phish's fall tour starts Friday.
While West Virginia's defense has been tougher than a Wombat, Tech has scored over 55 points per game during their 3-2 start. WVU barely beat Kansas State, but Tech lost to them. I pick West Virginia to stay undefeated in a higher scoring affair. West Virginia wins 45-35.
Dooly McAlister
Texas Tech has a high powered offense, but a defense that might allow Vandy to look like an offensive juggernaut. Last year West Virginia won at home. Expect Tech to return the favor in a high scoring game.
• #19 Oklahoma @ Kansas State
David Rice
Bill Snyder's teams at Kansas State remind me of a swarm of gnats. They're annoying enough to disrupt what you're doing, but not enough to stop you completely. Boomer Sooner wins by 10.
Todd Rudisill
The Sooners got back on the winning track last week and held off the Horns. K State's defensive front is really good. but the OU offense will do just enough to win 33-26.
• North Carolina @ #16 Miami
Dale Cullins
Mark Richt has Miami playing with more focus. The talent was always there, but they lacked effective coaching. It's improving and I feel he will bounce the team back from the loss to FSU. Miami 24,Tarheels 21.
Dooly McAlister
At this point, I am not sure about either one of these teams. North Carolina took a beating last week and Miami is playing at home. Although Miami will win this game, expect a close one.
• #8 Wisconsin @ #2 Ohio State  
Jeff Laman
Ohio State has looked great this season with a young squad that most experts believed was a year away. Their one road game was a storm-delayed win in Norman, Okla., but honestly, beating OU is not a good barometer this year.
Playing a night game in Camp Randall against the #8 Badgers is another matter entirely. Wisconsin is great at stopping the run, which is the Buckeyes' strength. Former Bielema assistant Paul Chryst notches a win against Urban Meyer. 17-14 Wisconsin.
Todd Rudisill
The Badgers defense is tough. They looked great a couple of weeks ago when they thumped Michigan State. I think they make this game ugly and pull the shocker in the horseshoe. Badgers 23-20.
• #1 Alabama @ #9 Tennessee
Craig May
Alabama has a great defense that scores points every game. They have an explosive offense that won't turn the ball over this week. The Tide consistently preforms at a high level every weekend. Expect more of the same in Knoxville. Alabama 41, Tennessee 28
Dooly McAlister
Tennessee almost pulled off a huge win last week on the road. If Alabama is going to drop a game, it usually happens when they have enough time to bounce back and compete for a championship. Tennessee snapped the Florida streak this year. I think they snap another streak this week. For the upset of the week, there will be a "Tennessee surprise" at home.
---
---
---