Tusk to Tail: The prescription for a bad attitude is a good tailgate
Join the team
If there's one thing Razorback fans know, it's that anything can happen. Sign up for our free headlines and never miss another play.
It hasn't been real easy being a Hog fan this football season. A Thursday night Little Rock opener against an FCS team was followed by a scant 7-point performance against TCU, a team Arkansas used to thump on the regular.
Back to back 11 a.m. games came after that – last week in Dallas, then Saturday in Fayetteville – each one against the Aggies of the SEC and Sunbelt variety, respectfully. The Razorbacks' 4-game skid against FBS teams included being outscored by a combined 70-0 in the second half of three consecutive games before another heartbreaking overtime loss to Texas A&M.
I tried giving away extra tickets to the New Mexico State game and could find no takers. One friend questioned why I would bother going at all, and the best answer I could muster was that I was committed. I meant that in the financial sense more so than by philosophy. Season tickets and tailgating expenses comprise a fairly significant portion of our family budget.
The rough start to the season (combined with the lingering odor from last year's end) has affected Tusk to Tail. Some of us took a few shots at Coach Bielema.
"You can still be a Hog fan, support the team, and not be happy with the coach," Todd Rudisill said.
Others, like Hog photographer Mark Wagner or the godfather of tailgating Craig May, have remained steadfast and true to their beloved Hogs. Neither has missed a game in years, and feel that cheap criticism may cause further damage to the program down the road. Both groups have been passionate and vocal in their disapproval or support. Still others have responded with complete apathy. Neither Jack Clark nor Sean Casey have been to an Arkansas game yet this season. Their children's sports seasons provide a convenient excuse, but the fact remains that they were once both season ticket buyers who now choose to spend their time and money elsewhere.
Suffice it to say, our group's collective attitude heading into the early morning non-conference match-up may not have been ideal.
"UP YOURS JEFF LONG," read a text I sent to the gang from Little Rock around 5 a.m.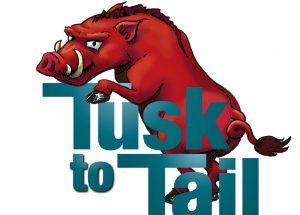 I may not be a morning person. Waking up that early for the road trip was part of my frustration, as was missing the late dramatic finish of Washington State's upset of USC the night before. Of course I don't think Long himself scheduled the Hogs' early kickoff, but somebody's got to take the blame, so might as well start at the top.
We press on regardless. My wife Rebecca and I caravanned behind May's family with Sam Atkinson in tow, landing at our tailgating spot just before 8:30. Dale Cullins, Greg Houser, and Wagner had already set up our breakfast extravaganza, soon to be joined by John Scott and his hash brown casseroles. Victory Village was beginning to show signs of life. With less than three hours before kickoff, the police had already shut down traffic around the stadium. Craig May was told that he could not leave his car in the unloading zone any longer.
"Ok, let me finish making a drink, and I'll move it," May told the officer before jumping behind the wheel with the red solo cup.
You have to love game day.
By the time I had poured a couple of Bloody Marys for Rebecca and me, I knew we had made the right choice to come on this gorgeous autumn morning. Tusk to Tail has never won the University's "Ain't it great to tailgate" competition that rewards a group of revelers by showing them on the stadium video screens during a timeout. This could only be because we are considered professionals in a league of amateurs.
What makes a tailgate great? You need a tent for shade? We've got 600 square feet. How about good food and drink? Stop by our officially licensed Razorbacks bar for a cocktail once you've filled your plate a few times from our buffet. Or have a seat and watch the games on our two 60″ TVs while an iPod plays everybody's favorite songs. The only way to not enjoy a Tusk to Tailgate is to not be there at all.
Our social acumen was applauded by multiple neutral observers. Television film crews from ESPNU, as well as KFSM 5 News broadcast interviews of Cullins, myself, and others live from our Big Top. A handful of Aggies fans who were snapping photos of our pre-game festivities to send to jealous friends back home were invited to join us.
After all, what good is a party without the people?
Serving dozens of guests is nothing new for TTT, even at these early morning affairs. Whether there for sorority Dad's Day, touring the campus with their high school children, or simply as the beneficiary of tickets that somebody else couldn't use, friends and family from near and afar stopped by to visit before the game. I saw folks I haven't seen in years. Rebecca pointed out that it took going to Fayetteville to spend time with our neighbors from back home.
The football itself was fine, though it's difficult to determine much about your team playing against a non-Power5 opponent. A win can cure what ails ya, and it began with a hearty dose of Bielema ball. The Razorbacks stuck to the script with a balanced offensive attack (264 yards passing, 3 TDs; 230 yards rushing, 3 TDs) and nearly doubling the Aggies time of possession (41:35 to 18:25). Perhaps most importantly of all, Austin Allen was not sacked a single time.
The defense still gave up a few long receptions to New Mexico State, but held their net rushing total to eleven yards. Even special teams was trending upwards. Our new kicker, the incredible Mr. Limpert still has not attempted a field goal, but he was perfect on all six extra points. The kick coverage was excellent, highlighted by a crucial fumble recovery by De'Vion Warren.
Tusk to Tail finished the day in higher spirits than we began, which was a refreshing change to the young season. I credit both Bielema and Long for the progress on the field and the quality game day environment.
Somebody deserves the credit, so might as well start at the top.
On to Columbia.
–––––––––––––––––––––-
Editor's note: Welcome to the sixth season of Tusk to Tail – the sport of tailgating as organized, performed and perfected by a group of Hog fans who have been tailgating together sober and otherwise for more than a decade. Members of the Tusk to Tail Team are Sean Casey, Jack Clark, Dale Cullins, Greg Houser, Craig May, David Rice and Mark Wagner. Tusk to Tail is managed by Talk Business & Politics against the advice of attorneys and family. The diehards may also be followed on their Facebook page. Or follow the crew on Twitter — @TuskToTail
---
---
---