Tusk to Tail: The long and short of it is, do we short Long?
Join the team
If there's one thing Razorback fans know, it's that anything can happen. Sign up for our free headlines and never miss another play.
"Columbia or bust," read the Facebook post by Dale Cullins before he pulled out of Fayetteville Thursday evening. I think we can all agree the end result was bust.
You surely know the story by now. It hasn't changed from the last time the Razorbacks played a Power 5 opponent, or the time before that, or several more before that. Arkansas lost its sixth straight game against a team from a legitimate sports conference Saturday. It was the fourth consecutive SEC loss dating back to last season.
This year's losses had been to TCU, now ranked 6th in the AP poll, and a young Texas A&M squad that had improved to 4-1 heading into Saturday's game against Alabama. Given the success of those teams, optimistic Hog fans were beginning to think that maybe Arkansas was not as bad as the record would suggest.
South Carolina hasn't fared much better, and had lost several key players to injury this season, including three starters from the offensive line. Many of us felt they were the perfect opponent to help the Hogs right the ship and get back to winning. Although future losses to Alabama and Auburn seem inevitable, several fans and so-called experts claimed that an 8-4 record, or no worse than 7-5 was still attainable for the Razorbacks.
That was fake news.
The Hogs lost 48-22 to the middling Gamecocks. It was the most points scored in an SEC game by South Carolina since 2014. It was their first win over an SEC West team since 2013, and their biggest conference victory since they thumped the Hogs 52-3 that same year. That was Bret Bielema's first season to coach at Arkansas.
In addition to extending the losing streak, more terrible trends were revealed. Bielema is now 10-24 in the SEC. He has started 0-2 in conference play in four of his five seasons at Fayetteville.  Bielema's Razorbacks are 0-16 when trailing at halftime.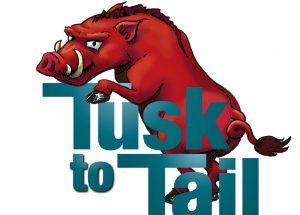 Then there are those trademark second half collapses. Arkansas has been outscored by a staggering 100 points in the second halves of the recent Power 5 losses.
Tusk to Tail has been there through it all. We were there before the demise, and we will be there when it finally gets turned around. It's not a cheap hobby considering the cost of tickets, mandatory scholarship donations, and travel. Most of us try to remain positive, but have certainly grown weary from the mounting losses. The only thing worse than getting your ass kicked is traveling nearly 1,900 miles to do so.
We unconditionally support our team, yet naturally have higher expectations. How are things going to get better? Where does one cast the blame?
Nobody wants to criticize the players. These young men represent Arkansas, for better or worse. But a consistent thread throughout the visitor's section Saturday was that the offensive line as a whole is underperforming. They have struggled to consistently open up holes for our running game and quarterback Austin Allen has been rushed and crushed all season long. The troubling part is that dominating in the trenches was supposed to be part of this team's identity.
Offensive line coach Kurt Anderson seems to be a reasonable scapegoat. Anchored by All American center Frank Ragnow, this group of linemen was highly regarded when they joined the program. Through a season and a half of development under Anderson, few have lived up to expectations.
Complicating matters is the fact that Anderson continues to tinker and rearrange the line. Tackles have been moved to guard or vice versa, and players from the left and right sides have swapped places. As we approach the mid-season point, stability must be found. The development of these players is paramount to the Razorbacks' success.
Of course Anderson is not the only assistant under fire. New defensive coordinator Paul Rhoads may not have much to work with, but the one constant for his squad so far is allowing the big play. Offensive coordinator Dan Enos, once the Razorbacks wunderkind, was criticized for predictable play calling Saturday, specifically ineffective run plays called on several consecutive first downs. I also heard complaints that Enos abandoned the run too quickly, proving that when your team isn't winning, a coach may be damned if you do, damned if you don't.
If we are going to criticize coaches, there may be no better place to start than the big guy himself. That isn't meant as another dig at his physique, though I personally wish that the man in charge of our team's physical fitness could at least look the part.
Despite his dismal record, Bielema has brought a cordial family culture to Fayetteville. It was a refreshing change following Bobby Petrino's tomato-faced tantrums and John L. Smith's Season from L. Bielema genuinely seems to care about his kids. Class attendance and graduation rates have improved, while the number of player arrests and penalties have gone down.
But where are the wins? When it comes to the weekly operations of Arkansas Razorbacks football, the buck has to stop with Bielema.
If the buck stops there, then 15.4 million of them must lie at the feet of Athletic Director Jeff Long. He is the one who signed Bielema's extension and ridiculously high buyout clause. Long worked alone to replace the fraud who replaced the scoundrel he had hired, then fired for being a scoundrel. He is also the one who initiated the $160 million stadium renovation, adding high-dollar suites and luxury boxes to the north end zone beginning next season.
Long is an incredibly successful businessman, as evidenced by the University's claim that the suites and most of the boxes have already been sold. But it's been my observation that the wealthiest Hog fans are the first ones to stop coming when the teams start to lose. That may not bode well for ticket renewals when our coach averages about two-and-a-half losses for every conference win.
I have one more observation that may eventually affect Mr. Long. Schools with far higher football attendance than the YOU of A have begun to address poor coaching performance by dismissing the AD who hired him. Nebraska's Shawn Eichorst has already been canned, and LSU's Joe Alleva may be next.
Conventional wisdom says Arkansas cannot afford to fire Bielema, thanks to his enormous contract and buyout. But if you were a savvy businessman responsible for writing that contract while green lighting a project with a budget 10 times that amount, perhaps you can't afford not to.
––––––––––––––––––
Editor's note: Welcome to the sixth season of Tusk to Tail – the sport of tailgating as organized, performed and perfected by a group of Hog fans who have been tailgating together sober and otherwise for more than a decade. Members of the Tusk to Tail Team are Sean Casey, Jack Clark, Dale Cullins, Greg Houser, Craig May, David Rice and Mark Wagner. Tusk to Tail is managed by Talk Business & Politics against the advice of attorneys and family. The diehards may also be followed on their Facebook page. Or follow the crew on Twitter — @TuskToTail
---
---
---