Tusk to Tail: The guy tackled by Fayetteville police could be the next Heisman winner
Join the team
If there's one thing Razorback fans know, it's that anything can happen. Sign up for our free headlines and never miss another play.
Two games remain in Arkansas' 2017 football season. Two games in a stadium that only serves Pepsi products. Long is gone, Bret remains and you can't give away a ticket to the game. The good news? Medical marijuana will be available for next year's season.
THE QUESTION
Who do you think will win the Heisman this season?
Jeff Laman
This seems like the first year in a couple of decades that there hasn't been much Heisman talk. I've seen a bit of Khalil Tate, Arizona's dynamic QB. He was like a magician running the ball. The problem for him is his team isn't in the Top 15 and he plays in the Pac-12, so many of the older votes on the east coast won't see him. Baker Mayfield, Oklahoma's QB, has been playing great for the most part and the offense is racking up yards and points. Given OU's high ranking and exposure, everyone has seen him play to some extent. As long as there isn't another disappointment similar to the Iowa State game, I believe it's Mayfield's to lose.
Dale Cullins
At this point it appears to be a runaway for Baker Mayfield. To hear the radio pundits there really isn't even a second place guy, which is crazy to think about in week 12 of the season.
THE GAMES
• #17 Mississippi State @ Arkansas
Craig May
This is the only season I can remember looking forward to the end. Better days are ahead next year. Part of me thinks Mississippi State will have the Alabama hangover on Saturday. It won't be enough, though. MSU 35, Arkansas 17.
Mark Wagner
As much of a homer as I am, I pick State. Their QB is just too good. He will have over 400 all purpose yards against us. And with our #2 QB out of the game – and the way the Bulldogs defense plays – I wouldn't be surprised if Ty Storey finally gets his chance. I want my Hogs to win, but State makes this look easy. State 42, Ark 17.
Todd Rudisill
On to this game and another 11 a.m. kickoff. There was only one night game at home this season, which is Tusk to Tail's worst nightmare. Mississippi State has a mobile quarterback. That's all that needs to be said with this Arkansas "defense." Bulldogs 34-17. Bielema is starting to make John L Smith look good.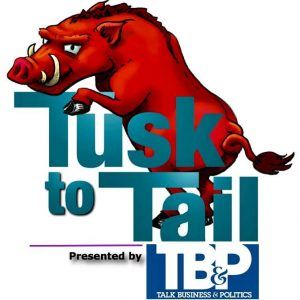 • Texas @ #24 West Virginia
Jeff Laman
Tom Herman's first year in Austin has been what you'd expect for someone in that situation – 5-5 thus far, and needing a win in the next two games to be bowl eligible. I expect bigger things out of them next year (and of course they'll be really good by the time they play the Hogs in the not too distant future). The Mountaineers are 7-3, though they've won the last 3 games by a total of 12 points. It should be a great game. West Virginia is favored by 3.5 points at home, but the Over/Under is 53. Of course they love to sling the ball and QB Will Grier has thrown 34 TDs so far. W Va 30 Texas 20.
• #21 LSU @ Tennessee
Craig May
Maybe Tennessee will play some inspired football with Butch Jones out of the picture. Probably not. LSU 28, Tenn 10.
• SMU @ #18 Memphis
Dale Cullins
There's not going to be much D in this game and this could be a nice one for SEC fans to watch as the SMU coach might be at A&M next year and with any luck the Memphis coach will be in Fayetteville. With Memphis at home, I'll give them the edge in a game that could be high scoring but most likely will not be. Memphis 35, SMU 24.
Joey Fortunatoe
People in Memphis are talking football now instead of basketball. With the exception of a lopsided loss to Central Florida, Memphis has played well this season. The Tiger faithful are even mentioning the Peach bowl. Of course, winning at certain schools draws unwanted attention. If you can win at Vandy … if you can win at Memphis … We know the fan bases that have their eyes on this coach. Anyway, SMU has not looked good the last two games. Expect the University of Memphis to win convincingly.
• UCLA @ #12 USC
Mark Wagner
The campuses are only 10 miles apart and the rivalry has been going on longer than most of us have been alive. UCLA QB Josh Rosen is healthy again and the main attraction of a passing offense that is second to none. The USC running game should eat up the porous UCLA defense. I pick USC to win 32-27 over UCLA.
• #19 Michigan @ #5 Wisconsin
Todd Rudisill
Wisconsin controls it's own destiny and has a great shot at making the playoffs. Michigan has beat up on a bunch of non-contender teams the past few weeks. Michigan defense will not be able to handle the Badger offense. Wisky 34-20.
Joey Fortunatoe
After being blown out at Penn State, Michigan is playing much better. However, Wisconsin is in the hunt for a playoff spot and has no reason to overlook Michigan at home. Edge goes to the Badgers, but I could still see this being a fun game to watch.
---
---
---