Tusk to Tail: The gateway drug of college football claims another season of victims addicted on 'rebuilding years'
Join the team
If there's one thing Razorback fans know, it's that anything can happen. Sign up for our free headlines and never miss another play.
story by David Rice
Editor's note: Welcome to the fifth season of Tusk to Tail – the sport of tailgating as organized, performed and perfected by a group of Hog fans who have been tailgating together sober and otherwise for more than a decade. Members of the Tusk to Tail Team are Sean Casey, Jack Clark, Dale Cullins, Greg Houser, Craig May, David Rice and Mark Wagner. Tusk to Tail is managed by Talk Business & Politics against the advice of attorneys and family. The diehards may also be followed on their Facebook page. Or follow the crew on Twitter — @TuskToTail
––––––––––––––––––––
From the outset, it was clear we didn't bring our A-game. Not the Razorbacks, who for the second consecutive week took precisely two plays to score the game's first touchdown. They started out fine, taking a 24-7 halftime lead into the locker room of Missouri's antiquated stadium.
I'm talking about Tusk to Tail, specifically this year's inductees of the Twelve Game Club. From deep in the heart of Texas (twice) to this frigid foray into the show me state, we've been everywhere, man, calling the Hogs loudly, early and often. But frankly, we've seen better days.
During this bustling period of peak holiday travel, if you didn't start your week in Starkville and wind up under Columbia's sunless skies just a few days later, you are probably having a better week than us. As the famed fictitious archeologist and presumed Hoosiers fan Indiana Jones says, "It's not the years. It's the mileage."
This time of year, I can relate. Every mile of this season feels etched into my face.
"You look like you're still trying to wake up," Sam Atkinson told me as our winding trip through the Ozarks concluded at one of the few Missouri sports bars open on Thanksgiving night.
"I didn't go to sleep," I replied, trying to get the bartender's attention.
Don't get me wrong. Tusk to Tail lives for these road trips. Random moments like turning a Jefferson City hotel's cavernous atrium into a makeshift arena football field will forever be fond memories for our entire traveling circus. But when my phone's screen said "Filthy and Fried" Friday before kickoff, I was slow to realize that was a new Drive-By Truckers song on our tailgate playlist. It felt like my personal status.
Of course after the hot start, the Hogs didn't fare much better. That 24-7 lead vaporized into a 28-24 second half shutout. The mob had begun politely requesting defensive coordinator's Robb Smith's head on a platter this year after some of the SEC's best running backs and mobile quarterbacks had run and mobilized all over our ass. The Razorbacks got that part of the game tightened up in wins over Ole Miss and Florida, but regressed badly in losses to Auburn and LSU.
Friday's second half reverted back to the modern classic culprit of our defensive suckage, the secondary. Drew Lock threw at least three completions of nearly 50 yards or more in the Tigers' comeback, and had a couple more wide open misses. Our d-back wasn't even in the picture for some of those bombs, an indictment of their effort or ability, as well as the tiny jumbotron screens at "The Zou."
If you're pointing fingers at coordinators, save a digit or two for OC Dan Enos. Pitching a shutout in the second half takes a bit of the shine off his apple. If Jill Stein looked at the box score, she'd demand a recount. It practically doesn't add up.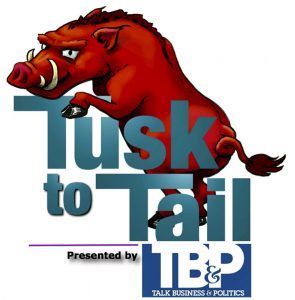 Arkansas had a two-to-one advantage in time of possession, and almost the same ratio of first downs, 27 to 15. The Hogs' 503 yards of offense exceeded Mizzou's output by more than 100 yards. Had you told me before the game that Austin Allen would throw for 348 yards, RW3 would rush for a buck seventeen and a score, and Whaley would tack on 54 and another TD but we still lost to the 3-8 Tigers, I would ask where you got your medical marijuana card.
At the end of year four at Arkansas, Bielema is solely responsible for the state of the program. He will batten down the hatches as the mob begins to clamor for a body to be thrown out the door.
Smith's hefty buyout matters little to the mob. Batesville native Charlie Strong has been liberated of his employment down at Texas. Surely he's raring to go back to a coordinator role in the SEC. And who wouldn't appreciate another former head coach's input? There's plenty of room for more egos now that they're enlarging the old Broyles Center.
But here's the thing. The total victories projected by Vegas for this Arkansas team was over/under 7.5, and we went into the final game with seven wins. Whether the Hogs won or lost an extremely winnable game would essentially dictate whether they overperformed or underperformed in 2016. And we lost that extremely winnable game.
I never expected Bielema to out-Bama Alabama. But you'd damn sure better not get out-Mizzoued by Missouri, whatever that entails. Back in September the Hogs chanted "Why not us?" after every win. Who knew that the answer was in part the hapless Tigers, the last place team in the entire conference?
For the past 10 games, the Razorbacks never won or lost two consecutive games. Each uplifting win was followed by another frustrating loss. Wash, rinse, repeat. At least they were consistent in their inconsistency. Searching for a term to describe that maddening weekly roller coaster ride, I struggled to find one that wasn't insensitive to those struggling with mental wellness. I settled on "Jekyll and Hyde," but even that is a story about a man with psychopathic multiple personalities.
The good news is that the pendulum swings back to the win position for the bowl game, so that second tier school from a fellow Power 5 conference better watch the hell out. I'm looking at you, Golden Gophers. Go ahead and call us Ar-Kansas. I dare you.
College football is the gateway drug to further irrational behavior. Leaving the game Saturday, I heard a Missouri fan telling his wife the Tigers won two of their last three games of the season. Things were really looking up for next year. I had to interject. "No! That is how they suck you back in. Get out while you can." But sometimes even a Twelve Game Club member struggles to get through to a fan high on the optimism from a win.
Personally, I'm almost glad we lost. There's not a huge difference between 7-5 and 8-4. But if we stave off that upset, everyone continues stroking one another over Bielema's improvement each season he's been on The Hill. With another rebuilding year on the horizon, I'm glad we got to pull that Band Aid off early. It's time to heal the symptom, and in turn affect the cause.
Otherwise our coach remains a bad punchline, as he did this weekend in Tusk to Tail's group text thread. Based on the premise that celebrities seem to die in groups of three, the Tusk to Tail Godfather Craig May asked who we thought would join Florence Henderson and Fidel Castro.
The lone response was equally tragic and hilarious. "Bret Bielema's coaching career."
---
---
---