Tusk to Tail: The discussion has devolved to male cheerleaders in tight pants and sailor shirts. Seriously.
Join the team
If there's one thing Razorback fans know, it's that anything can happen. Sign up for our free headlines and never miss another play.
The Hogs are taking on Texas A&M in Jerry World on Saturday, which is somewhat less traumatic for Hog fans who also are Dallas Cowboy fans because they are already accustomed to losing in Arlington.
THE QUESTION
One third of the way through this season, who do you predict will play in the College Football Playoffs?
Sean Casey: Don't expect the SEC to get 2 teams into the College Football Playoffs this year. With a Notre Dame victory over Stanford this weekend, they will cruise to an undefeated season. Somehow the love of the Irish puts them in at #4. Clemson will equally waltz through the basketball-dominant ACC for the #3 spot. Penn State, under James Franklin, wins the B1G and takes the #2 spot and won't have to play Bama (#1) until the championship game.
David Rice: Alabama is the clear #1. Even if they were to lose a game (spoiler alert: they won't), they will remain in the top four. Georgia is currently #2, but would have difficulty reaching the playoffs if they lost to Bama in the SEC Championship Game. Who is good enough to win out? The usual suspects such as Ohio State, Clemson (assuming Kelly Bryant's transfer isn't too much of a distraction), and Oklahoma seem likely. A loss by any of those teams could open up a spot for Notre Dame or the Pac 12 Champion.
THE GAMES
• Arkansas vs. Texas A&M
Mac Garland: The annual visit to JerryWorld is here, though this won't be the down-to-the-wire-finish gut-punch loss we've had the past few years. The good news is A&M is coming off a game against Alabama, so perhaps they're a little banged up. The bad news is they'll be fired up to win after that loss. Aggies 38-14.
Greg Houser: Coach Chad Morris and Scott Frost may be the only coaches in CFB that actually earn these exorbitant salaries if they can turn their respective programs around. I love the direction. Most of us felt some sense of progress and moral victory when the Hogs had outgained Auburn in yardage last week, but I think the Aggies are rugged. They won't let up after two losses this year. 56-10 Aggies.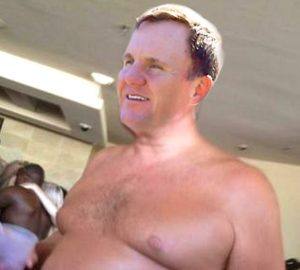 Willard Grandview: In a season of deflating moments, the worst for me came while doing some research on this week's game with Texas A&M (Yes, I actually put some effort into this). After clicking on a link to get some details on the point spread for Saturday morning I found myself on the Aggies SBNation page. And there, on the side banner, was a link to yet another story – one that featured a picture of Chad Morris' head photoshopped onto the famous picture of Bret Bielema's nude, bovine upper torso. It made me think: Do we have Bret Bielema 2.0 on our hands? Let's hope not. Anyway, it looks likes the Razorbacks are +20 in this game against the Aggies. Would I lay the points if I were a ridiculously-toned male cheerleader in tight white pants and a white sailor shirt? I think so. Aggies 34, Hogs 13
• #12 West Virginia @ #25 Texas Tech
Mac Garland: I'm not sure what happened to Oklahoma State last week, but Texas Tech shut them out in the 2nd half to win 41-17 and vault back into the Top 25. "Second half shut out" are not words one expects to be associated with a "Coach Bro" team. Tech also has the nation's #2 QB for passing yards in Alan Bowman. Yet the Red Raiders are home underdogs (+3.5) to West Virginia and QB Will Grier (#12 in passing yards). Expect a lot of offense and both defenses to be stretched. WVU 38-35.
• #20 BYU @ #11 Washington
David Rice: BYU's stingy defense led to their upset at Wisconsin, and it could keep the Cougars in this one into the second half as long as they win the turnover battle. But after losing to Auburn to start the season, Washington is still holding on to playoff hopes if they win out. Huskies win, 35-17.
• #7 Stanford @ #8 Notre Dame
Greg Houser: Stanford may have a letdown after their victory on the road with Oregon. If the Cardinal party this week, the letdown cannot be overcome. I'm so looking forward to seeing two teams that are still fighting for playoff relevancy. Notre Dame wins 31-28 over Stanford.
• Ole Miss @ #5 LSU
Willard Grandview: Ole Miss versus LSU is "The Battle of The School's That Regrettably Turned Their Programs Over To 2nd Choice, Unproven Head Coaches." So far, Coach O has the upper hand on Matt Luke, and I predict Saturday night in Red Stick will be a shirt-ripping good time. Tigers 28, Rebs 27
• #4 Ohio State @ #9 Penn State
Sean Casey: The Ohio State University Buckeyes enter Happy Valley in what will be the deciding game for the Big 10 championship. While both teams tout quality quarterbacks, Ohio State is more talented and deeper across the board. On top of that, Penn State's defense hasn't been tested yet this season. Head to head, Ohio State should win this game. Penn State will greet the Buckeyes with a white-out in Beaver Stadium, at night, in front of 106,000 screaming fans. Beaver Stadium is one of the most hostile environments in college football, and that home field advantage will intimidate Ohio State. The fans will elevate Penn State QB Trace McSorley to have the game of his life and pass for over 300 yards to lift Penn State to victory, 42-40.
––––––––––––––––
Editor's note: Welcome to the seventh season of Tusk to Tail – the sport of tailgating as organized, performed and perfected by a group of Hog fans who have been tailgating together sober and otherwise for more than a decade. Tusk to Tail is managed by Talk Business & Politics and sponsored by the River Valley Smile Center … because it's another dang rebuilding year and you're gonna need a good smile to get through the season. The diehards may also be followed on their Facebook page. Or follow the crew on Twitter — @TuskToTail
---
---
---