Tusk to Tail: The crew makes a food run to Louisiana; will stop in Baton Rouge to watch a game
Join the team
If there's one thing Razorback fans know, it's that anything can happen. Sign up for our free headlines and never miss another play.
Over the past 10 weeks, we Hog fans have been submitted to this coaching staff's own version of "Shock and Awe." The "shock" has been just how poorly Arkansas seems prepared to play each Saturday, and the "awe" to me is how the Hogs got this bad so fast.
On the bright side, the past two games have seen the Hogs win in dramatic fashion led by an unlikely cast of characters, including the current redshirt freshman QB, Cole Kelley. These would have been rewarding victories for the program if just the opponents weren't so bad.
This week in Baton Rouge, the Hogs may not be so lucky. The opponent will not be so bad. The Bayou Bengals are loaded with talent as usual, and have a coaching staff that seems to be figuring it out just enough to hang on for another year despite their own embarrassing losses earlier in the season.
The Hogs are 17-point underdogs and I feel like Vegas has this one right. The Hogs defense is historically bad again, and this LSU team likes to run the ball. You might remember that they found a way to beat Auburn, a team that came into Fayetteville and could have named the score. I know LSU lost to Troy, but everyone can have a bad day against a Sunbelt team. Remember, Coastal Carolina was a Sunbelt team.
So far this season the Hogs have been pretty lucky when it comes to weather, and that will continue this weekend in Baton Rouge. The kickoff forecast will be in the 60s, rising to 73 with no rain. You really can't beat that with a red stick, so to speak.
I plan to head out early Friday morning to be in Little Rock around 9 a.m. to meet up with the guys down there. If we can get on the road by 9:30 or so, we plan to hit Rhoda's Famous Hot Tamale Shop in Lake Village for lunch. With any luck that should put us in Baton Rouge by 5 p.m. or a little after.
It shows to be about 16 miles shorter and 20 or so minutes faster through Monticello on 425 South, but we don't really know any good food stops that way. So we will stick with Lake Village, and then on down through Tallulah and Natchez, but you might consider that route.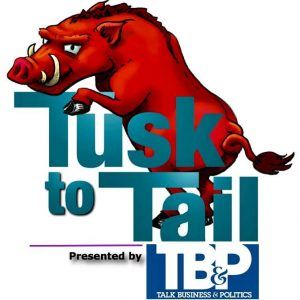 As we warned you before, once we realized how bad this Arkansas team is, there would be a lot more of the 11 a.m. kick offs. I think this will be my 7th trip to Death Valley and my first 11 a.m. kick off there. We had many at 1 p.m. on the Friday after Thanksgiving and things were fairly subdued for that. This should be interesting. The early morning start could even be the reason the Hogs aren't 20-point underdogs.
We will not be bringing our gear this week. Once the game time was set, we scrapped those plans. Just like Oxford, it's just not worth the trouble to travel so far with so much for a couple of hours of tailgating for a bad team. There is a great sports bar just off campus called Walk On's that opens early on game days, so we plan to hit that up and then use our parking pass to finish off the morning.
If you've never been to Baton Rouge, you can believe most of the horror stories you've heard about how visiting fans are treated. Tiger fans can be rude and usually in your face with it. However, we've come to find out that if you just take it in stride and play along with the ribbing you can make some friends and enjoy the atmosphere.
Some spots to consider for dining include The Chimes, TJ's Ribs, Juban's, Gino's, Mansur's, and Sammy's. They even have a Doe's if you're in the mood. Just don't breath too deeply, Red Stick has a nasty petroleum smell to it.
Enjoy the trip, enjoy the food and …
Go Hogs, Beat Tigers!
–––––––––––––––––––––
Editor's note: Welcome to the sixth season of Tusk to Tail – the sport of tailgating as organized, performed and perfected by a group of Hog fans who have been tailgating together sober and otherwise for more than a decade. Members of the Tusk to Tail Team are Sean Casey, Jack Clark, Dale Cullins, Greg Houser, Craig May, and David Rice. Tusk to Tail is managed by Talk Business & Politics against the advice of attorneys and family. The diehards may also be followed on their Facebook page. Or follow the crew on Twitter — @TuskToTail
---
---
---