Tusk to Tail: The 'Coach Saban has sold his soul and Bama is unstoppable' edition
Join the team
If there's one thing Razorback fans know, it's that anything can happen. Sign up for our free headlines and never miss another play.
Editor's note: Welcome to the fifth season of Tusk to Tail – the sport of tailgating as organized, performed and perfected by a group of Hog fans who have been tailgating together sober and otherwise for more than a decade. Members of the Tusk to Tail Team are Sean Casey, Jack Clark, Dale Cullins, Greg Houser, Craig May, David Rice and Mark Wagner. Tusk to Tail is managed by Talk Business & Politics against the advice of attorneys and family. The diehards may also be followed on their Facebook page. Or follow the crew on Twitter — @TuskToTail
––––––––––––––––––––
Nick Saban and them Roll Tide boys would make quick business of most NFL teams, Putin's hackers, and Lord Voldemort. And the Hogs aren't likely to pull off a win against Gus in Auburn. Such are the majority edicts from the Tusk to Tail crew.
THE QUESTION
#1 Alabama is undefeated again, scoring at least 48 points in all four wins over ranked teams away from home. Can anybody beat them in 2016?
Todd Rudisill
No one in the SEC that I can see. The only shot I can see for an upset is a bad matchup in the playoffs or title game.
Greg Houser
The only team that beats Bama is Bama. It's scary to think that a Freshman QB is running the offense this well. The Defense scores more than some offenses. The coaches have been world class, and no team in the country looks to compete with them this year. I'm not sure we'll see another coach like Saban again in our lifetime.
Mark Wagner
Barring injuries at quarterback or other multiple positions, I don't think Bama loses again this year. They have had top-rated recruiting classes for several years in a row. They have had several underclassmen get drafted and go on to the NFL. And they have had coaching changes, but the newest OC and DC have performed well and actually may have improved the team. Other than A&M this weekend (which is in Tuscaloosa), they just don't have that tough of a remaining schedule. It looks like another National Championship in the SEC.
THE GAMES
• #17 Arkansas @ #21 Auburn
Sean Casey
The Hogs head into the "Plains" this weekend after an impressive victory over Ole Miss. Auburn is coming off a bye week and they are ready to face the Hogs. Auburn has a decent rushing attack and a good defense. I expect the Hogs will struggle running the ball Saturday and that is the reason this game slips away. Auburn wins 35-28.
Terry Mason
This is a great SEC game. Both teams have come up short against elite competition, yet both teams have nice home wins. Auburn has the advantage in both total team defense and offense plus they are playing at home. Although Arkansas seems to be hitting stride, Auburn will win by a smidge.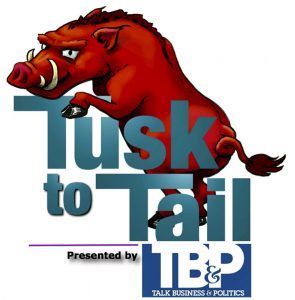 Willard Grandview
I believe Arkansas teams under Bret Bielema only get better as the season goes on. I believe Arkansas' quality wins (TCU and Ole Miss) are more impressive than Auburn's lone quality win (LSU). I believe I worry about going on the road in the SEC, but I believe I've seen more Hog wins at Auburn than any other SEC venue. And I believe I predicted the Razorbacks would be 4-3 at this point and not lose another game. They're actually ahead of where I expected them to be. So why change? Razorbacks 38, Tigers 24
• #23 Ole Miss @ #25 LSU
Mark Wagner
I'm picking LSU. Fournette is back from his injury, the game is at night in Baton Rouge, and LSU is playing better since the change in coaches. I just don't see Ole Miss being able to turn this game into a shootout. I think LSU will control the ball and time of possession just like Arkansas did, and I see Kelly getting pounded. LSU 34, Ole Miss 30. It's Deja Vu all over again for Ole Miss.
Todd Rudisill
Leonard Fournette returns for the Tigers. Will there be enough offense to keep up with the Rebels? I think so. The Arkansas defense threw Kelly off his game last week, and he still almost pulled it out at the end. But LSU has a much better defense than the Hogs and will shut down the Black Bears' so-called running game. I don't think they can even spell running game at Ole Miss. LSU's blitz switch will be on much of the game to rattle Swag and his offense. LSU 31-27.
• TCU @ #12 West Virginia
Terry Mason
Typical of a Big 12 matchup, we will see high powered offenses with subpar defenses. I made the mistake of picking against West Virginia last week. Not again. West Virginia seems to be the more balanced of the two teams and they are at home. I like West Virginia and the over in this game.
David Rice
TCU was once our signature win, but they will be 4-3 if they lose here. I think the Frogs can pull off the upset. Patterson is a better coach than Holgorsen, in my opinion.
• Iowa @ #10 Wisconsin
Todd Rudisill
Wisconsin is coming off a tough loss to the Buckeyes at home in overtime. Badgers will win, and it's not even close. 31-14.
Greg Houser
I'll take Wisconsin over Iowa this Saturday. Wisconsin could have a letdown, but Iowa has struggled this year. Wisky should roll.
• North Carolina State @ #7 Louisville
Sean Casey
Last weekend NC State came close to pulling off the upset at Clemson and Louisville had a lackluster performance in beating Duke. This weekend I expect Louisville to sharpen its game while NC State has a bit of a hangover from their loss to Clemson. Louisville wins going away, 56-28.
Terry Mason
Picking against the spread in this one would be more interesting.  Otherwise, you just have to go with Louisville. North Carolina State has some nice games this year (with one ugly loss), but Bobby Petrino will have his team focused. Go with the Cardinals by a comfortable margin.
• #6 Texas A&M @ #1 Alabama
Willard Grandview
Alabama is making good teams look bad. A&M is the best they've faced, but the result will be the same. Bama 48, A&M 15.
Todd Rudisill
Aggies are now 18.5 point underdogs on the road. A&M has a great defensive line but Bama will hold them off and take advantage of A&M's weak secondary. Hurts will have another big day for the Tide. The Tide rolls again, 37-23.
---
---
---