Tusk to Tail: The big boot and big hearts emerge from the Death Valley dump
Join the team
If there's one thing Razorback fans know, it's that anything can happen. Sign up for our free headlines and never miss another play.
As the sun found its home in the western sky behind LSU's Tiger Stadium, Sam and I were lost. It wasn't from lack of familiarity. This was my ninth visit to Death Valley to see Arkansas play LSU in The Battle for the Boot.
Known as one of the most hostile gameday environments for opposing teams, Tiger Stadium is steeped in history and tradition. It is also a bit of a dump. Expansions to Death Valley over the years have increased capacity to more than 102,000, but created a disjointed layout where the 100, 300, and 400 sections are all on the same level. It's as though the stadium blueprints were drawn by MC Escher.
Kickoff was rapidly approaching. Looking for section 404, we walked the ramp to 401, which is somehow next to 306, and below section 411. An intoxicated LSU fan, possibly the most redundant phrase in the English language, first yelled something at Sam, then at me. His slurs were slurred, and drowned out by the din of roaring fans. I couldn't make out a single word he said. A small group of outgoing Hog fans sitting next to the ramp sensed our confusion and offered sanctuary.
"Nobody is sitting in these seats," a pretty young blonde woman holding a Michelob Ultra said to Sam. "Would you like to sit with us?" It took less than a second to accept, even though it meant missing time with the dozen or so friends and family who had traveled to Baton Rouge with us. We had planned to rejoin our group after a score, or the end of the first quarter. We ended up staying there the entire game.
It's not uncommon to bond with surrounding fans at a road game. The visitor's section practically feels like extended family during a game like this. Safety in numbers and whatnot. You don't just high five each other after big plays, you find out how a couple met, or when they plan to marry. Sam doled out indispensable life advice to the young folk over beers. Before the game was over, we had exchanged phone numbers and invited our new friends to our next tailgate.
Family was a running theme this week once again. Dale, Greg, Craig, and myself were each joined by our kids who attend the University of Arkansas. Another friend from Houston brought his son who will be enrolling as a freshman next year. The college kids all seemed to enjoy the raucous decadence of Baton Rouge and New Orleans. We ate and drank well all weekend. My son and his friends tried all the drinks on Bourbon Street.
A bucket of Fireball shots and an all day party made our tailgate practically resemble a fever dream. It was nothing like our usual affair. Our classic playlist was replaced by rap and Australian psych rock. Greg was parking cars in a yard that didn't belong to him. Even the football games on TV got screwy, as Auburn blew a 28-3 halftime lead against Mississippi State and Florida had to come from behind to beat Samford.
It was unlike any trip we had taken to LSU in the past 18 years. The Tigers came into the game with a 4-5 record. LSU Coach Ed Orgeron has been terminated, but will coach through the end of the season. At least 13 starters for the Tigers were missing in action due to injury. Arkansas was favored to win despite playing at vaunted Death Valley at night. A brisk wind created the coldest game day of the year so far.
"We only get about eight days a year like this," a passing LSU fan drawled with a thick Cajun accent, "and y'all are here for one of dem."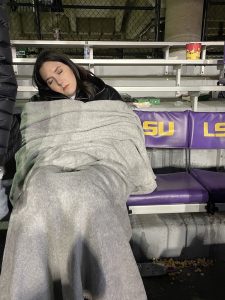 Fewer fans than ever taunted us with their dreaded "Tiger Bait" chant. In the stadium, it was more of the same. Nearly 99,000 fans showed up, but at least half of them seemed to vanish around halftime. Why stay for an SEC overtime thriller when you can sit in traffic, right? A young woman behind me fell asleep in her seat during the 4th quarter. Her friends put a blanket over her and carried on.
Some of us thought the Tigers had given up for the season. Considering their lame duck coach and slew of injuries, LSU has little to play for. They had given Alabama their best shot the prior week, but still came up short. LSU players might be auditioning for the next coach, the way Arkansas QB KJ Jefferson had in his first start down here two years ago, if they hadn't dropped the rope completely.
Despite the injuries, LSU still held an advantage in talent. One key to success for the Razorbacks this year has been the experience and development of some less heralded fifth- and sixth-year seniors. But it's not always the X's and O's, it's the Jimmys and Joes, or in this case, Jeaux. The Tigers' roster is always loaded with future NFL stars.
The talent disparity was most evident in the trenches. The Hogs' offensive line struggled with LSU's ferocious blitz packages all night. Jefferson had almost no time to step back and pass.
In its first 20 plays, Arkansas managed just 32 yards. Thirty-one of them came on two plays, and one was a trick play. LSU, on the other hand, rotated in second- and third-string offensive linemen without any discernible dropoff.
One noticeable advantage for the Hogs was under center. The Tigers replaced ineffective starting quarterback Max Johnson with true freshman Garrett Nussmeier. Nussmeier struck first, avoiding a sack to find tight end Jack Bech in the back of the endzone.
When the Razorbacks needed him most, Jefferson put the team on his back, repeatedly wrestling away from the grasp of a defender to make something happen. KJ's 43-yard touchdown pass to running back Dominique Johnson appeared to be entirely improvised following a near-certain sack. Jefferson led the team in rushing, as well.
KJ wasn't the only Hogs' hero, of course. So many guys stepped up and became dudes. The linebacking law firm of Henry, Morgan, and Pool dispensed justice on the field. Greg Brooks' fumble recovery kept the Tigers from going ahead by two scores. Miles Slusher and Montaric Brown made crucial interceptions. And freshman kicker Cam Little remains automatic for the people, making all three field goal attempts, including the game winning 37-yarder in overtime.
"It was ugly, and beautiful, and all in-between," Coach Sam Pittman said about the game.
Pittman earned a $500,000 bonus with the Hog's 7th win of the season. That bonus, and potentially more, will become part of Pittman's base salary moving forward. Athletic Director Hunter Yurachek wisely structured Pittman's deal to pay for performance. When Arkansas wins, everyone wins.
As the Razorbacks re-enter the AP poll at #21, it is the first time that both the football and men's basketball (#16) teams were ranked in the same week since 1999. Tusk to Tail and family partied like it's 1999 down at Death Valley, and now turn our attention to the Alabama Crimson Tide. Apparently the Dallas Cowboys were already booked.
Like the Tigers, Bama has many more stars than Arkansas. But nobody has more heart than Pittman's Hogs.
Editor's note: Now in its 10th year, Tusk to Tail is the sport of tailgating as organized, performed and perfected by a group of Hog fans who have been tailgating together sober and otherwise for more than a decade. The primary focus of Tusk to Tail will be to follow the Hogs through the fans' perspective with their insightful, irreverent, smart-alecky and sometimes practical style. The diehards may also be followed on their Facebook page. Or follow the crew on Twitter and Instagram, all @TuskToTail.
---
---
---