Tusk to Tail: Sometimes you just gotta 'pop the tailgate, open the cooler and enjoy yourself'
Join the team
If there's one thing Razorback fans know, it's that anything can happen. Sign up for our free headlines and never miss another play.
story by Dale Cullins
Editor's note: Welcome to the fifth season of Tusk to Tail – the sport of tailgating as organized, performed and perfected by a group of Hog fans who have been tailgating together sober and otherwise for more than a decade. Members of the Tusk to Tail Team are Sean Casey, Jack Clark, Dale Cullins, Greg Houser, Craig May, David Rice and Mark Wagner. Tusk to Tail is managed by Talk Business & Politics against the advice of attorneys and family. The diehards may also be followed on their Facebook page. Or follow the crew on Twitter — @TuskToTail
–––––––––––––––––––––––
For two weeks after the stinging loss at Missouri, I was convinced I was done with this team for 2016. I had poured enough time, money, and heart into making all 12 games this season. If that game's result is how I was going to be rewarded for all of that effort, then I was done.
The bowl assignments did little to change my mind initially. Arkansas was headed to The Belk Bowl in Charlotte, N.C., to play the Virginia Tech Hokies.
On the surface, Charlotte is not a destination town, especially for Arkansans. However, I've not spent any appreciable time there outside of the airport, and the opponent is intriguing for the Razorbacks.
The two teams have never met. The Hokies have a pretty good running QB, but no real defense to speak of. That gives the Hogs a chance if our D shows up at all, and with the current pattern, the Hogs are due to win the game. They have won one and lost one in successive weeks dating back to mid-September.
So, I'm sure you can see where this is going by now. There is a group of Tusk to Tail diehards making the trip to Charlotte. As Michael Corleone says, "Just when I thought I was out, they pull me back in."
Airfare is not a good option at $700 roundtrip. It was noted we have more time than money this time of year, as the week between holidays is pretty slow at work, so we might as well drive.
It's about 940 miles from Fayetteville and 740 or so from Little Rock. That makes it about a 12-hour trip from Little Rock which really doesn't sound that terrible if you say it fast enough or have been drinking. We even opted not to buy tickets until we arrive on site to further reduce the expense of this trip. At last word, the UA had only sold about 4,500 tickets of the 8,500 allotted, though some Hog fans have likely bought tickets elsewhere. I'm hoping about 10,000 Hog Fans will make the trip to Charlotte.
Craig May, Mark Wagner, and I plan to depart Little Rock around 5 a.m. on Dec. 28 in hopes of a Birmingham barbecue lunch before getting to Atlanta around 3 p.m. Once there, we pick up Jeff Laman and get back on the road as quickly as possible in an attempt to avoid rush hour traffic. That would put us into Charlotte before 7 p.m., just in time for dinner and to take in some of the bowl festivities with fellow Hog fans.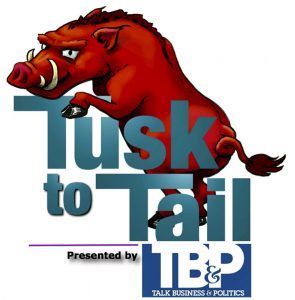 Chris May and Steve Sullivan will already be in Charlotte for Little Rock-based KATV's coverage of the game, so we expect them to point out some spots we need to hit up. Our friend Jeff Goebels also lives in the area, so we will rely upon him to give us some other dining options.
Two weeks out, the Charlotte weather looks promising. There's a chance for rain, but temps should stay in the middle 50s. To keep our traveling party to one vehicle, our tailgating options will be limited. We may bring a tent, table, cooler and chairs, but no TV. There is only one game before the Belk Bowl, so we will probably find a good place to grab lunch before heading to the stadium. If the weather cooperates, we may just dial up some old school "pop the tailgate, open the cooler and enjoy yourself" tailgating. There is a chance we will coordinate with another tailgating crew, but those details have yet to be finalized.
Mileage wise, the trip from Little Rock is virtually the same whether you go through Knoxville or through Birmingham and Atlanta. Either way can be congested with traffic and accidents, so there is no real winner. However, being that it is December, our first thought was to avoid the Smokies and any possible wintry road conditions by taking the more southern route through Atlanta.
The Friday drive home from Charlotte will be a long one for me personally. I'll take the 16-hour trip all the way back to Fayetteville in one day, but then I will have the weekend to rest back up before the New Year.
We are all looking forward to the game now that we have committed to make the trip. Let's just hope the Hogs show up with us.
Go Hogs, Beat Hokies!
---
---
---