Tusk to Tail: Reagan was president the last time the Hogs beat Florida
Join the team
If there's one thing Razorback fans know, it's that anything can happen. Sign up for our free headlines and never miss another play.
story by Dale Cullins
Editor's note: Welcome to the fifth season of Tusk to Tail – the sport of tailgating as organized, performed and perfected by a group of Hog fans who have been tailgating together sober and otherwise for more than a decade. Members of the Tusk to Tail Team are Sean Casey, Jack Clark, Dale Cullins, Greg Houser, Craig May, David Rice and Mark Wagner. Tusk to Tail is managed by Talk Business & Politics against the advice of attorneys and family. The diehards may also be followed on their Facebook page. Or follow the crew on Twitter — @TuskToTail
––––––––––––––––––––––
Well, 5-3 is not where we hoped to be after that Ole Miss game but, my 8-4 pick is still alive and there is an outside chance at 9-3. I don't think the Hogs are as bad as that Auburn game showed and they have a chance this Saturday to prove us right or wrong against the Florida Gators in Fayetteville.
I'm sure most of you know the Hogs have not beaten Florida since joining the SEC in 1992. The last win was 1982 at a bowl game in the Houston Astrodome. I'm guessing if we played them more often we would have gotten over that hump before now but there is no better time than the present to get that monkey off the programs back. Coach B is saying all of the right things and the team seems to have responded well to the week off so there is that. Just time to go execute and show us that the O-line can create a running game and the defense can hold Florida to less than 20. If the Hogs can do that, they can win.
The warm weather and relative dryness of the season and slowed the turning of the trees and maybe even subdued the colors some.  It has also forced us to alter our menu planning. This was going to be our annual Chili game but with a high of 72, that just did not seem like a tasty option.
So, we have a nice treat this week. A friend of ours from Little Rock who has a growing BBQ business has offered to smoke some butts for us to help spread the word. They go by Smokin Bandit BBQ, Jamie Tritt and Jarrod Yates are heading it up. In addition we will have some brisket and chicken. Nothing fancy but it will be easy with the rather early start.
For some reason, there is not a lot of excitement surrounding this game despite the sold out stadium. Not one text of a person looking for tickets so far this week. I'm guessing we will have a nice crowd of 50 or so and we can expect the crush to come early. This is the earliest game this season so by 12:30 we should be at our peak until everyone begins to filter into the stadium around 2 p.m.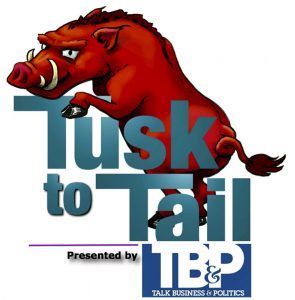 Lastly, keep that early start in mind when making your travel plans for the drive up. The early time will force everyone to leave a little earlier and for the roads to fill up and back up earlier than you have come to expect so far this season. Also, keep in mind all of the roads around the stadium will be cut off to non-pass holding traffic a full 4 hours before kick-off so if you don't have a pass, that means you can not just drive up and drop something off at a tailgate. Cut off time for traffic will be 10:30 a.m.
The nice part about being the 2:30 game is the fact that after the game we can stay and watch the LSU/Bama game at the tailgate or pack up quick and try to get home to watch it there. That leaves the Little Rock guys in a bit of a lurch but they should be home by the 3rd quarter, which I'm sure they would appreciate after so many late drives home.
Go Hogs, Beat Gators!
---
---
---