Tusk to Tail: Ready for the Hogs and Frogs with new TVs, trailer, tents and tables
Join the team
If there's one thing Razorback fans know, it's that anything can happen. Sign up for our free headlines and never miss another play.
It was the week that time forgot. There was no buzz in Fayetteville and honestly very little to be found in Little Rock when I arrived Thursday morning to witness the opening game of the Hogs' 2017 campaign. I knew just a handful of NWA folks making the drive, and most in Little Rock were still trying to cram in a day of work.
The opponent and the threat of Hurricane Harvey's downpours and heavy winds kept people guessing as to when and even if to set up on the War Memorial Stadium golf course. We pushed off until noon hoping we might miss the worst of the rain and kept our set-up pretty basic with just a TV, some music, and barbeque provided by Jamey Johnson.
By 3 p.m. there might have been 20,000 people on the golf course and somehow the rain bands were stopped by the Interstate 30 corridor as if it was the Great Wall of China holding off the Mongols. If the rain and wind had moved just three miles west, it would have been a wet, miserable, and muddy day on the golf course. As it was, it was one of the nicest games temperature-wise in Little Rock in recent memory. It made for a nice day on the course for tailgating – not too crowded and plenty of time to catch up with folks we haven't seen since last November.
Compare that to this week.
An expected high of 80, dry all week, partly cloudy, 2:30 p.m. kickoff, and a ranked TCU rolling into town. You can't ask for much better than that on Sept. 9. On top of that, the game this week is finally on everyone's mind. People are asking about our plans, discussing the team's chances, and lots of folks are looking for tickets. It feels like the season will actually open this week after the scrimmage in Little Rock last Thursday.
Tusk to Tail plans to hit our spot early Friday evening. Brad Davis is coming up from Dallas with large portable smokers and a load of meat to put in them. Greg Houser and I will meet him there to set up a few things to make his night of smoking as comfortable as possible.
Brad loves to cook, and put out a great spread for us down in Fort Worth last year. We gladly accepted when he requested another opportunity. We may have finally found us a cooker to go with all of our drinkers!
Brad plans to have some sliced and chopped brisket, smoked sausage, beans, and lobster mac-n-cheese. We will add some sides, dips, and sweets to that. Don't forget to load in some Gatorade and water for this week. Even at 80 degrees, the kids will be pretty hot running around, and the adults need to stay hydrated, also.
As usual, we have added a few things for this season. Houser picked up a larger trailer that has plenty of room to carry everything we need. More importantly, it is about 12" taller, so no more banging our heads as we load in and out. Technology wise, we added two new 60" televisions, that can be viewed from just about any spot under our 600 square feet of tents.
Lastly, we picked up some new tents, floor coverings, and new tables to improve our road trip setups, as we plan to make some good ones this year. It is game week, folks! Hang your flags, put the magnets on your cars, and throw out some Woo Pigs!
To tide you over until game time, some of the Tusk to Tail team have predicted the Arkansas game and some of the other big matchups this week.
Go Hogs, beat Frogs!
THE GAMES
• #23 TCU @ Arkansas
Sean Casey
Not sure about anyone else, but I am still stinging from the losses to Mizzou and Va Tech from last season, two games the Hogs should have won. This early season matchup with TCU is one of the most pivotal games for the 2017 season. Win this game and the Hogs can significantly improve their record over last year. Lose to TCU and the Hogs will struggle to make the Liberty Bowl. Last year's game with TCU was heavy on offense and light on defense. I expect a pretty good match up at quarterback between Austin Allen and Kenny Hill but I expect both teams will play better defense, especially the Horned Frogs. The Hogs will squander a few opportunities late in the game, fail to make some crucial stops and fall to TCU 35-31. No worries, there will always be next year.
Willard Grandview
Did I believe last season's thrilling win at TCU would set the tone for a stellar Razorbacks season? I did, though it proved to be fool's gold. Counting on early returns from young teams in college football will often do that to you. Killer programs like the Horned Frogs don't make the same mistakes twice. TCU 31, Arkansas 20
Greg Houser
Give me the Piggies by 3. Kenny Hill concerns me, but I hope this 3-4 defense does enough. The offensive line will be interesting to watch as well.
Jack Clark
TCU 25, Hogs 24.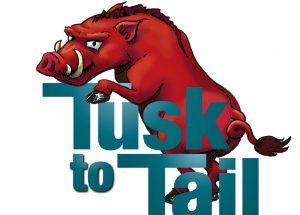 Bryan O. Davey
The TCU and Texas A&M games are huge for Hogs fans. Win both and Razorbacks fans might enjoy the type of season that makes everyone excited again. Split, expect more of the same. Lose both, and Reynolds stadium will start to look like a country club version of War Memorial. I can't predict a win in either game. The Frogs follow the Hog lead and take the away game.
Todd Rudisill
This is third time for Arkansas to play Kenny Hill. They lost to him when he was the A&M QB (thanks to a tripping penalty on Dan Skipper), and won last year in Fort Worth thanks to Hill's throat slash penalty that helped launch the Hogs comeback win. This is the first time they have played Hill on the hill, though. The Hogs and Frogs both did what they were supposed to do last week, and handle their lowly FCS opponents. The Hogs' new 3-4 scheme is built to stop offenses like the Frogs run, but is it too early in the season to have jelled enough? If the Hogs can run the ball and play ball control successfully, they win by double digits. I think Allen makes the plays when he needs to for Hogs to move to 2-0. Razorbacks win 24-20.
• #15 Georgia @ #24 Notre Dame
Todd Rudisill
This is only the second time these two have ever met. The last was the 1981 Sugar Bowl which the Bulldogs won to earn a national championship. Bulldog starting QB Jacob Eason is out. Backup Jake Fromm is good, but won't be good enough. Irish win 30-24.
Jack Clark
Georgia and Notre Dame could go into OT. I'll take the Irish, 34-28
Bryan O. Davey
We didn't learn much from week one with these two teams. Georgia has a great running game and an experienced defense which usually allows a team to compete well on the road. However, that hostile environment is dangerous for a backup QB and all foreign teams get fired up to play against the SEC. I'll take the Domers.
• #14 Stanford @ #6 USC
Sean Casey
Like a lot of Razorback fans, I despise the USC Trojans. My dislike goes back to a couple of back-to-back beatings the Hogs took from the Trojans when Pete Carroll had one of the best teams money could buy. In the other corner is the Stanford Cardinal, Cardinal, as in the color and not the bird. Stanford also has an unofficial mascot that is the Stanford Tree. I expect Fayetteville High to adopt a tree as a mascot at any time. This should be a fun game, featuring two good teams that will play at high levels this season. I expect Stanford to be more physical, play better defense, and grind the win out. Trees win 28-18
David Rice
USC is a 7-point favorite over Stanford. The Trojans feature two dynamic playmakers with quarterback Sam Darnold and running back Ronald Jones II, but will have to play better than last week to beat Stanford. The Cardinal have won the last three times these teams have met. USC 36, Stanford 31.
• #13 Auburn @ #3 Clemson
Willard Grandview
Now here's a college football game! Two big time programs both led by nerdy coaches. Auburn hasn't beaten a Top 10 team since 2014, and Death Valley is not the place to do it against the defending National Champs. Gus and crew will have a big year, but they start with a loss. Clemson 24, Auburn 20.
Todd Rudisill
Tigers vs. Tigers, and a battle of new quarterbacks, Kelly Bryant vs. Jarrett Stidham. Bryant was the real deal last week, and looks like Clemson just reloaded. Bryant and the Tigers of Clemson win this one 31-27.
• #5 Oklahoma @ #2 Ohio State
Greg Houser
Not sure how those Boomer Sooners keep up with the Buckeyes. Playing in Columbus for a new Head Coach in waiting? All things point to Ohio State by 14.
David Rice
The Buckeyes walloped OU in Norman last year, 45-24. QB Baker Mayfield returns for what seems like his 16th season with the Soomers, but it won't be enough. Ohio State's defense is far better than anyone Oklahoma will face in the Big XII. Ohio State wins 36-30.
––––––––––––––––––––
Editor's note: Welcome to the sixth season of Tusk to Tail – the sport of tailgating as organized, performed and perfected by a group of Hog fans who have been tailgating together sober and otherwise for more than a decade. Members of the Tusk to Tail Team are Sean Casey, Jack Clark, Dale Cullins, Greg Houser, Craig May, David Rice and Mark Wagner. Tusk to Tail is managed by Talk Business & Politics against the advice of attorneys and family. The diehards may also be followed on their Facebook page.Or follow the crew on Twitter — @TuskToTail
---
---
---