Tusk to Tail: Pigskin predictions and a supply problem with Hog Kool-Aid
Join the team
If there's one thing Razorback fans know, it's that anything can happen. Sign up for our free headlines and never miss another play.
When asked about the Hogs' football opener against some team you've never heard of before, the Godfather of Tailgating asked to be notified when Bielema's boys returned to Fayetteville.
THE QUESTION
Predict the Razorbacks season record, including post-season.
Mark Wagner
I think I was asked to do this prediction because of my reputation of being a homer. After the second half breakdowns in the last two games, I have tried my best to stay away from the talk radio sport shows, the internet fan chat sites, and even the local paper and all things hyping the upcoming season. Being a Razorback fan since the 1950s, I've had my heart ripped out of my chest and stomped on too many times. As The Who might say, "I won't get fooled again!"
How we do this season is pretty much going to be dependent on how the O-line plays. Hopefully for Austin & CBB they will be better – a lot better. I think we start fast and go 3-0. TCU will be the tough game, but we have them at home and we are just due to beat A&M. The next three games I have us at 1-2, losing to the Gamecocks and Bama.
Things get easier in the next 3 games where we go 2-1. Even though we have Auburn at home, I think that the paid players at Auburn are better than our amateur players. I also see us going 2-1 over the last 3 games with LSU being the lone loss there (though we always seem to have their number).
So the regular season is at 8-4. There could be one more win or two more losses, but I'm sticking with 8-4. Then I expect a win against whoever we play in a bowl – hopefully against Louisville in the Music City Bowl – to finish a 9-4 season. Damn, maybe I am a homer.
John Scott
I will go with the homers who automatically pencil in four victories over four non-conference opponents. Unfortunately, I will also pencil in six straight conference losses, before the team buys into the offseason focus on finishing strong. We then beat Mississippi State and Missouri at home and finish a strong, glass is half-full, bowl-eligible 6-6.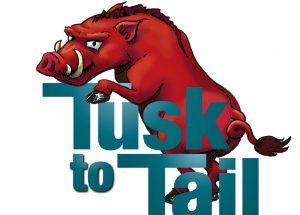 Fans will gift Front-Facing Hog apparel for Christmas, and travel to Memphis or Shreveport with the enthusiasm of a Wisconsin fan attending the Rose Bowl. I predict we take care of business against another 6-6 major conference team like, say, Kansas State. Destined not to repeat history, the Spirit Team will bundle Tusk in a multilayer wrap of goose down, Patagonia, and Gortex for the ride home. And Hog fans will re-board the Bandwagon, utterly thrilled to start financing that $160 million locker room and luxury suite expansion (not including underwriting fees and interest, as the Honorable David Pryor pointed out) as we charge forward winners again.
Todd Rudisill
It's that time of year again to drink that Hog Kool-Aid. But you know what? I just got back from the store and they are all out. I can't remember a season where when I think of Hog football, I think, "Who really knows?"
The last two games last season still make my head hurt. The schedule was setup perfectly for a great year. And this year is the opposite. I'm going with 8-5 with a win over anybody but Kansas State in the Liberty Bowl.
THE GAMES
• Florida A&M @ Arkansas
Craig May
Someone wake me up when it's time to head up to Fayetteville for the TCU game. Arkansas 42, Florida A&M 10.
Jeff Laman
Staring into the eclipse of the two second half collapses to finish the season has left me blinded to any optimism for this season. That said, the Hogs should roll to a relatively easy win against the Florida A&M Rattlers, this season's FCS opponent. There's not even a line, which stands to reason for a team that hasn't finished above .500 in the past 5 seasons. That will prove helpful with the debut of the 3-4 defense. Hogs win 38-17.
Dale Cullins
This should not be much more than a scrimmage for the Hogs. Austin sounds like he is ready to go, and he has some weapons. He just needs some improved play from the O-Line and I think Frank Ragnow is going to bust some heads to get it. The Snakes will drive 14 hours to play in a rainstorm and end up road kill, but the Hogs start 1-0. Arkansas wins, 52-17.
Todd Rudisill
Nah nah nah hey hey hey goodbye. This is probably the last game in the former great lady War Memorial Stadium. Her days have been numbered for a while. Remember what the city of Little Rock did with the Travelers when the Cardinals begged for a new AA stadium for years? Nothing, so the Cardinals packed up and moved to Springfield. Now they haven't done anything to add seats and completely renovate the old great, and they have had 20 years to do so.
Jeff Long will buy out the last game next year and move it to the newly renovated stadium that will be opening up. There is too much money on the table not to do so, and a great home schedule next year. Thanks for the memories WMS. I've been going there since I was 10, and it was a blast.
Oh, the game? Sorry, I was too busy tailgating to think about it. Hogs win 44-14.
• Texas A&M @ UCLA
John Scott
Most readers might instinctively take an SEC team over the Hollywood razzle-dazzle of UCLA at the Rose Bowl. But UCLA is from the Conference of Champions (a name likely more related to John Wooden's hanging 10 national championship banners in 12 years, rather than playing football in a 2/3 full stadium where men attend the game without shirts).
The Aggies are fortified by the 1-2 rushing punch of Trayveon Williams, Keith Ford, and a cadre of shaved head male cheerleaders in white painting smocks. Their cheers might resemble a novice Cotton Eyed Joe dance class, but it's unlikely the Bruin faithful will be diverted from their more, err, traditional cheer team.
The Aggie run defense wasn't anything special last year, and UCLA didn't even have a ground attack last season. Nonetheless, this early in the year, I will go with the home team .. with the heat getting turned up on Sumlin when they wilt in an offensive track meet in the sun. UCLA 42-32.
Todd Rudisill
I think for once A&M comes out of the gates losing instead of winning. Neither team ranked. Bruins 28-24
• #25 Tennessee vs. Georgia Tech
Jeff Laman
Our dessert to the opening weekend feast of college football is a low sugar, diet-sized portion when all you want is big slice of apple pie to wrap things up. Both teams have new starting QBs. If all things were equal, the edge would go to Paul Johnson and the team from the Flats. The Vols have lots of athletes though, and they'll win despite their coach's efforts. Tennessee 34-28.
• BYU vs. # 14 LSU
Mark Wagner
This game was moved from Houston to New Orleans. I'm sure Ed Orgeron is as stunned as the rest of us by the devastation to the Houston area, but deep down he's got to be thanking Hurricane Harvey for having the game moved to a "neutral" site near his campus.
BYU's offense looked horrible in their opener against Portland State, while their defense looked great. LSU always has a great defense, so it comes down to who has a better offense. While BYU will have one game under their belt, LSU is just stronger and their new OC will be wanting to make a point before they enter a soft part of their schedule. LSU is 13.5 point favorites, but I think it'll be closer than that. LSU 24-BYU 21.
• #11 Michigan vs. #17 Florida
Dale Cullins
This is a difficult game to pick right off the mark. Michigan has nothing on Defense returning but the Florida offense has no quarterback at this point. Florida has a good amount of talent returning on Defense and the Michigan O has not been their strength, other than having an experienced QB.
It's being played at Jerry World, so no advantage there either. My gut says Coach Harbaugh will find a way to get his D ready and that will be the difference. I'll take theWolverines in a close one. Michigan 21, Gators 20.
Nathan Newton
Harbaugh is an easy guy to hate unless he is your coach, a football version of Kentucky basketball coach John Calipari. Michigan will be a top team as long as he and his administration can handle one another. Michigan wins a game that guarantees vicious hitting and a plethora of foul language.
Todd Rudisill
Florida has suspensions. It's what they do. This will be a defensive battle and Michigan does just enough to win in a ugly game. Big Blue 23-17.
• #3 Florida State vs. #1 Alabama
Craig May
Great match up this weekend between Alabama and Florida State. The winner will be the early favorite to make the college football playoff. The loser will still have the opportunity play their way back into contention.
Expectations are high in Tuscaloosa. The Tide has made all three of the College Football Playoffs and this season should be no different. Jalen Hurts is back at quarterback after an outstanding freshman season. Damien Harris and Bo Scarbrough return at tailback after Harris led the Tide with 1,040 rushing yards last season, and Scarbrough scored 11 touchdowns. The Alabama defense will be one of the nation's best.
Florida State will look to replace running back Dalvin Cook who carried the Seminole offense much of last season. Look for quarterback Deondre Francois to lead the offense. As a freshman he threw for 3,350 yards, 20 touchdown and 7 interceptions. It will be a tough opening matchup for Alabama, but the Tide win going away. Alabama 31 Florida State 21.
Nathan Newton
Opening weekends are challenging for most teams. However, everyone expects both of these teams to be outstanding all season. Considering Alabama's success in early games under Saban, it is impossible to pick against them. But a Florida State win would not be a shock.
Todd Rudisill
FSU President John Thrasher is supremely confident that the Seminoles will come out on top, according to Tim Linafelt of Seminoles.com: "I shouldn't talk too much trash, but I think we're gonna beat Alabama pretty bad next week. I really do."
John Thrasher has a death wish. Don't get Nick Saban fired up any more than he is. 31-21 Bama.
–––––––––––––––––
Editor's note: Welcome to the sixth season of Tusk to Tail – the sport of tailgating as organized, performed and perfected by a group of Hog fans who have been tailgating together sober and otherwise for more than a decade. Members of the Tusk to Tail Team are Sean Casey, Jack Clark, Dale Cullins, Greg Houser, Craig May, David Rice and Mark Wagner. Tusk to Tail is managed by Talk Business & Politics against the advice of attorneys and family. The diehards may also be followed on their Facebook page. Or follow the crew on Twitter — @TuskToTail
---
---
---