Tusk to Tail: On the road to a 'stark' tailgate experience
Join the team
If there's one thing Razorback fans know, it's that anything can happen. Sign up for our free headlines and never miss another play.
story by Dale Cullins
Editor's note: Welcome to the fifth season of Tusk to Tail – the sport of tailgating as organized, performed and perfected by a group of Hog fans who have been tailgating together sober and otherwise for more than a decade. Members of the Tusk to Tail Team are Sean Casey, Jack Clark, Dale Cullins, Greg Houser, Craig May, David Rice and Mark Wagner. Tusk to Tail is managed by Talk Business & Politics against the advice of attorneys and family. The diehards may also be followed on their Facebook page. Or follow the crew on Twitter — @TuskToTail
–––––––––––––––––––
Starkville has to be the lowest of all the SEC 'Villes the Hogs will visit in any given year. Of course Tusk to Tail considers Fayetteville to be the best, but you have Gainesville, Nashville, and Knoxville to compete with, as well. Those towns are some of the more fun spots you will ever visit for a game day weekend in College Football.
But Starkville? Let's just say the Mississippi State hometown is aptly named.
Add the up and down season the Hogs are experiencing and you end up with a paltry seven people in your traveling party. Ryan Glen and I are coming from Fayetteville to meet up with all of the Little Rock crew.
Starkville's really not a bad place to visit. It is growing and gaining a few new amenities each and every time I go, and they have one of the best old stand-by eateries in Little Dooey's BBQ. It's just a small town and not really equipped to entertain the tens of thousands who descend upon it on a game day.
Starkville is about 4.5 hours from Little Rock and the quickest way to go is Interstate 40 over to Memphis, Highway 78 to Tupelo, and then head south on 45 until you reach your destination. I know many that like to stay in Memphis or Tupelo the night before or after depending upon game time, and that is a solid strategy. The only fault with that is the traffic out of Starkville after a Saturday night game can get rather thick, and the delays are rather lengthy. You can be in Tupelo by midnight if you are lucky, but much later if you decide to head on for Memphis.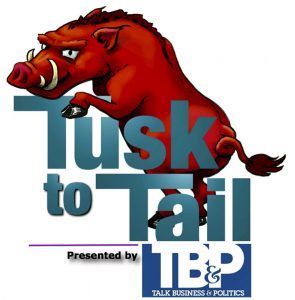 Tusk to Tail has our own strategy for this week's game. Ryan and I will meet with the Little Rock guys by 3 pm. Friday and get everyone on the move by 3:30. That's in part to miss the Little Rock traffic, but we also plan to grab some tamales from Rhoda's in Lake Village for our lunch on Saturday. After that, we will plan to grab dinner in Greenville at the original Doe's Steak House. That is a bit of a bucket list item for me, personally.
That will put us into Columbus, Miss., later that night, but we have a nice place to stay and the rates are far more reasonable than trying to grab a room in Starkville proper. It's a short 18 miles or so back to Starkville from Columbus.
We plan to head out early Saturday morning and grab a spot on campus for our tailgating endeavors. We will be piling up with some of the regulars we see on most of our road trips. Jim Harris is providing some sausage and cheese, I'll make some cheese dip, and we will have the tamales and chili to wash it all down.
It will be a long day with the 6 p.m. kick off but the weather yet again looks great, so no complaining from us. It could get a bit cool once the sun sets, and be sure to pack your lights if you don't plan to pack up before the game.
Safe travels and Go Hogs, Beat Bulldogs!
---
---
---