Tusk to Tail: On the positive side, Coach Bielema is not wearing a bathrobe to the games
Join the team
If there's one thing Razorback fans know, it's that anything can happen. Sign up for our free headlines and never miss another play.
Temperatures are finally dropping and the leaves are starting to turn. It's beginning to feel like football weather.
When does the season start?
That's an old joke, and not even a very good one from a group that has traveled together to every game, home and away, for decades. But I'm running out of ways to say we got our ass handed to us.
Again.
In the weeks between Arkansas Razorbacks games, I have been catching up on The Vietnam War documentary series by Ken Burns, and I'm having a hard time deciding which one has been more depressing. In no way whatsoever would I suggest that the men and women who honorably served the United States military could ever be compared to college kids playing a game. But the latter is supposed to be fun.
Six games into the 2017 season, the thrill is gone.
Arkansas (2-4, 0-3 in SEC) has lost the past six games against Power 5 opponents dating back to last year. Three of this season's losses have been by three touchdowns or greater. By far the question most frequently asked of Tusk to Tail is why we would go to Tuscaloosa for another certain Bama beatdown.
Others may have their personal reasons, but one response in particular shows just how thirsty we are for a win. When you have seen as many road losses as we have, you don't want to be stuck at home when the Hogs finally do pull off the upset. To hell with sunk costs. We are just hedging our bets.
None of us really thought we had a chance to win Saturday, but you never know. As it turned out, this was a weekend of upsets. Two Top 10 teams (No. 2 Clemson and No. 8 Washington State) had already been knocked off by unranked teams before we had even staked our tents in Tuscaloosa. Two more (No. 10 Auburn and No. 5 Washington) would go down to unranked foes on Saturday. After it was announced that Freshman quarterback Cole Kelley would get his first start, Yahoo's Dr. Saturday tweeted that the last time Arkansas beat the Tide in 2006, Freshman Mitch Mustain was at the helm.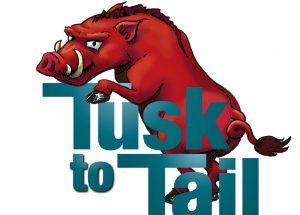 Could this be the year?
We started the game by kicking the ball for a touchback. That almost never happens for us. Things were looking up. What could possibly go wrong?
It took exactly one play to find out.
Alabama running back Damien Harris took the ball and cut back across the field, racing 75 yards untouched for the touchdown. Alrighty, then.
Time for us to get the ball. In addition to starting a new guy under center, the Razorbacks changed out the center too. All American center Frank Ragnow was moved to right guard so Zach Rogers could snap to Kelley. Johnny Gibson and Brian Wallace played left and right tackle, respectively. The only one playing the same position was left guard Hjalte Frohold, and he has been a work-in-progress at the position, to put it kindly.
Bielema later reported that this lineup gives them the most size up front, which seems understandable. But this is the seventh week of the season. How have our coaches still not found the right combination after spring practice, fall practice, six games, and a bye week? Football success is in part a product of rhythm and repetition. Perhaps there is a better time to rearrange 80% of the line than before playing the top-ranked team in an incredibly hostile environment.
Unsurprisingly, the offense sputtered out of the gates. Bama's tenacious defense left no room to run. Kelley was hurried or sacked every bit as often as when Austin Allen plays, though Kelley seems a tad more adept at making something happen. Nonetheless, it was time to punt three plays later.
Following the defensive and offensive struggles, our punt team said, "Hold my beer and watch this." The snap went to punter Blake Johnson didn't go well. It appeared Johnson had corralled the ball in time to salvage a kick, but instead he attempted a desperate pass that fell incomplete. The Crimson Tide had the ball on the Arkansas 25.
At this point of the game, Bielema's job seemed as secure as Harvey Weinstein's. About the only thing Coach hadn't done wrong was to come out in a bathrobe and, uhh, relieve himself all over a houseplant.
But then the defense showed a pulse. They held Alabama to a field goal, despite the short field.
The D was far from perfect, allowing another Harris touchdown that put the Hogs down 17-0 midway through the first quarter. But Arkansas held the Tide scoreless for nearly the rest of the half before surrendering a late rushing touchdown to quarterback Jalen Hurts, then held firm again for almost the entire 3rd quarter.
In addition to the stops, Scoota Harris, Duane Eugene, and Sosa Agim combined for three tackles for losses, including two sacks of Hurts. Kevin Richardson made a diving interception, and Ryder Lucas recovered one of Bama's three muffed punts. Bragging about the Arkansas defense in a 41-9 rout is about as rewarding as finding your wife's lost earring in a pile of dog poop. But as Sam Atkinson said, "I feel a lot better coming out of this loss than I did last week at South Carolina."
Indeed there were things the team can build upon. Starting the same offensive line two games in a row would be a nice start. Their ability to open holes for the run game while keeping the quarterback upright will be a key factor moving forward.
Auburn visits The Hill this weekend, perhaps still reeling from their 2nd half collapse at LSU. The Tigers absolutely beat the brakes off the Hogs last year, so I'm curious how we measure up against them this time.
Tusk to Tail is still thirsty for a win. As it stands right now, the games are merely spoiling a good fall afternoon spent tailgating.
––––––––––––––––––
Editor's note: Welcome to the sixth season of Tusk to Tail – the sport of tailgating as organized, performed and perfected by a group of Hog fans who have been tailgating together sober and otherwise for more than a decade. Members of the Tusk to Tail Team are Sean Casey, Jack Clark, Dale Cullins, Greg Houser, Craig May, David Rice and Mark Wagner. Tusk to Tail is managed by Talk Business & Politics against the advice of attorneys and family. The diehards may also be followed on their Facebook page. Or follow the crew on Twitter — @TuskToTail
---
---
---