Tusk to Tail: Notes on manly parts, the money gun and missed opportunities
Join the team
If there's one thing Razorback fans know, it's that anything can happen. Sign up for our free headlines and never miss another play.
The question of the day Friday was whether Craig May could get back home to Little Rock before Coach Bret Bielema had been fired. May couldn't even get back to our tailgate. Bielema was liberated of his employment immediately after Missouri beat the Razorbacks 48-45.
It was no surprise that Bielema was fired. The executioner's clock had been counting down for at least a full calendar year since last year's Mizzou game, when the Hogs squandered a big second half lead to lose to the Tigers. Blown leads and choke jobs will be the lasting memory of Bielema's run at Arkansas. Thirteen of his 34 losses (as opposed to 29 wins) occurred when the Razorbacks held a fourth quarter lead of 14 points or less.
What's the difference between Bielema's Hogs and a dollar? The tired old punchline is that you can get four quarters from a dollar. Bielema gets the last laugh, though. He will find out what he can get with well over $5 million of those dollars as a parting souvenir for his time at Arkansas.
By being at the game and drinking at our tailgate during press conferences, Tusk to Tail was somewhat unaware that the media had begun to criticize the swift and sudden termination of Bielema by interim Athletic Director Julie Cromer Peoples. The hot takes spilled into Saturday, as Desmond Howard and Charles Barkley skewered the termination's timing on ESPN's Game Day.
How could they be caught off guard? Had they not seen Jeff Long's body abruptly thrown out the door just a couple weeks earlier? Bielema was given plenty of notice to say goodbye to his players. And if you've got to go suddenly, getting blasted by the Arkansas Board of Trustees' money gun doesn't seem like the worst way to go.
Needless to say, the swamp is getting drained. There's a new sheriff in town, and some of the old guard apparently thinks she's got too much self confidence and not enough manly parts. The piss and vinegar uncorked by the guy at the state paper for Cromer Peoples and University Chancellor Joe Steinmetz is typically reserved until after somebody's out the door.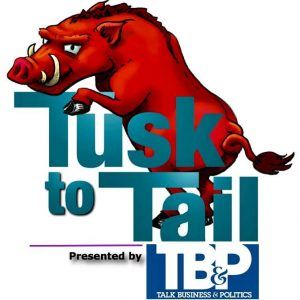 Cromer Peoples claims she was responsible for firing Bielema, and says she is solely in charge of hiring his successor. Based on the number of times she was questioned by the media, some seem to have a hard time swallowing it. It seems that some believe she's a puppet of the Good Ole Boy Network regime. Backroom deals were rumored to be greasing the skids to bring the Gus Bus back to Springdale. The money was supposedly lined up and everything. But a funny thing happened on the way to Opelika.
If Gus Malzahn was ever truly a legitimate candidate to replace Bielema, any chance of bringing him to Fayetteville likely vaporized Saturday when Malzahn's Auburn Tigers upset Alabama to advance to the SEC Championship. Always a bridesmaid, Arkansas helped yet another coach get a raise.
It appears we can add Gus to the list of botched hires and missed connections for the Hogs, along with the likes of Jimmy Johnson and Bill Self. When it comes to sealing the deal with interested championship caliber coaches, Arkansas is the land of missed opportunity.
Even more absurd than the rumor that Malzahn was Plan A is the sinking realization that there was no Plan B. The list of worn out retreads and unproven up and comers rumored to be on the short list of Razorbacks coaching candidates is fairly uninspiring so far.
Clearly, Arkansas football needed a change in leadership. Heading back to tear down the last tailgate of the season, I overheard someone say, "I just want a coach that can beat Missouri."
That would be a great place to start.
Nobody seems to know who is really in charge, or who will be hired as the next coach and athletic director. In the meantime, Bielema and Long will be paid more than a combined $10 million to take their #uncommon hashtags elsewhere.
Arkansas cannot afford to miss with these hires. It's almost time to load the money gun again.
––––––––––––––––––––
Editor's note: Welcome to the sixth season of Tusk to Tail – the sport of tailgating as organized, performed and perfected by a group of Hog fans who have been tailgating together sober and otherwise for more than a decade. Members of the Tusk to Tail Team are Sean Casey, Jack Clark, Dale Cullins, Greg Houser, Craig May and David Rice. Tusk to Tail is managed by Talk Business & Politics against the advice of attorneys and family. The diehards may also be followed on their Facebook page. Or follow the crew on Twitter — @TuskToTail
---
---
---