Tusk to Tail: Nevermind the scoreboard … Look at these tasty 'brachos'
Join the team
If there's one thing Razorback fans know, it's that anything can happen. Sign up for our free headlines and never miss another play.
October is more than half over, and the Hogs are finally playing their first home conference game on campus. Auburn is rolling in after a loss at LSU, while Arkansas is trying to pick up the pieces after a rather convincing loss to Alabama.
Though quarterback Cole Kelley did seem to provide a bit of a spark to this team, it's hard to see the Hogs pulling this game out against the Tigers on Saturday. The D-Line Auburn is bringing will be able to stuff any hope of a running game for the Hogs, and Auburn quarterback Jarrett Stidham seems to have been able to find the open receivers to put up some points for the Tigers when needed.
I'm not so sure the Hogs offense is up for the task of playing catch-up. At press time, the Hogs are 14.5 point underdogs to Gus, and I suspect that will only rise.
THE TRIP TO TUSCALOOSA
To recap a bit, it was a fairly uneventful trip to Tuscaloosa last weekend. Mark Wagner, Sam Atkinson and I headed out around 3 p.m. Friday so we could make dinner at the original Doe's Steakhouse in Greenville. Arriving at 5:30, we walked right in and got a table. I had forgotten they don't provide menus, so we pretty much just ordered from memory and what we were seeing on the other tables. Our waitress was friendly and never kept us wanting, so we were on our way by 6:45.
It's a pretty easy drive over to our hotel in Columbus, Miss., from there, so we hit Wal-Mart that night to stock up on supplies for Saturday, allowing us to sleep in a little on Saturday. Craig May and David Rice had waited on their boys' Catholic High football game to finish up before leaving North Little Rock. I knew they were making good time when they had departed central Arkansas at 9:30 p.m. and texted they were smelling Mississippi by a little after 11. I understand they pulled into Columbus around 1:30 a.m. and had lights out by 2.
Up and on the road for the short 60 mile drive over to Tuscaloosa at 7:30 Saturday, we were all in good spirits. We set up on the grounds of Central High School, just about 5 blocks from Bryant-Denny stadium. The school has clean restrooms, and it is easy to get out after the game, but there is not a lot of tailgate traffic. Lots of Bama folks park there and walk to other tailgates, so we don't get a lot of fan interaction. It was just us and other Hog Fans enjoying the day.
Jeff Laman picked us up about six pounds of Archibald's BBQ in Northport and we grilled bratwursts to round out the day's feast. Our good friend Matt Boudreaux gave us a new concoction we call Brachos. Take a layer of tortilla chips, cover them in sliced brats, and then pour on the cheese dip. It looked like a winner.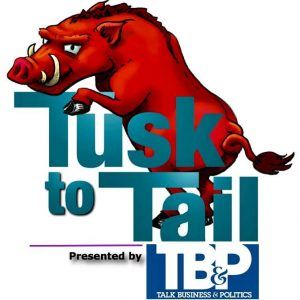 AUBURN TAILGATE PREP
This week's food plans are pretty simple. All-day tailgates can be a challenge for a host. You have some show up early who will more than likely eat twice during the day. Of course there is the great push about 2 hours before kickoff, when the greatest number of guests will be under the tent hungry and thirsty.
Brad Davis is going to grill a bunch of hamburger patties, hot dogs and more brats. We have a fair number of sides to go with that, including baked beans, Kara Cullins' famous macaroni salad, banana pudding, brownies, mini-corn dogs and other assorted snacks.
Ice can be another challenge for an all-day feast. The weather will be nice, with a high of 78 degrees, but keeping plenty of extra ice for later in the day is essential. You might consider bringing along an extra cooler just for ice. Keep it bagged and in the cooler as it seems to last longer that way.
Lastly, be sure to have a lighting source for after the game. It will be daylight when we go in, but will be dark when trying to pack up, so be prepared.
Have fun and Go Hogs, Beat Tigers!
–––––––––––––––––––––
Editor's note: Welcome to the sixth season of Tusk to Tail – the sport of tailgating as organized, performed and perfected by a group of Hog fans who have been tailgating together sober and otherwise for more than a decade. Members of the Tusk to Tail Team are Sean Casey, Jack Clark, Dale Cullins, Greg Houser, Craig May, David Rice and Mark Wagner. Tusk to Tail is managed by Talk Business & Politics against the advice of attorneys and family. The diehards may also be followed on their Facebook page. Or follow the crew on Twitter — @TuskToTail
---
---
---