Tusk to Tail: Living life at the mercy of the television gods
Join the team
If there's one thing Razorback fans know, it's that anything can happen. Sign up for our free headlines and never miss another play.
We knew it was coming. It just came a week earlier than expected. The Hog game with Texas A&M was assigned the dreaded 11 a.m. kick off. Most of Tusk to Tail figured the Southwest Classic, as no one calls it, had a good shot at being the 2:30 p.m. game on CBS when schedules were sized up in early August.
However, the Hogs' frustrating loss to TCU, showcasing an anemic offense, was only slightly better than when UCLA came from 34 points behind to beat the Aggies. This left the TV gods little choice but to move the Hogs and Aggies up to the "nobody's watching a football game this early" time slot. It has since been announced that the Hogs and the Aggies from New Mexico State will also come with an 11 a.m. kickoff.
I've always been in favor of a breakfast game once a year, as it gives a tailgate host a chance to mix it up a bit and break out some sweet and savory menu options. Also, you get home in time to watch all of the really good games that are slotted for prime time while not being completely exhausted from a full day of tailgating.
With this game being essentially a road game in Dallas despite the Hogs being the home team this year, it does simplify things some. Our basic road tailgate will be downsized to just one tent with a limited bar and limited food options.
After last week's loss there were some people who felt this team wasn't worth the extra time and money a trip to Dallas can rack up. We only have 6-7 confirmed guests, plus a few likely walk-ups, so no need to blow it all out and create extra work for ourselves. The Cowboys stadium has a lot of food options inside, so I think we will save that effort for Bama, Carolina, Ole Miss and LSU.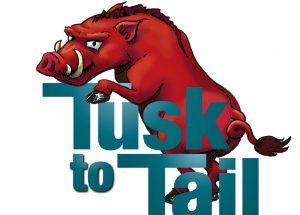 If you are traveling to the game, keep in mind that Dallas has a large chain of liquor stores named Specs. They offer a huge assortment, some free samples, and a lot of brands that you cannot find in Arkansas at excellent prices. I always load up on a few staples we use throughout the season to save the tailgate some money.
Most Arkansans are familiar with Dallas and some of the more famous spots to eat while there but I wanted to pass along a few options if you enjoy barbecue. Some of my favorites include Pecan Lodge, Lockhart's in Plano, CattleAck BBQ, 18th and Vine, One90 Smoked Meats, Hard 8 BBQ, Meat U Anywhere in Grapevine, and Hutchin's BBQ.
If looking for chicken check out Babe's, Super Chix or Prohibition Chicken.
Lastly for some pregame snacks, check out some of these popular donut shops in the Metroplex. Mustang Donuts, Jerry's Donuts, Shin's Donuts and Hypnotic Donuts each have their share of fans.
Enjoy the trip and safe travels to everyone. We will be in Blue Lot 10, so if you are out and about before the game, come by and say hello.
Go Hogs, Beat Aggies!
–––––––––––––––––––––
Editor's note: Welcome to the sixth season of Tusk to Tail – the sport of tailgating as organized, performed and perfected by a group of Hog fans who have been tailgating together sober and otherwise for more than a decade. Members of the Tusk to Tail Team are Sean Casey, Jack Clark, Dale Cullins, Greg Houser, Craig May, David Rice and Mark Wagner. Tusk to Tail is managed by Talk Business & Politics against the advice of attorneys and family. The diehards may also be followed on their Facebook page. Or follow the crew on Twitter — @TuskToTail
---
---
---