Tusk to Tail: It's waaaaay too early to pick college football playoff teams … but we did anyway
Join the team
If there's one thing Razorback fans know, it's that anything can happen. Sign up for our free headlines and never miss another play.
Editor's note: Welcome to the fifth season of Tusk to Tail – the sport of tailgating as organized, performed and perfected by a group of Hog fans who have been tailgating together sober and otherwise for more than a decade. Members of the Tusk to Tail Team are Sean Casey, Jack Clark, Dale Cullins, Greg Houser, Craig May, David Rice and Mark Wagner. Tusk to Tail is managed by Talk Business & Politics against the advice of attorneys and family. The diehards may also be followed on their Facebook page. Or follow the crew on Twitter — @TuskToTail
–––––––––––––––––––
A member of the Tusk to Tail crew believes the Hogs have a chance to be one of the four teams to be in the college football playoff. Concussion protocols have begun and rehab centers have been called.
THE QUESTION
Which 4 teams make the college football playoffs?
Todd Rudisill
My way-too-early-playoff-prediction-that-will-be-nowhere-even-close is Bama, Louisville, Michigan State, and Stanford.
Greg Houser
Alabama, Ohio State, Stanford, and Houston. There's no way I can pick Louisville. College football is so incredibly fun, I'll enjoy whoever is in. I would have a bit of a hard time watching Bobby Petrino if the Cardinals make it. But if he does get into the playoffs, watch him leave Louisville and Art Bryles get hired the very next day.
David Rice
College football, in its infinite wisdom, essentially has five conferences vying for four spots.  The Big 12 has likely eliminated itself through early season losses, unless Baylor remains unbeaten.  Anyone can predict frontrunners like Alabama, Stanford, and Clemson, so I'll switch it up a bit. Give me Louisville from the ACC and Ohio State from the Big 10. How about Washington from the Pac 12? And from the SEC? Whoever wins the Arkansas-A&M game. You heard me. The winner of the Arkansas game is going to the playoffs! Unfortunately, I fear it may be the other guys.
THE GAMES
• #17 Arkansas @ #10 Texas A&M
Sean Casey
Hog Nation's high hopes are about to crash into reality this weekend. The Hogs meet the Aggies in Dallas looking to remain undefeated and focus their sights on Alabama. Also undefeated, the Aggies boast more impressive wins against UCLA and at Auburn while Arkansas's signature win this September was against TCU.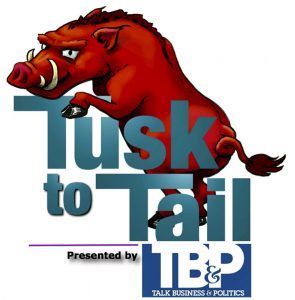 The Aggies have several advantages over the Hogs, including a much better defense than Arkansas has seen. Guided by John Chavis, the Aggies have a fast defense that will the Razorback offensive line flat footed in the dust. The Aggies also have a more potent offense led by quarterback Trevor Knight. Arkansas's Austin Allen has been good in his first three starts, but the advantage still lies with the Aggies, who have simply scored more points against better opponents.
The Razorbacks secondary has struggled against this kind of offense, and Saturday night will be a long night for that group. The Aggies will eventually wear the Hogs down and pull away with a convincing win in the second half. Aggies 52, Hogs 31.
Willard Grandview
What a tough game to pick. There are certain programs Bret Bielema seems to match-up well against, like Ole Miss and LSU. And if not for late game meltdowns the last two years, Texas A&M would be lumped in there, too. So what's that about? Is it toughness?  Is it character? Is it the smug sense of entitlement of these Aggies? And if those are real factors, then it's only a matter of time before the Razorbacks get focused and take care of business against this team. But will that be this week? I want to pick Arkansas, I really do. So I will! Arkansas 41-38 in 3 OTs.
Mark Wagner
The third time is the charm. The Hogs had the Aggies beat the last two years, but let them escape late in the game. Arkansas must find a way to contain Knight and keep Myles Garrett, maybe the best defensive player in the country, off of Allen. I think this year we will win because we should. If you are looking for anything more insightful, you won't get it. I'm on the beautiful island of Bermuda drinking some run and just happy that I can still type. Arkansas 24, Aggies 13.
Dennis Fanzone
Rough stuff when a team has your number. Although the Hogs have managed to avoid the early season blues, the Aggies have a solid D-line as well as their typical offense. Austin will spend some time on his back this game, as the Hogs end up with their first loss of the season.
Todd Rudisill
Bielema has had this one circled on the calendar, I promise you that.  We've had two gut wrenching losses the last two years that still make me throw up a little bit in my mouth every time I think about them.  Especially the infamous Dan Skipper "trip" when we were about to go up 3 scores two years ago.  It wasn't a Reggie Fish but damn close.
The Aggies scored about half of their 29 points on 5 field goals against Auburn.  If the Hogs defense can have them do that again, they will win by 2 TD's with our offense clicking on all cylinders.  This is the first time both teams have been ranked going into the game. It's time to put Sumlin and the Aggies in their place. Hogs 31-24.
• #18 LSU @ Auburn
Todd Rudisill
Tigers vs. Tigers. Miles vs. Malzahn. Hotseat vs. Hotseat to see whose seat gets even hotter. I think one of the coaches doesn't make it through the season. LSU has QB woes as usual, but Danny Etling may be a step up. LSU defense will own Auburn. Bayou Bengals 27-17.
David Rice
It is strange to see Gus Malzahn's offense struggle down at Auburn. We'd already anointed him a genius and everything. Some people struggle with the responsibilities of being a head coach, so maybe that's what is going on here. This loss will take him one step closer to being a successful coordinator again. LSU wins 10-6.
• #19 Florida @ #14 Tennessee
Greg Houser
Even with Florida's QB situation, Tennessee does not seem consistent this year. They need to answer the questions at the O-line, and even Dobbs doesn't seem terribly dynamic right now. I'll take the Gators by a touchdown.
Dennis Fanzone
Again, rough stuff when a team has your number. Injuries make this game a tough one to pick. Defense travels and Florida has just looked better this year, but this is the first real test for both teams. Tennessee finally ends the streak, and makes a strong move towards claiming the East.
• #12 Georgia @ #23 Ole Miss
Willard Grandview
The Rebels are sitting at 1-2 and on the verge of a lost season. And it's not even October. Also, it's a noon local time kick, so Chad Kelly could be wicked hungover. Still, Georgia forgot how to run the football the past two weeks, and they have a head coach named Kirby. Rebels 35-24.
Todd Rudisill
This game has blowout written all over it. UGA is starting a freshman QB and Ole Miss is starting a butt-hurt senior QB who has already lost two games this year in Chad Kelly.  Georgia has nowhere near the firepower the Black Bears do. Ole Miss 38-21.
• #11 Wisconsin @ #8 Michigan State
Mark Wagner
It's the first time in four years that the teams have met, and both teams have killer conference schedules ahead of them after this game. Winning this game will mean a lot in deciding if one of them makes it to the conference championship. The Spartans are playing at home, and Wisconsin not only has a starter at running back doubtful for the game, but haven't really figured out their QB situation yet. Because of this, I love the Spartans over the Badgers by a score of 24-14.
Dennis Fanzone
I would take the under in this game. Both these teams have quality defenses and can play physical ball. MSU has a slight edge on offense, along with home field. I made the mistake of picking against MSU last week. I will not make that mistake twice.
• #7 Stanford @ UCLA
Sean Casey
The Stanford Cardinal/Christmas Tree program is the favorite for this game against the Bruins, and with good cause. Stanford plays a physical game where they'll rush the ball and pretty much have their way with the UCLA defense. The Bruins are a "finesse" team who'll throw the ball. I doubt anyone reading this pick watches this game, and I don't plan to either. Stanford wins 45 to 21.
Todd Rudisill
Stanford has won eight in a row against the Bruins. I don't see any reason that it won't be nine. Too much McCaffrey. Trees win 35-24.
---
---
---