Tusk to Tail: It's gonna be a three-tent, big-TV party more than 900 miles away from Fayetteville
Join the team
If there's one thing Razorback fans know, it's that anything can happen. Sign up for our free headlines and never miss another play.
They say football is a game of inches. For Tusk to Tail, it's a game of miles. This week's game against the South Carolina Gamecocks will be a landmark event for our traveling band of Hog Fans. It will be the farthest from home we have ever set up a full-blown, TV watching, bar drinking affair.
It is 923 miles from Fayetteville to Columbia, S.C. This will be my fourth trip to Columbia, but I'd have to say I'm more excited about this trip than any other.
I've been fortunate to visit all 14 SEC campuses, along with TTT''s Craig May and Mark Wagner. However, Columbia has been elusive for a large part of our crew. For more than 20 years, South Carolina was the annual eastern opponent for the Hogs. Once Texas A&M and Missouri joined the league, our Eastern division rival switched to Mizzou. So for all of those years, guys had been putting off the far, not so exotic and expensive trip to Columbia thinking there would be another chance every other year until there wasn't.
This will be the first trip back to Columbia for all of us since 2012, when John L Smith was allegedly coaching at Arkansas. By my best reckoning, the Hogs will not return to Columbia until 2027 after this game. There might be another solar eclipse before then. If you have been waiting to check this destination off your list, it's not too late. You never know, this might be your last chance.
Trust me, I've used this logic before with success. In 2006, when the Hogs last went to Atlanta for the SEC title game, I successfully argued to my wife that it had been over 40 years since the Hogs last had a title shot, so I could be dead before they made it again. It worked, and we might have made it if not for a muffed punt into the end zone.
But I digress.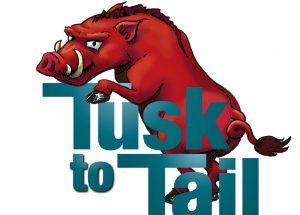 About half of our crew will be flying, with the rest of us driving. Chad Claybrook and I will head down to Little Rock on Thursday evening with most of our gear to stay with Wagner. We plan to grab Sam Atkinson and David Rice at 5 a.m. Friday and hit the road. With a little luck and a tail wind, we should be in Columbia by 6 p.m. (Pro tip: Don't forget the time difference when figuring your arrival time).
If we don't delay, we should be through Memphis by 7 .m. before the worst of the rush hour traffic. I plan to take us South on Interstate 55 and then cut over on Goodman Road or Highway 302 to 78 South. This should save time over using Highway 78 directly off of 240. After that it is a pretty easy drive on Highway 78/22 to Birmingham, and then I-20 all the way over to Columbia.
We plan to meet up with Jeff Laman and his wife Hope in Atlanta for a late lunch at a barbecue joint he's been telling us about for years. Check out Heirloom Market BBQ the next time you are in the ATL. Laman swears by it. At that point, we will have three vehicles in the final stretch to Columbia.
Although we don't have specific dinner plans as of yet, we do have some spots to consider. These have all come recommended or picked up off of lists compiled by magazines and websites. Highlights include: Powley's Front Porch; Pavlov's; Blue Marlin; Doc's BBQ; Lizard's Thicket; and Hudson's Smoke House BBQ.
Columbia is a large city, about the size of Little Rock. but with a major University smack in the middle, so there are plenty of great spots to eat.
Come Saturday morning, I hope to have everyone roused from the evening's festivities and back on the road toward William Brice Stadium by 7 a.m.. There's just no rest for a weary SEC fan.
Although this is not our first trip to Columbia, this is our first big tailgate to host there. Like most SEC schools, the best spots are taken up by the locals and the season ticket holders. We have been told there are private lots near the stadium that open up early that will accommodate us on a first come, first served basis, so we want to be sure we get there in time.
We have a large crowd for an away game. Many took me up on this last-chance-for-10-years option. At last count, we expect more than 25 confirmed guests. Todd Rudisill found a place called PDK Fresh Tenders, and Laman decided we should go with Hudson's BBQ for our primary food options.
The TV gods did shine on the Hogs this week with a 4 p.m. local kickoff, and at this writing, the weather looked favorable. There is a growing chance of rain, but it will take more than that to hold us back.
We are stepping up to a 3-tent set up for this week, and bringing our new 48" road game TV for entertainment. I decided to bring the portable bar for this trip, as well. That should help accommodate our large crowd and show the Gamecocks we know how to tailgate in Arkansas just as well, if not better, than they do. I just hope the team shows the Gamecocks they know how to play football just as well, if not better, than they do, too.
Go Hogs, Beat Gamecocks!
–––––––––––––––––––––––
Editor's note: Welcome to the sixth season of Tusk to Tail – the sport of tailgating as organized, performed and perfected by a group of Hog fans who have been tailgating together sober and otherwise for more than a decade. Members of the Tusk to Tail Team are Sean Casey, Jack Clark, Dale Cullins, Greg Houser, Craig May, David Rice and Mark Wagner. Tusk to Tail is managed by Talk Business & Politics against the advice of attorneys and family. The diehards may also be followed on their Facebook page. Or follow the crew on Twitter — @TuskToTail
---
---
---