Tusk to Tail: Is the Razorback 'Roux' ruined? It's certainly bitter
Join the team
If there's one thing Razorback fans know, it's that anything can happen. Sign up for our free headlines and never miss another play.
At this point, we all know this is not what we signed up for as Hog fans. I have no doubt Coach Bielema feels the same.
Last Saturday started off early, a little humid, and much windier than expected. As David Rice, his son Jackson and I drove up Razorback Road to unload the trailer, we passed a lot of fellow tailgaters starting their day. Most were already struggling with the wind. I remember thinking there would be a lot of damage wreaked upon the campus today.
I was thinking more along the line of lost tents, tables and fun due to wind damage. Little did I know the damage that would be inflicted upon the Hogs and our starting offense.
Most of the folks we passed were trying desperately to tie down tents with what they had at hand. Luckily for us, the fine folks at Intents have this covered. Our tents are more than secure. We saw a lot of the folks with smaller instant up tents just give up and take them down rather than risk ruin. Others not so much.
We witnessed several destroyed tents on our drive out that night. Much like the remains of this year's football team, the damage was cast to the side as folks now focus in their disappointment and anger with the head coach, his coaching staff, and even the athletic director.
Most of the disappointment seems to stem from, "How did we get here?"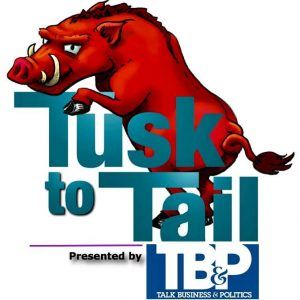 Like when you cook the perfect pot of gumbo. The roux is brought along slowly with a lot of stirring. The Cajun trinity is prepared with a great deal of selection and chopping, then slowly combined with the proteins and delicately folded into the brew. But say you get distracted, maybe leaving the fire a little too hot before coming back for a taste. You stir the pot, but meet some resistance. You expect delicious, but then that burnt, bitter taste hits the back of your tongue hard and you know there is nothing to be done. The batch is ruined.
You have to move on and try again. But it happened so fast, you just can't understand how.
This is year 5 of the Bielema era. We should be winning games, not getting beaten by 30-plus points in consecutive games. Hell, even in the 4-8 years of Houston Nutt, the Hogs were at least competitive with some close games. This is just bad football. No leadership, no coaching, and no motivation.
We had hope for this team this year. We had a veteran QB, a new Defensive Coordinator with his scheme carefully planned out over the off season to bring some finish to a team that couldn't.
I'm not suggesting we thought this team would win 9 or 10, but there was hope for 7, maybe 8. Seven games in now, it's over. This team is done.
It is crushing to watch this team collapse twice now in the 3rd quarter of games that were still winnable. I know on paper this year's Hogs could still pull out a 7-5 season, but really, does anyone see that happening? Based upon what we have seen so far, I'm not sure this squad can get to 5.
To top it all off, we don't even have the Grove at Ole Miss to look forward to. The game is scheduled for an 11 a.m. kick and the kickoff forecast is 43 degrees. That is even cooler than during the Hunter Henry heave game two years ago.
We had hoped to set up a tent in the Grove and rub elbows with the Rebel BearSharks but our season and the early kick off have squashed those plans. Only seven of us will make the trip on Friday, with hopes of having some guests on Saturday. We will just use some media lot passes we have access to, and keep it simple. We will have no tent, as we will need the sun to keep us warm. Sam Atkinson will use a camp stove to heat up some homemade Tortilla Soup, and hopefully we have time for enough drinks to keep us warm throughout the game.
We will grab some ribs on Friday night in Memphis. I'm thinking for old time sake we should hit the Rendezvous, but I could be persuaded otherwise. We may hit the Bar-B-Q Shop on Saturday on the way home. That's a spot I've wanted to cross off my list for some time now.
Other famous barbecue joints to consider are the Germantown Commissary, Interstate BBQ, Central BBQ, and The Memphis Barbeque Company.
I am sure you all know the best way to get to Memphis and there are only a few ways to get to Oxford from there. Either way is good, about one hour and 25 minutes from Memphis. However, keep in mind that the game is at 11 a.m., and 70,000 people – OK, maybe 60,000 – will be trying to get there at the same time. Whatever time you are thinking, leave earlier. You can thank me later.
Go Hogs, Beat Rebels, Bears, & Sharks!
–––––––––––––––––––
Editor's note: Welcome to the sixth season of Tusk to Tail – the sport of tailgating as organized, performed and perfected by a group of Hog fans who have been tailgating together sober and otherwise for more than a decade. Members of the Tusk to Tail Team are Sean Casey, Jack Clark, Dale Cullins, Greg Houser, Craig May, David Rice and Mark Wagner. Tusk to Tail is managed by Talk Business & Politics against the advice of attorneys and family. The diehards may also be followed on their Facebook page. Or follow the crew on Twitter — @TuskToTail
---
---
---