Tusk to Tail: In The Ohio State Razorbacks and Aggies game, the winner is expected to be 'somebody'
Join the team
If there's one thing Razorback fans know, it's that anything can happen. Sign up for our free headlines and never miss another play.
The Tusk to Tail crew is off to Jerry World. At least part of the crew. The game against the Aggies could be less about the score and more about which head coach might have more free time in the near future. One of the Tusk to Tail crew goes so far as to predict the winner of the game will be "somebody."
THE QUESTION
Which 4 teams do you predict will make the College Football playoffs this year?
Dale Cullins
With just three games to go on, odds have to be on Clemson, Alabama, Oklahoma and USC. That means the Big 10 is shut out of this year's playoff. The Big 10 has done to itself what the SEC did to itself a decade ago by throwing big money at good coaches in a landscape that had been void of elite coaches. The Big 10 East is more than likely the most difficult division in major college football, leaving no team with fewer than 2 conference losses this season. If USC or Oklahoma struggle and lose a game, that might leave room for a 1-loss team from the Big 10 to find a way in, based on strength of schedule. I don't see any team beating Clemson or Alabama in conference.
Jeff Laman
Clemson, Washington, Michigan, and Oklahoma. That's right, Alabama is not here. The SEC is down and Bama hasn't looked like they normally do, though it is still early. Clemson and OU have looked great. Michigan throttled a Gator team down 3 players, and frankly, how do you bet against Chris Peterson? Back to the SEC for a second, mark Nov. 11 when Bama drives west on US 82 to StarkVegas. That will be a game.
THE GAMES
• Arkansas vs. Texas A&M
Craig May
I hope the coaching staff and players haven't given up like some of the fans have over the last 2 weeks. As much as the Hogs have struggled lately, I think they match up well against Texas A&M. Freshman quarterback Kellen Mond is still trying to learn the A&M offense and the offensive line has been having problems with pass protection. If you're the Arkansas defense you load the box and force the freshman to beat you with his arm. I think this game comes down to who shows more consistency at the quarterback position. Arkansas 21, Texas A&M 17.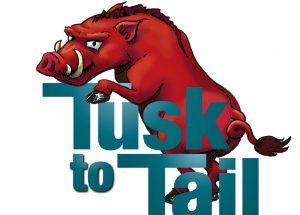 John Scott
I am not smart enough to out-think these teams' actual performance on the field so far. A&M clearly has struggled, but they scored 42 points on UCLA on the road. They also collapsed like an Arkansas team trying not to lose in the second half. Arkansas hung 7 on TCU, and we have been told about the collective depression that struck Austin Allen and Dan Enos in the days following. Whether the coaching hot seats are justified, both teams clearly have a lot to play for. The pundits have again labeled this possibly the most important game of Bret Bielema's Arkansas career. I predict a slug-out in a close first half that ends 14-13. The teams will then join hands and watch their defenses melt faster than a Sonic ice cream cone on an August day in Dumas. The upside is Austin throws for 377 yards and 4 touchdowns. Aggies 45, Hogs 42.
Todd Rudisill
I'm Bielema'd out. If he had woken up the morning after TCU and fired OL coach Kurt Anderson it would show me he gave a crap. How after two seasons of not being able to run the ball inside the five, four, three, two, and one yard line are you not fed up, Coach? And not scoring in the 2nd half is on the verge of becoming a tradition if we do it again this Saturday. Aggies own us. They aren't good. We aren't good. But wait we are wearing cool Cowboy replica uniforms that make us look like The Ohio State University. 31-27, Somebody.
Mark Wagner
Not everyone in TTT is going to the game, but I'm not missing it. I truly think this game is a tossup. Both coaches are trying to salvage a very young season, and both teams desperately need a win. Despite wearing uniforms that look disturbingly like Ohio State, and eschewing the official licensing pantone #201color so that Nike can make a few more dollars, I think the Hogs have what it takes to pull out a win. I mean Allen and the offense can't really be that bad, right? Somebody please tell me that I'm right. This is how I see the game going: Arkansas scores first, and then A&M takes over and we are down 2 TDs in the fourth quarter. At this point, Enos & Allen remember how well the offense was doing toward the end of last season, and we win on a last minute field goal. Hogs 27, Aggies 24.
• #20 Florida @ Kentucky
Jeff Laman
The Gators are favored by 2 on the road. They were fortunate to beat Tennessee on a last second pass. The 'Cats, coming off the win at South Carolina, end the Gators' 30 year winning streak in Lexington.
Todd Rudisill
The Gators' offense is about as ugly as the Hogs, but they actually scored a bunch in the 4th quarter last week. The upstart Wildcats are at home and licking their chops, but let's remember the Cats haven't beaten Florida in 30 years. The streak continues. Gators win ugly, 27-20.
#15 Auburn @ Missouri
Craig May
It just feels like something is off at Auburn this season. Most of their fans have been waiting for this dynamic offense to show up and set the SEC on fire, but it hasn't happened and that's not good. If Purdue can blow Missouri out, then Auburn should be able to do the same. This Missouri team is bad. Look for Auburn quarterback Jarrod Stidham and tailback Kamryn Pettway to have huge day on offense.
Lester Hazen
Against normal competition, Missouri looks awful. Are they bad enough to make this version of Malzahn's offense look good? That is really the only question, since we all know Auburn will win.
• #17 Mississippi State @ #11 Georgia
Dale Cullins
It's going to be a great game between the two Dogs in Athens this Saturday. I'm going to give the edge to the visiting Dogs from Starkville. Both have played a respectable schedule, but State played with a lot of confidence last week in beating LSU and having an experienced QB should help them win a close one. MSU 2 , UGA 20
Todd Rudisill
Which Bulldog is for real? State rolled LSU last week, and let's be honest: we all loved that. I don't think Georgia has the fire power to keep up with Nick Fitzgerald. I think he is the best QB in the conference. State wins 34-27.
• #16 TCU @ #6 Oklahoma State
Mark Wagner
Both team are undefeated, and while TCU had a slow start last weekend, they steamrolled SMU after spotting them a 19-7 advantage. The Cowboys have won 4 of the last 5 against TCU and are favored in this game. While I would like to think that the TCU win over Arkansas just shows what a great team they are, I think they lose their first game of the season this weekend. They are playing in Stillwater, and are without RB Kyle Hicks, who splits time with Darius Anderson. TCU's defense will give them a chance, but Okie State has been piling up the points this season. Something has got to give, and I'm thinking it will be the Frogs. Cowboys 35, TCU 27.
Todd Rudisill
The Cowboys look really good, averaging 54 points a game. The Horned Frogs' defense gave up 36 to SMU last week. Pistol Pete runs away with this one, 49-28.
• #1 Alabama @ Vanderbilt
John Scott
Thanks to the staff for this easy game to pick. No study was required. I will put on my Joe Namath rose colored glasses and fur coat and guarantee an Alabama victory, taking care of business by the standard early season margin of 35-14.
Todd Rudisill
Vandy fans and even a few players called out "We want Bama" after last week's upset win over Kansas State. Never thought I would hear those words out of Nashville. No, you don't want Bama. The Tide rolls as usual, 35-14.
Lester Hazen
An interesting game if you are gambler. Alabama will show Commodore fans why it is silly to chant, "We want Bama."
–––––––––––––––––––––––
Editor's note: Welcome to the sixth season of Tusk to Tail – the sport of tailgating as organized, performed and perfected by a group of Hog fans who have been tailgating together sober and otherwise for more than a decade. Members of the Tusk to Tail Team are Sean Casey, Jack Clark, Dale Cullins, Greg Houser, Craig May, David Rice and Mark Wagner. Tusk to Tail is managed by Talk Business & Politics against the advice of attorneys and family. The diehards may also be followed on their Facebook page. Or follow the crew on Twitter — @TuskToTail
---
---
---