Tusk to Tail: In Kool-Aid induced trance, the crew picked the Hogs over the Horned Frogs
Join the team
If there's one thing Razorback fans know, it's that anything can happen. Sign up for our free headlines and never miss another play.
Editor's note: Welcome to the fifth season of Tusk to Tail – the sport of tailgating as organized, performed and perfected by a group of Hog fans who have been tailgating together sober and otherwise for more than a decade. Members of the Tusk to Tail Team are Sean Casey, Jack Clark, Dale Cullins, Greg Houser, Craig May, David Rice and Mark Wagner. Tusk to Tail is managed by Talk Business & Politics against the advice of attorneys and family. The diehards may also be followed on their Facebook page. Or follow the crew on Twitter — @TuskToTail
––––––––––––––––––––
The second week of Hog football season has the Tusk to Tail crew pontificating on the Razorback stadium expansion and predicting that the Hogs will beat TCU on the Horned Frogs' home field. And yes, it's too late for rehab.
THE QUESTION
The University of Arkansas Board of Trustees approved a $160 million stadium renovation and north end zone addition that has been criticized by board member and former U.S. Sen. David Pryor as benefiting wealthier Razorback fans while not doing enough to reduce costs for students. What are your thoughts about the expansion?
Sean Casey
I've not followed all the details, but my understanding is that the Razorback stadium expansion will help generate more revenue by adding more suites. I believe it is important to understand that Arkansas is fortunate to have an athletic department that generates revenue for the university. And when the athletic department is described as generating revenue, we're really saying that the football team is generating that revenue. There are a couple of exceptions but overall the football program pays for all other athletic programs at the University of Arkansas. I believe this stadium expansion will be funded by the athletic department and donors and will not be paid by the students or tax payers. Under these terms, I agree with the stadium expansion.
Willard Grandview
You know why I'm for the stadium renovation and north end zone expansion? Because I like nice things. Is that wrong? Look, they're not spending any taxpayer money on the project, and whatever proceeds they allocate to it from my own ill-advised purchasing of overpriced Nike polos with front-facing Hogs is none of my concern. Just make the stadium among the best in the SEC. And don't try to start a class warfare argument.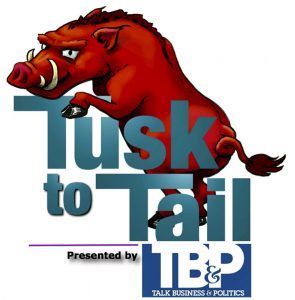 The UA student section is reliable and passionate. But I sat in my west side upper deck seats on a perfectly beautiful Saturday afternoon last weekend and stared out at a 40% empty east side upper deck – seats that were going for as low as $15 on StubHub during the week leading up to the game. Lady Liberty may say, "Give me your tired, your poor, your huddled masses." But I say, "Give me your old-money donors, your wealthy East Arkansas aristocrats, your fine scotch drinkers," because I know they'll be paying for their luxury boxes in-full and in advance. That's what the program needs to be successful. Jeff Long recognizes that, too, and that's why he's smart to push forward with this plan.
Jimmy Wackers
It is nothing more than the awful "business" of college football. The mighty dollar rules and there is no room for balance. The students and fans without means will receive their small pieces of occasional cake and enjoy it if they know what is good for them.
Mark Wagner
I don't believe the Athletic Department or the Board of Trustees would have gone ahead with the Stadium expansion project if they thought they were going to lose money. Pryor did have a list of questions he wanted answered, and thought that the expansion was not beneficial to the students, but he admitted he hadn't reviewed the entire proposal. I have no problem with the expansion. Could that much money make a difference being spent somewhere else? Sure, but the people with the money apparently want to spend it on the expansion. Now if they could only get Coke back in the stadium, instead of Pepsi.
THE GAMES
• Arkansas @ #15 TCU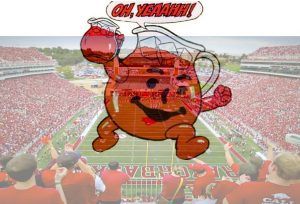 David Rice
I thought both teams looked pretty bad at times last week, so the winner should be whoever improves the fastest. The gamblers seem to think that's TCU, betting the line up to 10.5 points before it settled at 7.5. But I think this one means a whole lot to Bielema. If you recall, his Wisconsin team lost to TCU on a last-minute failed 2-point conversion in the 2011 Rose Bowl. Besides, we've always had the Horned Frogs number, and we generally match up well with our former Southwest Conference rivals. I say we beat 'em 31-27.
Greg Houser
I'm a homer and an optimist. I'll take the piggies in a close one. Seeing as how South Dakota State scored at will last week, I'll take our D and urgent running game by 3!
Todd Rudisill
Deep down I think we all knew game 1 would be like that. With the Hogs, it's never easy. A fast start is key to this season and this TCU game is the biggest game 2 the Porkers have had in quite some time. The Hogs' O-Line looked awful for 3 ½ quarters last week but blew opens some holes when it mattered in the 4th. They need to gel quickly for the Frogs defense, though the Frogs did give up 41 to the powerhouse which is South Dakota State. As for TCU's offense, they looked great for 59 points. They may very well light up the Hogs secondary, which suffered a big loss in Kevin Richardson last week. Tusk to Tail will be there in force in the middle of this small 45,000 seat lily pad. Frogs 34-28. But wait … after two shots of my favorite Hog Kool-Aid, make it Hogs 34-28!
• South Carolina @ Mississippi State
Mark Wagner
South Carolina is on the road again for this game. They can go 2-0 in conference after rallying from 10 down to beat Vanderbilt last week. The Bulldogs have got to be reeling after losing to South Alabama, which I'm sure was penciled in as a "W" by every cowbell waving maroon fan in Starkville. So is Will Muschamp going to go 2-0 in conference or will the real Miss State show up? And for that matter who is the real Miss State?
Since they are playing at home, most people would think that Miss State should have the advantage. I'm going against conventional wisdom, and picking the team that until last week had lost their previous 5 games. Gamecocks pull out a squeaker against the Dogs 14-10.
Jimmy Wackers
I don't expect much from either of these teams this season. Both these teams have major deficiencies. A defensive touchdown could end this game. Bottom line: with all things being equally bad, I think Mullen and home field are the difference makers. Go State!
• Arkansas State @ Auburn
David Rice
Auburn looked pretty good defensively last week, and you know Gus will get that offense humming. Perhaps running up the score on his former employer will remove some of the pressure at his current one. Auburn rolls by at least four or five touchdowns.
Todd Rudisill
Ugh. You couldn't pay me to watch this one. Doing his best Nutt impression playing 3 QB's  – 37, Who cares about the Red Wolves – 17.
Kentucky @ Florida
Greg Houser
Florida looks pretty good. Kentucky still looks like a basketball school with a winning football record on occasion. Gators by 17.
Jimmy Wackers
Kentucky will almost always compete for the cellar of the SEC East. Last week, they allowed 34 straight points against Southern Miss in a loss. The losing ways continue this week in Florida.
• VirginIa Tech @ #17 Tennessee
Sean Casey
The Battle at Bristol is this Saturday at Bristol Motor Speedway where the Tennessee Volunteers will face off against the Virginia Tech Hokies. This game is expected to set an NCAA single game attendance record of more than 150,000 screaming, moonshine swilling fans. The Volunteers struggled to get a victory against Appalachian State last weekend. The Hokies weren't too sharp either under new coach Justin Fuente. Despite the Vols being a 10.5 point favorite they're squaring off against a new coach, with a new QB, in the middle of racetrack surrounded by thousands of liquored up hillbillies. I expect the Vols to be much improved from week 1 to week 2, and the new coach at Virginia Tech hasn't had a chance to get his guys and system in place. Tennessee wins 32-24, but fails to cover the spread.
Jimmy Wackers
I tried to look at last week's games for insight, but can't really glean anything from games against Appalachian State and Liberty. It's a strange but exciting venue for a game that will be filled with Tennessee fans. I like Tech's new coach and QB, but with the sea of Orange and Tennessee ready to make amends for last week, the Vols seem like the safer pick.
• #13 Louisville @ Syracuse
Willard Grandview
Ah, Bobby Petrino. The Greatest Head Coach In Razorbacks Football History (don't @ me). Look at his beautiful record: 101-39, 59-18 at Louisville. You think Syracuse is beating that? The Cardinals are experienced, their quarterback is a machine, and this is a tune-up for their biggest test of the year against Florida State. Look for them to come out firing.
Todd Rudisill
Brent Musburger said it best about Bobby Petrino last week during his broadcast. "When he gets off his motorcycle, he's good." The Cardinals have a tough one right off the bat next weekend against the Seminoles, who made Ole Miss boosters ask if there was a money back guarantee in their pay for play program. Also two weeks later they are at Clemson and then at upstart Houston later in the year. I can't honestly see them winning two of those three. But they will win this one. Cards 41, Orange 20.
---
---
---