Tusk to Tail: How bad is it? The boys are talking basketball, not bowl games
Join the team
If there's one thing Razorback fans know, it's that anything can happen. Sign up for our free headlines and never miss another play.
In what will be the first year of legal medical marijuana in Arkansas, one of the Tusk to Tail fellas is already saying the Hog basketball season will result in a "Bud Walton buzz." That's kind of off topic until you realize the football season is already up in smoke.
THE QUESTION
How do you think the Razorbacks basketball team will do this season?
John Scott:
The Hogs have a chance to put together a solid season this year. We return a rare combination of an NCAA team from last year with a solid core of seniors. Most are guards, but that seems to fit into Coach Anderson's recipe. I think this is why we see so many mid-major teams doing well in post-season: experience. With that, the Pigs should be able to turn up the heat defensively. While we stand to play 5 to 7 preseason ranked teams, I have more confidence in this team than any Coach A has fielded. Not knowing the exact number of games scheduled, I will predict a solid 23 wins in the regular season. I do not have any grand visions for a conference championship, but I think we will be dancing in March. If we could only recreate the 1999 through early 2000s Bud Walton buzz it could be a great year.
Mark Wagner:
The preseason picks have the basketball team finishing sixth in the conference for the upcoming season. This appears to be poor judgement on their part. After all, last season we finished third, got to the SEC Championship game, and were an 8 seed in the NCAA tournament. But we lost our starting center and shooting guard, who both averaged double-digit PPG for us last year. While looking OK at times last season, the other big men on the team were not at the level of Moses, and the other guards were not as consistent as Dusty.
So what's the answer? It depends on how well the freshman PF Daniel Gafford adjusts to SEC basketball. He has shown flashes, and along with Macon and Barford, could be what the Hogs need to play an improved "fastest 40 minutes of basketball" that we will need to win. My prediction is to split the difference between last year & this year's forecast. The Hog's finish 4th or 5th in the conference, and make the tournament again this year. Overall record 21-9, SEC record 12-6.
THE GAMES
• Coastal Carolina @ Arkansas
Craig May:
The 2017 football season is like the old dog you need to take behind the barn and shoot. It's time for it to be over. This is how I see the rest of the season playing out: The Hogs should win on Saturday but will be huge underdogs against LSU and Mississippi State. The game with Missouri is a coin flip. They'll be playing to get bowl eligible and we will be playing for pride. Either way we are looking at a 4 or 5 win season.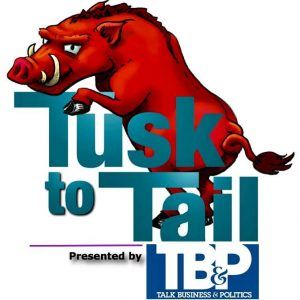 If you're Jeff Long, you need to find some hope to sell the fans for 2018. The Hogs will need to pull a few upsets along the way to provide any hope with this coaching staff. Hogs 42, Coastal Carolina 10
Dale Cullins:
Can't say I know much about Coastal other than they are 1-7 and have a fictional rooster for a mascot. I'm sure the Hogs will continue to try and pound the rock and keep it easy for Cole Kelley. Hogs 42 – Roosters 17.
Jeff Laman:
Enjoy the game because this is what Walter "Gib" Gibson would call a "sure thing," and we may not see another of those for quite some time. Of course, there could be another win or two, but any one of us could win the lottery, too. The Hogs are favored by 24 points. Meaningless Fact: The Chanticleers are the 2nd rooster mascot the Razorbacks will face this season. Possibly more relevant: the first one didn't go so good.
• #23 Arizona @ #17 USC
John Scott:
Looks like I am our PAC 12 guy this week. The Number 17 Trojans received an Irish stomping a couple weeks ago. However, I think they will double-up their defense to avoid tearing under the varied pounding of the 23rd ranked Wildcats' dynamic quarterback Khalil Tate. Arizona (and Arizona State) have developed reputations as upset picks, and Arizona won their last 4 impressively. However, they also have dropped games to Houston and Utah this year. This game is at the Coliseum. At this point in the season, I tend to go with favored, ranked home teams to keep building momentum. Will Ferrell will be happy with the result of this game. USC wins 42-21.
• #13 Virginia Tech @ #9 Miami
Jeff Laman:
This is a tough one to pick. Miami is undefeated, but they've only beaten two teams with a winning record and another currently at 4-4. Most of the wins are by 1 to 5 points. Clemson kept Va Tech's record from being spotless with a big win, leaving no doubt who was the better team. Many expect the Hokies to walk away with a win as they're favored by 2.5 in the game at Miami. I really like Miami's Mark Richt, but they'd have to really step up their game to win. Va Tech 34-32.
• #8 Oklahoma @ #11 Oklahoma State
Dale Cullins:
Oklahoma is still smarting from that loss to Iowa State, but still has hopes of making the Playoffs. Much the same can be said for OSU and the game is in Stillwater. OU has better athletes, but perhaps a better coach at OSU. Tight game, OU wins 28 – 27.
• #7 Penn State @ #24 Michigan State
Mark Wagner:
This should be a great game to watch. Both teams are coming off heartbreaking losses. Penn State RB Saquon Barkley already has 801 yards on 138 carries. The funny part of that is that 10 carries produced 417 of those yards. The Spartans can still get to the conference championship game by winning out. Penn State needs help by someone to knock off the Buckeyes if they expect to play for the conference championship.
We saw the Nittany Lions offense struggle against a good Ohio State front 7 last week, and many say that the Spartan defense is just as good. Several things point to a Michigan State win. They are playing at home, there is some revenge factor going as they got blown out last season at Happy Valley, and I think it will be a low scoring game. Michigan State 21 – Penn State 17.
• #19 LSU @ #1 Alabama
Craig May:
LSU has rebounded nicely since the loss to Troy a few weeks ago. They come into the Alabama game on a 3-game SEC winning streak that included an upset win over Auburn. The Tigers are young on both the offensive and defensive lines. That's going to be a problem against Alabama on Saturday. Look for the Tide to wear down the Tigers on both sides of the line and dominate the football game. Alabama 42, LSU 17.
---
---
---