Tusk to Tail: Hoping to close out the last home game with some gumbo and the 'Boot'
Join the team
If there's one thing Razorback fans know, it's that anything can happen. Sign up for our free headlines and never miss another play.
story by Dale Cullins
Editor's note: Welcome to the fifth season of Tusk to Tail – the sport of tailgating as organized, performed and perfected by a group of Hog fans who have been tailgating together sober and otherwise for more than a decade. Members of the Tusk to Tail Team are Sean Casey, Jack Clark, Dale Cullins, Greg Houser, Craig May, David Rice and Mark Wagner. Tusk to Tail is managed by Talk Business & Politics against the advice of attorneys and family. The diehards may also be followed on their Facebook page. Or follow the crew on Twitter — @TuskToTail
––––––––––––––
I can't believe it has come to this – the last home game for the season. Tusk to Tail cannot complain. The Hogs have played pretty well at home, and the weather has been the best we've seen in the past several years On The Hill. As always, the time has flown by and it has been a blast.
The Bayou Bengals of Baton Rouge are coming to town this weekend to wrap it all up, and finally the weather has begun to cool down a bit. Not that it has been hot mind you, but I can't say it has felt like fall. This weekend, we will get a dose of autumn. The high temperature in the low 60s is expected, with a quick cool down once the sun sets. Keep the time change in mind for your tailgate. It will be dark just after 5 p.m. this Saturday, and the game does not start until 6, so be sure to have your lights up.
We have been spoiled by all the late kickoffs this season. As the 2:30 p.m. kickoff approached last week, nobody wanted to leave for the game. We just about had to pass out a few swift kicks in the butt around 2 o'clock to get people moving.
At LSU's famed Tiger Stadium, the announcer has a custom of saying, "Ladies and Gentlemen, the sun has found its home in the western sky. It is now Saturday night in Death Valley." The crowd goes crazy. With the crowd we have had the past few weeks in Fayetteville, the announcer should take up something similar. I fully expect the crowd to be loud and the house to be full. The cooler weather should work in our favor too. It does not get very cold in the Cajun bayous.
This week we will do a mix of Cajun and chili for the menu. Jack Clark and Sam Atkinson will be cooking up a pot of Duck Gumbo by request, and some of the ladies will provide the chili. We will throw in another Cajun dish and some chicken nuggets for the kids, and it should be plenty.
We expect more than 50 guests this weekend based on the early feedback we are getting on attendance. The more the merrier. It's nice to have Victory Village packed with people providing a bit of spark to the day. It was light and late-arriving crowd last weekend. It just never felt right until kick off.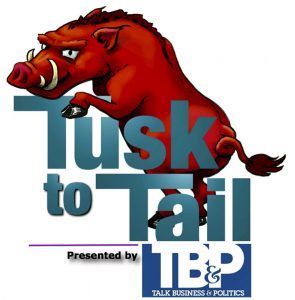 I feel like the Hogs enjoyed themselves last weekend, and some of the changes the coaches made in the defense really improved the play of that unit. If the D can keep LSU to under 17 points, I think the Hogs win. The Hogs have a QB who can throw as long as he's not on his back and LSU really doesn't have such a QB. They still lean on the run too much.
It's been a wonderful season on The Hill. Go Hogs, Beat LSU! Now, onto the predictions.
THE GAMES
• #24 LSU @ #25 Arkansas
Craig May
It's always a physical game when Arkansas and LSU get together. The question on Saturday night is can the Tigers rebound after getting beat up by Alabama last weekend? Arkansas is going for a third win in a row over the Tigers. The game plan for the Hogs is simple: Slow down LSU's talented backfield of Leonard Fournette and Derius Guice. Danny Etling, the LSU quarterback, is not the type of player who is going to beat you with his arm. For Arkansas it's going to be difficult to get the running game going. However Austin Allen should be able to find some room to throw the ball over the middle. It's going to be a fun game on a crisp night in the Ozarks. Hogs 24, LSU 20.
John Scott
Predicting Arkansas has been a crap shoot this year. I seem to lag a game behind their deciding to impress or depress. I thought they would beat Auburn, or at least cover the line, and we saw what happened there. So I figured they would lose to Florida, and we held them to 12 yards rushing. I think this one will be a smash mouth close one. Considering that LSU held Auburn to 18 points and shut out Alabama for 3 quarters before losing 10-0, I think the first team to 20 wins. We have had such good luck against LSU, but like our losing streak to LSU, I fear this could be when the tide turns. Or should I say when the Tiger turns? LSU 21, Ark 18.
Todd Rudisill
Don't you absolutely love that LSU plays Alabama the week before us now? They come in beat up and battered and not up for the Hogs. Please don't ever change this, SEC. But you know what? They never got up for us when they didn't play the Bama the week before us. And it's never been a rivalry game for them and it never will be no matter how many times we beat them. We are going to beat them again. Hogs 27-21.
• South Carolina @ Florida
David Rice
Will Muschamp's young South Carolina team is getting better every week, and now he goes back to the Swamp where he coached from 2011-2014. Florida has proven they have no offense when the starting quarterback is out. I think Muschamp gets his revenge.
Dale Beckham
South Carolina is on a three game win streak, but Florida is back in the East and playing at home. Florida wins.
• Ole Miss @ #8 Texas A&M
Todd Rudisill
"The Battle of the Backup Quarterbacks" game. Swag Kelly is out for Rebels and Knight's out for the Aggies. You have to give the edge to the home team and the team who still has something to play for. Aggies 34-20.
David Rice
The Ole Miss players may have let go of the rope. I like the Aggies in a rout.
• Baylor @ #11 Oklahoma
John Scott
Baylor has lost two straight, including a 62-22 humiliation from TCU at home. Oklahoma, on the other hand, lost early to Houston and Ohio State. The Sooners have scored a lot of points and given up a lot of points. This game has the markings of one that will push 100 points at 1400 yards of offense. But I think Baylor has hit the reality check portion of its schedule and will not be able to win one in Norman. Sooners 52, Bears 38.
Dale Beckham
It was a matter of time before Baylor was exposed. The Bears might salvage a game or possibly two this season, but not this week. OU wins in convincing fashion.
• #9 Auburn @ Georgia
Craig May
Auburn has managed to turn their season around after two early defeats against Clemson and Texas A&M. The Tigers control their own destiny with four games remaining. An SEC Championship and a College Football playoff appearance is still a possibility. Quarterback Sean White is a little banged up but should play, and running back Kamryn Pettway is still doubtful for this game. The Auburn defense has been tough to deal with all season long and hasn't allowed a rushing touchdown in six consecutive games. For Georgia, the offense has been hit or miss in most games. To win this game, the Dogs will try to run Sony Michel and Nick Chubb to keep quarterback Jacob Eason out of third and long. Auburn keeps it rolling between The Hedges, winning 35-24.
Todd Rudisill
The Gus Bus is rolling right now. Ugh. That's hard to type. It won't be easy in Athens, but the Tigers pull away in the 4th 30-17.
• #20 USC @ #4 Washington
Dale Beckham
USC had a difficult early schedule, but molded themselves into a solid team. Both teams are in a tight division race and both are well coached. That said, Washington is pushing for a playoff berth and they are coming off a two game road swing. Their GameDay fans and the team will be ready. Washington wins a competitive game.
David Rice
Remember when USC poached Coach Steve Sarkisian from Washington, leading the Huskies to Boise State's Chris Petersen? Guess who made the better hire? Here's a hint: they have the #4 by their name in the rankings.
---
---
---