Tusk to Tail: Hell no they ain't happy, but they'll keep supporting the Hogs
Join the team
If there's one thing Razorback fans know, it's that anything can happen. Sign up for our free headlines and never miss another play.
There is no reason for an Arkansas football fan to be happy right now, especially those who have invested significant time and American dollars to travel to every game.
I've recently heard two separate media members make literal and figurative Titanic analogies while discussing the season. We started listing last year in Missouri. Now some, including the two guys steering the ship, are realizing there may not be any more lifeboats.
The disaster couldn't be any worse if it had been scripted. Saturday was the fifth ass-whipping by 20 points or more this season, another school record for futility. They say old sins cast long shadows, and the LSU game was a greatest hits package of the mistakes plaguing the Hogs all year. A second half meltdown, the inability to stop the run, our defense allowing big plays, and inconsistent special teams effort punched the Bingo card this weekend.
Notably, the Razorbacks offensive line did not make this week's naughty list. Credit offensive coordinator Dan Enos for his use of motion and fake sweeps to keep quarterbacks Austin Allen and Cole Kelley mostly upright. Did that improve their accuracy? Not so much. Saturday marked Bret Bielema's 27th SEC defeat and 32nd overall loss in his fifth year here.
Earlier this year, the great Trent Wooldridge compared this season to the Drive-By Truckers' "Goddamn Lonely Love," but I say we're beyond Jason Isbell's melancholy haze. This is full blown "Hell No I Ain't Happy" territory.
"And yet I smile," says The Walking Dead's King Ezekial.
Despite the abomination on the field, I return home content, filled with something no coach or athletic director can take away. When eight guys cram into two SUVs to embark on a 700 mile round-trip journey into gluttony, good times are going to follow. Shared memories and comradery create a virtual afterglow, something tangible you can almost sense in the air. Two tamale stops, some porterhouse from the original Doe's in Greenville, and some fantastic Cajun seafood at Parrain's are definitely going to leave something in the air. Excuse me.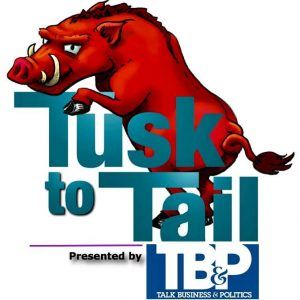 I've made the trip to Baton Rouge more than any other SEC roadtrip, a bi-product of the former Thanksgiving weekend rivalry that ended in 2013. On the years we played LSU down there, we would celebrate the holiday with my wife's family in Mobile, then I'd meet the Godfather of Tailgating Craig May in Baton Rouge before the game.
The members of Tusk to Tail are generally well-mannered guests. We may be passionate fans, but the odds of eight men against a stadium of 80,000 are not favorable. Yet since 2003, every single trip to LSU's Death Valley stadium had led to an eventual minor dust-up with their belligerent fans.That streak has now ended, an upset as likely as Generals-over-Globetrotters. Whether a result of relative sobriety induced by the early kickoff, or perhaps simply pity on the hapless Hog fans, fans of the Bayou Bengals were as hospitable Saturday as anyone across the SEC.
How bizarre was it? I received compliments on my attire, particularly "The Razorbacks are why I drink" shirt, before ever getting catcalled by their famous taunt. We had almost walked the entire distance separating LSU's baseball and football stadium parking before someone Tiger Baited in front of me at 8:14 a.m.
For six seasons now, we've reported on our elaborate Tusk to Tailgates, but four wins plus 11 a.m. game means we've got it simple. Our setup was as basic as I can ever recall. No tent, just pop the hatch and literally party from your tailgate. No TV, crockpots, or anything that would require a generator. All we had was the essentials: a cooler of beer, a half case of booze, a few bottles of various mixers, and a stack of red solo cups. Ice was scooped directly from the bag beside the truck. There was no room in the cooler.
Thane Chisholm asked if there was anything to eat.
"I think we've got a few packs of crackers left over from the drive," replied Dale Cullins, our tailgating field general.
Joining us was my nephew Logan Rice, who drove straight from some Texas residency interviews as he finishes med school. Before the season, Logan said he wanted to join us at LSU, and we were all glad he remained committed to attend the predictable loss.
Dale's old friend Tom Dull also dropped by, clad in LSU gear. Tom has kindly hosted TTT at his tailgates a few times over the years, but he is a Tiger of many stripes. He has various degrees of affiliation with LSU, Auburn, and even Syracuse, and I've seen him wear apparel for each.
Finally it was time to pour one last drink for the walk to Death Valley. Aside from the few random chants of "Tiger Bait," it was a perfect fall morning in the SEC. The weather was warm under the cloudless blue sky. Fans buzzed through the turnstiles, decked out in game day attire. And I was surrounded by friends and family, doing two of the the things we love the most: Getting drunk and watching the Hogs play football.
Each week, it seems more certain that we are viewing the smoldering remains of the Bielema era. Rumors persist that athletic director Jeff Long could potentially exit alongside him. All I know is the Razorbacks were here before they arrived, and they'll still be here when they're gone.
Meanwhile we'll be going to the next game.
And the one after that.
The memories we make on these trips will last far longer than any program administrator.
–––––––––––––––––––-
Editor's note: Welcome to the sixth season of Tusk to Tail – the sport of tailgating as organized, performed and perfected by a group of Hog fans who have been tailgating together sober and otherwise for more than a decade. Members of the Tusk to Tail Team are Sean Casey, Jack Clark, Dale Cullins, Greg Houser, Craig May, and David Rice. Tusk to Tail is managed by Talk Business & Politics against the advice of attorneys and family. The diehards may also be followed on their Facebook page. Or follow the crew on Twitter — @TuskToTail
---
---
---