Tusk to Tail: Halfway through the season the Razorbacks are 4-2, Tusk to Tail is 6-0
Join the team
If there's one thing Razorback fans know, it's that anything can happen. Sign up for our free headlines and never miss another play.
story by David Rice
Editor's note: Welcome to the fifth season of Tusk to Tail – the sport of tailgating as organized, performed and perfected by a group of Hog fans who have been tailgating together sober and otherwise for more than a decade. Members of the Tusk to Tail Team are Sean Casey, Jack Clark, Dale Cullins, Greg Houser, Craig May, David Rice and Mark Wagner. Tusk to Tail is managed by Talk Business & Politics against the advice of attorneys and family. The diehards may also be followed on their Facebook page. Or follow the crew on Twitter — @TuskToTail
–––––––––––––––––
"The old way wasn't working against Bama," explained Craig May during our 9 a.m. Satruday tailgate load-in and set-up. "It was time to shake things up."
Sometime after kickoff nine hours later, we would learn that Offensive Coordinator Dan Enos had also flipped the script. The formerly run-heavy Hogs decided it's easier to throw over a brick wall than to try to run through it, gaining 400 yards on the arm of superhero quarterback Austin Allen.
But Craig wasn't talking football.
The Godfather of tailgating had decided, and it was unanimously agreed, that it was time to reboot the layout of our tent. We would no longer face westward to watch our two TVs or pour drinks at our mobile bar. It wasn't feasible to place our satellite dishes in such a high traffic area, and besides, that plan resulted in at least two of our nine consecutive losses to the Crimson Tide. We shall now cast our gaze toward the East.
Big games bring big crowds. Every patch of grass where you could pitch a tent was completely overrun with elbows and assholes Saturday. They say you shouldn't pass up the dessert cart while sailing on the Titanic, and that mentality was evident before the game. Tailgaters piled up plates along lines of buffet tables all day as steadily and efficiently as Luby's at 4 p.m.
During John L. Smith's "Season from L" following the abrupt firing of Bobby Petrino, there were games you could have fired a shotgun through the tailgating grounds without fear of hitting a human being. Before the Alabama game, gringos literally fell from sky. Those near the stadium Saturday morning were treated to a dress rehearsal of the Air Force parachute team landing at midfield with the state and national flags, as well as a flyover by a couple of old school propeller fighter planes built to shoot at a completely different group of people than we shoot at now.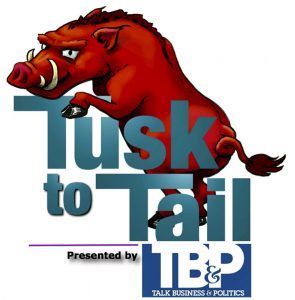 I was attempting to pace myself at the all-day soiree. We all knew it would take a miracle to beat Bama, but sometimes miracles happen. If we could pull off the upset, I figured the entire stadium would immediately relocate to Dickson Street. That's when the real drinking would start.
"If we win, we're either going home in a cab or a cop car," I explained to my son.
Sobriety seemed to be less of a priority for several others tailgating across the campus. Older adults swilled from red plastic go cups in eternal the port-o-let lines while students and recent grads gravitated toward drinking games before urinating in the bushes. Despite my intent to remain in check, I managed to karate chop a drink from Denver Peacock's hand while dramatically telling him and others a story. My man didn't realize that the strike zone expands during the playoffs.
"Put it on my tab," I told Casey Huselton, as she and Kara Cullins poured refills for Peacock and dozens of others.
Our tent is directly across from the north endzone, so several of our friends drop by as it gets close to game time. Saturday we estimated that we had close to 200 such drop-bys. All are certainly welcome. As Democrats and Republicans bicker and debate, Tusk to Tail strives to be the Party for the People. But as I went to the restroom one last time before walking  to the stadium, I couldn't help but wonder, "Who the hell are you people, and what are you doing behind my bush?"
There was a campaign to stripe the stadium with alternating sections of fans wearing red and white. The red sections looked ok, since nearly every fan has some official Pantone 201 Cardinal colored gear. If you own some white Razorbacks paraphernalia, however, it likely has a forward facing Hog on it. That exponentially increases your chance of starting Hog calls with that little wolf howl, and if you are doing that, you deserve to be exiled to a section with the other ivory clad freaks. Call me old fashioned, but that's not my Hog. I'm not going to buy another hundred dollar windbreaker just so our stadium looks better on television.
Arkansas has managed to play Bama close the past couple of seasons, leading to some optimism that this could be the year we finally beat them. Coach Bielema's balanced attack avoids turnovers and chews up the clock while the defense has limited Alabama's ability to run.
That was clearly not the case Saturday.
The Crimson Tide looked like an NFL team, methodically marching down the field on their opening drive before fumbling near the goal line. The turnover just delayed the inevitable. Once we punted, Bama continued rushing for large chunks of real estate, capped off by quarterback Jalen Hurts 5-yard touchdown. A fumbled kick return led to another quick score by Hurts. Jeremy Sprinkle's touchdown had us back in the game until Allen was stripped of the ball during a tackle, and the fumble was returned for a touchdown.
Allen continuously stood strong in the pocket before absorbing hits the same magnitude as a car crash. I heard after the game that he was pressured or sacked 39 times of the 58 plays he dropped back to pass. That has to be corrected, and quickly. Every time you watch a game, try smacking your TV as hard as you can 39 different times. Do you think your TV – or your hand – will make it through the season?
When an Allen pass to the endzone was intercepted for a 100-yard touchdown, Bama's fourth touchdown from a turnover for the night, most of the remaining fans began to exit the stadium.
At 4-2, I suspect the Razorbacks' mid-season record aligns with the expectations of most reasonable fans. But I'm starting to worry. We are 0-2 in the conference. We have not been able to effectively run the ball nor stop the run, two of the guiding principles of Bielema ball. If we can't protect the quarterback, it will be a long season.
However the future of Tusk to Tail is looking brighter than ever. Moving to Arkansas from Philadelphia, Chris May's 11-year old son has soaked up every second he can of the Razorbacks' season. He has not left his seat until the final whistle of the blowout victory over Alcorn State or the throttling by Alabama. By the time he and his family returned to the Big Top Saturday, nearly everything had already been packed up, in large part by the hands of my own boy.
I'm not sure what the future holds for Bielema and his band of Razorbacks, but the Party for the People appears to be in good hands.
---
---
---