Tusk to Tail: Gonna do Fort Worth right, because it could be 25 years before we go back
Join the team
If there's one thing Razorback fans know, it's that anything can happen. Sign up for our free headlines and never miss another play.
story by Dale Cullins
Editor's note: Welcome to the fifth season of Tusk to Tail – the sport of tailgating as organized, performed and perfected by a group of Hog fans who have been tailgating together sober and otherwise for more than a decade. Members of the Tusk to Tail Team are Sean Casey, Jack Clark, Dale Cullins, Greg Houser, Craig May, David Rice and Mark Wagner. Tusk to Tail is managed by Talk Business & Politics against the advice of attorneys and family. The diehards may also be followed on their Facebook page. Or follow the crew on Twitter — @TuskToTail
––––––––––––––––
Thanks to Tusk to Tail's crack research team, we know the Razorbacks last lost to TCU in October 1981 at Amon Carter Stadium. After that, the Hogs would go on to win in Fort Worth in '83, '85, '87, '89 and '91, Arkansas' last year in the old SWC.
The Hogs are making their first return in 25 years to Fort Worth this weekend (Saturday) to play Gary Patterson's Horned Frogs at 6 p.m. on ESPN. Tusk to Tail decided we better make it a memorable trip in the event the Hogs don't return for another 25 years.
We began researching this trip last December, and booked up a block of 10 rooms at a downtown hotel. After that, I began looking into where we might tailgate. By May, we knew we had at least 30 in our regular travel group looking to go, so just a couple of pop-up tents would not suffice.
The TCU Athletic Department was most helpful, and hooked us up with a group out of Auburn that has set up tailgating locations across the south at various on-campus football venues. Much like Intents does for the University of Arkansas and Victory Village, The Tailgate Guys offer premium space and tent packages for rent. Before long, we had secured the promises of 40 of our traveling brethren and secured a 20-square-foot tent close to the stadium. There was only one hitch. They wanted to open up the tailgating at 1 p.m., a mere five hours before the game.
We said thanks, but no thanks. When it comes to tailgating, Tusk to Tail needs more time than that.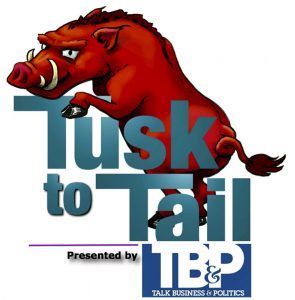 They asked us to wait while they spoke with the Athletic Department. Sure enough, we were granted permission to begin between 9:30 and 10 a.m., so we made the purchase. This is a little later than we would like, but it is likely to be a hot, humid, and potentially rainy day, so 8+ hours of tailgating will have to do. Besides, as Tusk to Tail likes to say, "You can't drink all day if you don't start in the morning."
Now I've had a few frog legs in my day, but it's not something I think we can build a tailgate menu around. Being in Texas, the next best thing would be fajitas. David Rice had an old high school friend offer to cook up the food for the event. I'm not sure he knew what he was getting into, but when he was told to expect 50 for lunch, he said, "Not a problem; this is Texas. We do everything big." Brad Davis is planning a big spread of chicken and steak fajitas with all of the fixings, including cheese dip, salsa and guacamole.
That just leaves Greg Houser and me in charge of the stocking the bar this week. We will load up the truck Thursday evening, and hit the road around 7:30 a.m. Friday to make lunch in Allen, Texas, with my brother at one of his favorites, Liberty Burger. The Little Rock guys will leave at staggered times because of various children's events but we should all be in town by 10 p.m.
If you are used to driving to Dallas, keep in mind that Fort Worth is another 35 miles or so further west. Being a Friday, I recommend you get to the west side of Dallas no later than 3 p.m. or you might as well wait until 7:30 as traffic can get a bit thick. Greg and I hope to be in Fort Worth around 3 p.m. and check out the spot and see what our parking options might be for the next morning.
Some famous places to eat in the area include Joe T. Garcia's for great Mexican food, Bob's Chop House for Steaks, Rodeo Goat for Burgers and Angelo's Barbeque. However, with the growth of Fort Worth, I'm sure there are dozens of great spots.
We expect to be surrounded by season ticket holding Horned Frog faithful in the area where we will tailgate, so we plan to decorate the tent like we do for home games. The unfortunate threat of rain will prevent us from bringing Lamar the Boar's Head out on this trip. But the televisions, speakers, lights, and the bar should fill up the tent nicely.
I can't say any of us know what to expect out of the Hogs for this game. The talent is there for the Hogs to win this game but I'm just not sure one week is enough time to get them all playing on the same page. The offense needs to have a credible passing threat to loosen up the 8-9 players TCU is sure to stack the box to stop the Hogs running game, and the secondary has to secure the tackling and not give up so much cushion.
TCU's offense is potent, but their defense appears to have some holes in it. It should be a close game, but that is why we travel. Tusk to Tail can't wait to see what happens, spend time with our friends, and make memories.
Go Hogs, Beat Frogs!
---
---
---