Tusk to Tail: Enjoying possibly one of the few remaining 'Hush Puppy Games' at War Memorial
Join the team
If there's one thing Razorback fans know, it's that anything can happen. Sign up for our free headlines and never miss another play.
story by Dale Cullins
Editor's note: Welcome to the fifth season of Tusk to Tail – the sport of tailgating as organized, performed and perfected by a group of Hog fans who have been tailgating together sober and otherwise for more than a decade. Members of the Tusk to Tail Team are Sean Casey, Jack Clark, Dale Cullins, Greg Houser, Craig May, David Rice and Mark Wagner. Tusk to Tail is managed by Talk Business & Politics against the advice of attorneys and family. The diehards may also be followed on their Facebook page. Or follow the crew on Twitter — @TuskToTail
–––––––––––––––––––
It's time for "The Hush Puppy Game," the annual trek to Little Rock's War Memorial Stadium. Do you know how the southern delicacy got its name? While the kitchen staff was cooking dinner back in the day, they would deep fry balled up corn meal and toss it to the whining farm dogs to make the pitiful creatures hush.
That's what this game has felt like in recent years. University of Arkansas Athletic Director Jeff Long and the powers that be scheduled the Braves of Alcorn State for the final non-conference tune-up this season, and tossed those hot scraps down to central Arkansas.
In midtown Little Rock, there is a proud old gray lady with an image problem. She used to host up to four Razorback home games a year, but now she is happy to receive one.  Aside from being nearly 200-miles off campus, War Memorial lacks the profitable suites and club seating of her Fayetteville counterpart.
Look, I'm a Little Rock guy who lives in Northwest Arkansas. I get it. The games need to be "On the Hill" and after the stadium is expanded in 2018, they likely all will all be.
But when you give Little Rock just one game a year, don't give them the one that is sure to be the 11 a.m. game on the SEC Alternate Network. The tradition of Little Rock deserves more than that. We are in the last few years of this contract that has been good for both parties for close to 60 years. Throw central Arkansas a bone, rather than a hush puppy.
With an afternoon or evening start, I would know what kind of crowd to expect. Even an early SEC Conference game would give us some experience with planning. But with this start time, and such a non-needle moving opponent, I have no idea what to expect at 9 a.m. on the golf course.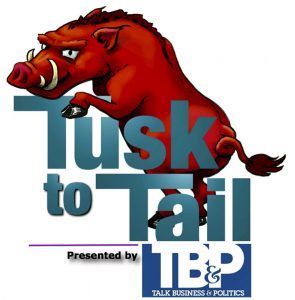 You could have a lot of pent up tailgating emotion that fulfills itself into a full house, or you could just as easily have a late arriving crowd with the mindset of, "Oh well, we still have two more years of Little Rock games. We will just tailgate next year."
Either way, Tusk to Tail will carry the torch Saturday. We will be in line at 5:30 a.m. and have the first tent up by 6:30. Jamey Johnson, our fearless leader of Little Rock tailgating, has promised breakfast sandwiches and of course, the bar will be stocked. I'm guessing with such beautiful weather the golf course will be wet with dew and awash in spirits by 9:30.
With that in mind, I'm willing to bet the tent will be overflowing with close to 100 guests by game time. A healthy crowd will stick it out with Jamey to watch the game on TV while the rest of us go to the stadium.
Jarrod Johnson works for Lost Forty Brewing in Little Rock, and has procured several cases of beer for our tailgate. Lost Forty is already the most popular microbrew in the state, and we are grateful for their generosity. There should be plenty of cold ones for all.
Jamey has decided to grill burgers and bring out some dips for those who stay after the game to help us empty out the bar and watch the games on TV while the golf course parking empties out. I plan to head back to Fayetteville after the game to get ready for Bama, but you never know. A record of 4-1 still sounds pretty good for the Hogs, so I may stay to celebrate.
Finally, I would like to throw a shout out to Rodney Chappel, a co-worker of Craig May, the Godfather of tailgating. The past couple of years he has been instrumental in helping us pull off some tailgates at Jerry World and this year for TCU. Thanks again, Rodney. We hope to see you up on The Hill later this season.
Go Hogs! Beat Braves!
---
---
---