Tusk to Tail: Earthquakes, the 'Uh-Oh' Line, jam bands and brass you-know-whats – and that's just the season opener
Join the team
If there's one thing Razorback fans know, it's that anything can happen. Sign up for our free headlines and never miss another play.
story by David Rice
Editor's note: Welcome to the fifth season of Tusk to Tail – the sport of tailgating as organized, performed and perfected by a group of Hog fans who have been tailgating together sober and otherwise for more than a decade. Members of the Tusk to Tail Team are Sean Casey, Jack Clark, Dale Cullins, Greg Houser, Craig May, David Rice and Mark Wagner. Tusk to Tail is managed by Talk Business & Politics against the advice of attorneys and family. The diehards may also be followed on their Facebook page. Or follow the crew on Twitter — @TuskToTail
––––––––––––––––––
Former Arkansas head coach Lou Holtz once famously said, "Fayetteville is not the end of the world, but you can see it from there." How things have changed since Holtz was fired in 1983.
Once just a quaint college town nestled in the idyllic Ozarks, Fayetteville is ranked in the top-3 Best Places To Live by U.S. News. I can only hope old Dr. Lou took notice as he visited to watch his son Skip's Louisiana Tech Bulldogs take on the Razorbacks Saturday afternoon.
His old hometown was a hospitable hostess for the home opener. Clear sunny skies are always welcome, particularly after ending last season in the cold rain and mud. But I can't recall a Labor Day weekend with highs only climbing to the mid-80s. It felt like the Football Gods dialed up the perfect forecast for the season's kickoff. There was that whole 5.6-magnitude earthquake thing shortly after sunrise, but I'm not so sure that wasn't caused by our tailgate. Sorry for partying.
It certainly felt like the world had tilted on its axis. For starters, more of our wives showed up than usual. Kara Cullins and her Farmington Mafia are typically the only women man enough for a full season of Tusk to Tail. Julie Casey may come with Sean, but that's just so there aren't more kids than hands to threaten to spank them with. My wife Rebecca was born near Ohio State's campus and raised in the heart of Auburn and Alabama country. She adores football. What she doesn't love is hot, tight, loud spaces like a football stadium, or a tailgate tent, for instance.
Statistically speaking, you have a better chance of being hit by a comet than seeing Rebecca at an Arkansas game. Leave that girl on a comfy couch with the thermostat just right, and as long as she's got the remote control, a charged iPad, and a couple of fruity beers, she is in her happy place.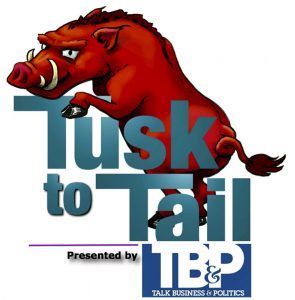 Only four words will change her opinion: Suites and Club Seating.
As luck would have it, our friendly neighbors Jay And Cindy Bequette invited Craig May's and my families to join them in their sky box. Craig's daughter had never been to a game, and I don't think his wife Georgia has ever hung around until the end of one, so this was a pretty big deal.
Our boys are another story. They have visited over half of the SEC campuses, not on academic tours, but rather to tailgate and watch the Hogs kick some Tigers', Bulldogs', and Rebels' tail. Their help breaking down and loading out the tailgate likely exceeded my effort, which wasn't hard to do after I missed yet another morning setup. By the time our better halves arrived, the party was getting turned up.
"Let's take a picture," Rebecca plead with our 14 year-old son and me. "One of you is going to spill something on yourself."
"Challenge accepted," I replied, stirring a drink with my finger.
Dale Cullins expected around 50 guests, but we entertained nearly double that including drop-ins. Yet despite the extra revelers, a mellow mood was maintained under the Big Top. Perhaps the change in soundtrack contributed to the kind vibe.
"I can't listen to Hotel California anymore, guys. I'm sorry," Jack Clark said, pulling the plug on Dale's 24-hour continuous hits playlist.
He queued up a Phish concert, recorded live in Denver the night before. Like most other so-called jambands, Phish is an acquired taste. The good news is that each song gives you about 15 minutes to begin acquiring. It is definitely not music for the masses.
Soon it was time to fill one last go cup, and cross the street to the friendly confines of Reynolds Razorback stadium.
"I think we go this way," offered Rebecca, looking at the stadium map on the back of the ticket.
"I know the way," replied Craig, attending his 213th game out of the past 214.
Labor day and the second tier opponent may have kept some folks at home. The upper decks and corner seats remained unoccupied, and tickets were available online for less than $10. It's a good thing we're expanding the stadium next year.
For fans like TTT, sitting in a suite adds a new wrinkle to watching the game. You may hear others discussing their investments before you can invest in what's happening on the field. And it is fruitless to scream, "Kill that son of a bitch!" to a linebacker through a plate glass window. All kidding aside, we are extremely grateful to our gracious hosts. If eating hot chicken and drinking cold beer in an air-conditioned theater seat is the worst we have to deal with, I think we are going to be alright.
On the field? That may be another story. Nobody knew what to expect this season. Our pre-season predictions ranged from "glass half-full" to "what's in that glass?" Questions abounded for a new offensive line and a quarterback who had previously thrown but three passes in college.  Our running backs were either untested or coming off an injury.
We were told that the poor secondary had improved, and that even our third-string defensive line was better than most other teams' starters. We might even have kickers that could split the uprights on command before drilling it through the endzone on the ensuing kickoff.
For most of Saturday afternoon, it felt like we had been sold a bill of goods.
Austin Allen threw the first of his two interceptions on the opening drive. Both turnovers led to touchdowns by the Bulldogs. Hjalte Froholdt made his first start at left guard, and looked as lost as you would expect of a converted defensive lineman from Denmark. Allen was sacked four times by Louisiana Tech, following a season in which our line had allowed 15 sacks all year, fewest in the SEC.
"O-line? Looked more like an uh-oh line to me," my dad said when I got home.
The Hogs' defensive performance was often troubling, as well. Tech's quick offensive tempo prohibited our line from getting much of a push. Short passes led to long enough gains to keep the chains moving. The Bulldogs led 20-14 before careening a 39-yard attempt off the left upright early in the fourth quarter. Had that kick been successful, the game could have had an entirely different outcome. This is exactly the kind of game Arkansas would have lost as recently as last season.
Instead, the Hogs are 1-0, and we got there playing Bielema's brand of ball. Run the football, throw play action passes when they sell out for the run, and look for your stud tight end in the endzone when you need a touchdown. Sometimes it really is that simple, though a pair of brass balls is recommended for those crucial fourth down conversions.
As we returned to the tailgate for a nightcap, I couldn't help but reflect what a long strange trip our day had been. I encountered things I rarely see or hear on a game day, including but not limited to an earthquake, Phish, a come-from-behind victory, and my wife.
That's a lot to unpack for a season opener, particularly in light of the pending roadtrip to Fort Worth to take on the TCU Horned Frogs. But like Hunter S. Thompson used to say, "When the going gets weird, the weird turn pro."
---
---
---