Tusk to Tail: Early days of the tailgate mafia, tips on first-game tailgate prep
Join the team
If there's one thing Razorback fans know, it's that anything can happen. Sign up for our free headlines and never miss another play.
story by Dale Cullins
Editor's note: Welcome to the fifth season of Tusk to Tail – the sport of tailgating as organized, performed and perfected by a group of Hog fans who have been tailgating together sober and otherwise for more than a decade. Members of the Tusk to Tail Team are Sean Casey, Jack Clark, Dale Cullins, Greg Houser, Craig May, David Rice and Mark Wagner. Tusk to Tail is managed by Talk Business & Politics against the advice of attorneys and family. The diehards may also be followed on their Facebook page. Or follow the crew on Twitter — @TuskToTail
––––––––––––––––––
We didn't start with a name. It was just "the tailgate," in the same location for every game in Fayetteville: Lot 47, across from the outdoor track on Razorback Road. We would set up early, sometimes before the parking lot attendant had even shown up, to secure our corner spot in the shade.
Fifteen years ago, it was usually just four or five of us until it got close to game time. Then a few more friends would stop by for a quick beer and to check the score of the afternoon's game on TV. Craig May would bring the flat screen television off his bedroom wall and connect it to a portable satellite dish on a tripod. If there was too much interference to get a signal, we bribed students to drop us a cable from the apartment next door.
By 2011, we still only averaged about 15 people, maybe 20 on a big game day, but we were out there all day putting out a spread for everyone that stopped in. We eventually joined forces with the group beside us, since our tailgates often spilled into one another. As many as seven pop-up tailgate tents would be daisy chained together for our growing crowd.
The following year, the University opened "a convenient, worry free tailgate experience close to the stadium" called Victory Village. The apartments that once provided us cable had already been razed, so moving seemed like a no-brainer. We asked our neighbors if they wished to join us, and Tusk to Tail was born.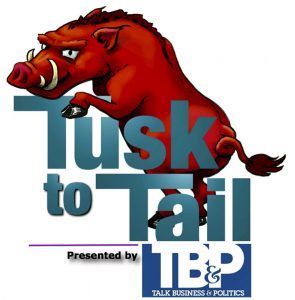 This will be TTT's fifth season in our new digs and on the web. We average closer to 50 to 60 people per game these days, but in reality, the planning and the preparation hasn't changed. There's just more of it and a bigger budget to do it all with.
Each year we still try to make some changes and add some gear to the setup. This season we upgraded our tent's lighting and replaced all of our broken chairs with more durable ones. Two new larger beverage coolers were purchased to replace some old ones we had with no drain plugs and bad handles. Lastly, we bought another 10' x 10' roadtrip tent to replace an old frame that didn't survive last season's long ride home from KnoxVegas. We had bought a 9 square foot tent in a pinch last year, but the legs were about two inches shorter.
You know how you always flip on a light switch, even when you know the power's out? After years of back and forth under the old tent, the proper amount of head dip has been engrained in all of us, making the new size a bigger adjustment than expected. Jack Clark hit his head on the shorter one numerous times in Tuscaloosa and Baton Rouge, once even drawing blood. It was requested rather colorfully that the new tent never make another appearance on a road trip. Needless to say, the 9-footer will be mothballed and kept in strategic reserve to only be used in an emergency.
If you ever need to replace your own tent's frame, here's a pro tip. Wal-Mart sells the 10-square-foot Razorback Logo tent for $120. But if you go online and buy the Ozark Trail 10' x 10' straight-leg tent, it is the same frame and only costs $89 with free site-to-store delivery. Use your old logo tent top, and you are back in the game.
Speaking of games, Skip Holtz is bringing his Louisiana Tech Bulldogs into Fayetteville for the home opener's 3 p.m. kickoff this Saturday. It appears we will catch a break with the weather. The afternoon high should be in the mid-80s with only a 10% chance of rain. Perhaps that means the humidity will not be oppressive, pretty much perfect weather for a game in early September. As usual, Greg Houser and I will meet Friday to hang banners and flags to get a head start on our 8:30 a.m. Saturday setup.
A Louisiana opponent usually means a Cajun menu, but we decided to keep that in our pockets until The Bayou Bengals from Baton Rouge pay us a visit in November. With the heat, people tend to eat less so we will go with some Popeye's Spicy Chicken Tenders and regular tenders from Slim Chicken's. Being a national chain, Popeye's won't negotiate much on their bulk pricing, so the budget gets pushed with a full assortment just from them.
As always this time of year, try to keep your cold dishes and dips to a minimum. They require too much ice in this heat unless you want to keep them in coolers and then you end up trying to keep the melted ice water out of your dishes. I also recommend some dessert items that can stand up to the heat while out on the table. Chocolate melts. Brownies and cookies are good, but stay away from cakes that have icing that can run.  They may still be tasty, but will not look appetizing.
I will have extra water on hand as well as a new drink dispenser filled with sports drink provided by Grapette. We are trying to limit the number of soft drinks the kids drink on a hot day.
It has been a long offseason for Tusk to Tail and the Hogs. We are both ready to get this season started and see where the roads lead us. We have some great trips planned. Most of our offseason was spent planning for TCU, much like I suspect the Hogs did.
Hopefully looking ahead doesn't bite either one of us in the butt. For now, Go Hogs! Beat Bulldogs!, and see you On The Hill!
---
---
---