Tusk to Tail: Drinking, snoozing, bleeding and a weather-induced mercy rule
Join the team
If there's one thing Razorback fans know, it's that anything can happen. Sign up for our free headlines and never miss another play.
story by David Rice
Editor's note: Welcome to the fifth season of Tusk to Tail – the sport of tailgating as organized, performed and perfected by a group of Hog fans who have been tailgating together sober and otherwise for more than a decade. Members of the Tusk to Tail Team are Sean Casey, Jack Clark, Dale Cullins, Greg Houser, Craig May, David Rice and Mark Wagner. Tusk to Tail is managed by Talk Business & Politics against the advice of attorneys and family. The diehards may also be followed on their Facebook page. Or follow the crew on Twitter — @TuskToTail
–––––––––––––––––
At just a little past 3 p.m. Saturday, the Tusk to Tailgate was remarkably quiet. We had all just watched Bobby MF Petrino's Louisville Cardinals humiliate #2 Florida State. Ole Miss had run up an early three touchdown lead over top-ranked Alabama on the other screen.
Elsewhere, #15 Tennessee struggled to put away Ohio, while Georgia State, a 34-point underdog who didn't even have a football team until 2010, was within a score of upsetting #9 Wisconsin. Verne and Gary sent it back to the studio, where we learned the mighty FCS North Dakota Bison had just knocked off #13 Iowa. Could Saturday be the day of the underdog?
If anyone under the TTT Big Top was concerned of a similar outcome across the street at Razorback Stadium, they did not show it. Greg Houser, father of five, found our early afternoon lull relaxing, dozing behind sunglasses with has cap pulled forward.
Following the Hogs' too-close-for-comfort win over Louisiana Tech, and the Allen-sanity to beat TCU in overtime, Texas State was invited to be a breather, a rentable victim for the peak market rate of one million dollars even.
The game received a primetime kickoff of 6:30 pm, allowing fans a full day to unwind from all the stress built up last week in Fort Worth. John Scott arrived to find that I'd been assigned his usual job of lime slicing, inspecting my bowl of mangled wedges at the bar with visible contempt. When he suggested that Arkansas might not beat the Bobcats by 31 points as predicted by Vegas, I accepted it as a personal challenge. The two of us bet a twenty, granting me a shot at double-or-nothing after the Razorbacks failed to cover against Tech two weeks ago.
Saturday featured a full slate of must-see games, and they didn't disappoint. When Bama started coming back, I could not believe my ears. Craig May and Dale Cullins, who I believed to be loyal friends, were cheering for the Crimson Tide. Both played it off as simply hating Ole Miss more, but I was having none of it. Sure, you have to respect Alabama's history, and Nick Saban's carefully crafted "process" has won them even more championships. But I personally hope they lose every game.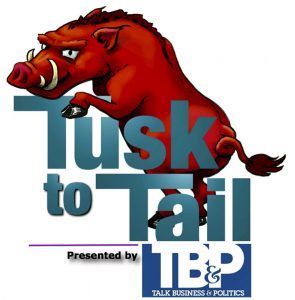 "Rooting for Bama is like pulling for the house in blackjack," I said, tossing a handful of ice into my solo cup.
The team arrived in front of the soon-to-be-expanded north end zone at exactly 4:20, because that's how Coach B rolls. The jubilant crowd let out a boisterous welcome befitting the 24th best team in the land.
Victory Villages North, East, and West all seemed to be hopping around the stadium. There was a palpable buzz in the air, and not just the alcohol vapors. When the Hogs are winning, more people come out to support them, and every one of them seems happy. Even the co-ed passed out against the sign noting, "Never a 'boar-ing' moment."
The only person who didn't seem to be enjoying himself was the officer providing security for the northern tents. He just looked wound a little tight. I invited him in for a bottle of water and some shade, and you could see him start to relax. The guard was welcomed to come back anytime he wanted a cold drink or to catch the score of the games. He seemed to accept that tailgater lives matter.
Jack Clark was having a perfectly fine time at our party until a kid playing on the nearby oak tree scalped him with one of its giant branches.
"I'm fine," Jack said, as blood ran from beneath his sunglasses.
Our one man wolfpack was likely thrilled when everyone from the three surrounding tents started staring and pointing. It was little surprise he wasn't seen again until kickoff.
Nobody was closer to the action than Craig, who was permitted field access. He lasted through the first half, at which point he'd seen enough. Or hadn't seen, as the case may be. May said it's hard to see what's happening 70 yards down field when a 6'10" offensive tackle stands in your way. It was clear that the Godfather cannot be contained by any officially issued smock.
The Hogs scored in bunches, and kept the Bobcats flattened. As the score ran up, fans invented new ways to entertain themselves. Throughout the student section, and then increasingly across the stadium, thousands of people turned on their smartphone flashlights to create an array of glowing bouncing dots. It was almost as exciting as what was happening on the field in the one-sided affair.
As scores trickled in from big matchups across the country, my son asked if we could return to our tailgate to watch the other games.
"Not until we score more than 31," replied the world's greatest dad. "I've got to win this bet first."
Thirty-five to nothing at the half cleared out the previously packed stadium. An announcement that the 4th quarter would be shortened to 10 minutes because of an approaching storm lit a sense of urgency in tearing down our tailgate. You'd be amazed by what a man whose been drinking all day can do with a pocketknife and a ladder. The fact that the pending death storm never materialized confirmed that shortening the game was essentially just enacting the mercy rule.
When I got home, I asked my niece Olivia's boyfriend Peyton what he thought about his weekend in Arkansas. Peyton and Olivia go to high school in Austin. Like seemingly every other Texas youth, they are considering attending the University of Arkansas. They toured the campus Friday, attended our tailgate and the game on Saturday, and presumably offered a fresh perspective.
"The thing that stood out to me was the tradition," answered Peyton. "Where I'm from, you don't hear a lot about Arkansas. So when I get here, and see thousands of people, young and old together, it's amazing. They all seem so proud, and it's the SEC, and it's just such a big deal. I'm not sure I was expecting that."
The Hogs are two-thirds through the Texas triangle, concluding next week against A&M. A blowout victory was fun to celebrate. Key backups gained valuable experience.
People are starting to notice Arkansas.
---
---
---