Tusk to Tail: Crew going light on tailgating in order to hurry home to 'watch better football games'
Join the team
If there's one thing Razorback fans know, it's that anything can happen. Sign up for our free headlines and never miss another play.
Believe it or not, we had a great trip to Baton Rouge last weekend. With the exception of losing the football game, everything went as well as we could have hoped, and honestly, we knew that victory was a long shot.
The food was great, and the weather was some of the best we've had for a game in Baton Rouge. Most of the locals were all bundled up while we were in our shorts, but it soon warmed up fairly nicely by kickoff.
The crowd never really filled up Death Valley. I'd guess 65,000 at most. The guys on the radio said it was the first 11 a.m. game in Baton Rouge in 29 years. How lucky for them! The LSU fans were not tailgating in large numbers, though. Most seemed to take a page from Ole Miss and planned to tailgate after the game.
We Hog fans, on the other hand, have grown quite used to the early kicks this season. Saturday will be the Hogs fifth 11 a.m. start this season and thankfully the last. I can't remember ever having this many in one season, but I could not say that for certain. Next Friday against Missouri, the game is scheduled for 1:30 p.m. on CBS.
Just like our last few early tailgates on the road at Ole Miss and LSU, we have decided to keep it simple this Saturday for the game against Mississippi State. Each week, I form a budget for each tailgate based upon the number of expected guests. As you have read in the past, it's really hard to throw a proper tailgate for less than $500. This week, I'm trying to pull it off for $250.
When your team is losing and the fans don't like the start time or care to watch the team, you are left with few attendees. Eighteen to be exact. This is an all-time low headcount for Tusk to Tail at a home game since we have been in Victory Village. Even considering the 11 a.m. kick, a conference game against a ranked opponent typically draws a crowd.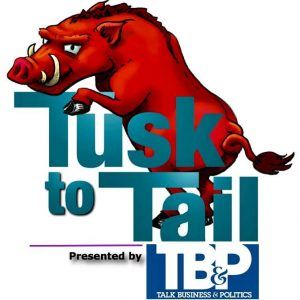 To accommodate our budget, we are cutting back on amenities this week, treating this much like a road game. We're bringing just one TV, fewer chairs, no portable bar, and only one generator. I'll be grabbing some nuggets, some donuts and we have some folks bringing some other sweets to round it out. We will still be mixing drinks, but we will do it on a bare table. This way we can fit everything in one truck and save on parking the trailer. An added benefit is that we can pack up that much more quickly and get home to watch better football games.
You can't give away tickets this week, and just like Coastal Carolina, you can buy tickets to this game for less than $10. That makes it really hard to stomach looking at the face value of my South Outdoor Club seats, and makes you consider the future of ticket purchases and filling that new North Endzone project.
The icing on the cake this week was to hear coach sound off on the 11 a.m. kickoff as if it was something to look forward to. Bielema told us he once had a Wisconsin team play 11 games in a season all at 11, and his players enjoyed it. Well, this isn't Wisconsin, it's not sub-zero here, and we don't like playing games at 11. In the SEC, it's a notice to the country that you are not a football team worthy of the rest of the country's eyeballs.
Don't forget that the UA will begin to block traffic into campus at 7 a.m., and I would shoot for 6:55 to be safe if you don't have a parking pass. Also, to beat traffic jams, you need to be on or near campus by 9:30. Even with only 40,000 or so expected, they will all be trying to park at the same time, so play it safe and go early.
Go Hogs, Beat Dogs!
––––––––––––––––––––––
Editor's note: Welcome to the sixth season of Tusk to Tail – the sport of tailgating as organized, performed and perfected by a group of Hog fans who have been tailgating together sober and otherwise for more than a decade. Members of the Tusk to Tail Team are Sean Casey, Jack Clark, Dale Cullins, Greg Houser, Craig May, and David Rice. Tusk to Tail is managed by Talk Business & Politics against the advice of attorneys and family. The diehards may also be followed on their Facebook page. Or follow the crew on Twitter — @TuskToTail
---
---
---