Tusk to Tail: Another year of 'en masse' tailgating, Bielema bashing/praising, and mood swings
Join the team
If there's one thing Razorback fans know, it's that anything can happen. Sign up for our free headlines and never miss another play.
story by David Rice
Editor's note: Welcome to the fifth season of Tusk to Tail – the sport of tailgating as organized, performed and perfected by a group of Hog fans who have been tailgating together sober and otherwise for more than a decade. Members of the Tusk to Tail Team are Sean Casey, Jack Clark, Dale Cullins, Greg Houser, Craig May, David Rice and Mark Wagner. Tusk to Tail is managed by Talk Business & Politics against the advice of attorneys and family. (The diehards may also be followed on their Facebook page. Or follow the crew on Twitter — @TuskToTail)
––––––––––––––
While intermittently watching the Olympics and resting my eyes last week, I discovered what could be the most brilliant ad campaign since Wendy's dared to ask, "Where's the beef?"
Imagine a voice reading a list of prescription drug disclaimers. "Contact a doctor if you experience nausea, mood swings, or feel irritable, anxious, or agitated." Then the Arkansas fight song plays, and we are urged to buy Razorbacks season tickets for games against Alabama, LSU, Ole Miss, and Florida.
It turned out to be two separate commercials, but the timing was impeccable. In this era of building and rebuilding, slow starts and hot finishes, a Hog fan could exhibit each of those symptoms in a single game. It's probably a bad sign when an antidepressant drug warning could be confused with an ad for the pending football season. Ladies and gentlemen, your Arkansas Razorbacks: Do not operate heavy equipment while under their influence.
Of course no amount of warning can deny the anxious and agitated men of Tusk to Tail.  We are the new breed of Arkansas travelers, attending every Razorbacks football game, home and away, en masse since before the turn of the century.
Nobody could ever call us fair weather fans, proven as recently as the final game in Fayetteville last season. Dozens of us sat through bone-chilling rain with our families to watch Alex Collins eviscerate the toothless Missouri Tigers.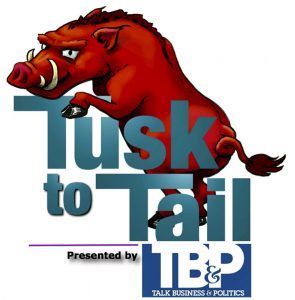 As ticket prices rise and technology improves, more and more fans are staying home to watch college football. That may be fine for some, but TTT needs live action. When you're hungry, would you rather eat a steak or watch the Food Channel? Watching a game on TV will never send a shiver down my spine like I get with my son every time we call the Hogs before kickoff. Besides, where are you going to tailgate? Your neighbors don't want you standing in your yard drinking beer all day. Trust me.
Tusk to Tail has certainly ridden its share of mood swings over the years. We've tasted Sugar Bowl highs with Bobby Petrino, only to crash into John L. Smith's "Season from L." After consecutive losses to Toledo and Texas Tech early last season, we were once again frustrated by the Hog's unexpected slide.
"I'm personally upset less by the slide than the fact that it was unexpected," I wrote. "I should have seen it coming."
A few weeks later, the Hogs were the hottest team in the land and TTT was celebrating dramatic upset victories in Oxford and Baton Rouge. Just when you think you've got this team figured out, they shock the hell out of you all over again. It's enough to drive a man to drink.
That's where Tusk to Tail's got you covered.
Arkansas plays in the SEC, the apex of modern college football. The conference's new slogan is "It means more," which coincides with TTT's philosophy of "if it's worth doing, it's worth overdoing." The days of sharing a bucket of chicken and cooler of beer on the literal tailgate of your truck before a game have gone the way of the leather helmet.
With great football comes a great party.
Every guy has his thing, be it golf, hunting, fishing, running, or whatever. For us, our passion is tailgating. You may see us having a good time, but believe me, we're not messing around. Our gameday digs are a cross between a sports bar and travelling circus, often bigger and better equipped than most Fayetteville apartments.
Each week we pull back the Big Top curtain for a little peak at the action. Every Monday, Wednesday, and Friday, this space will be filled with previews, predictions, and recaps of the entire Arkansas football game day experience. We are not sports writers, just passionate fans armed with the truth and enough booze to drown a cat. When our tailgates began outperforming the games a couple of seasons ago, we were branded "drinking fans with a football problem."
Admitting our problem may have been the first step to recovery. Coach Bret Bielema seems to have the program headed in the right direction. Grades are up, arrests are down, and Bielema has signed some real difference makers on the recruiting trail. It may seem difficult to replace last year's NFL draft picks including Collins, Brandon Allen, and Hunter Henry until you see some of the studs in line behind them. We've got enough four-star quarterbacks and tight ends in camp to get The Wave started back in the stands.
Ultimately, the fate of these Razorbacks will rest on how successfully the newly remodeled offensive line comes together. That could mean yet another slow start to the season until chemistry is established.
"As far as momentum goes, I'm really thinking our brand of football is like a semi-truck," Greg Houser said after the Hogs dropped three of their first four games last year. "It takes a long time to push through all those gears, but now we are finally gaining speed."
Will last year's momentum carry forward or are we due for another trip back on the mood swing? Tune in next week as we predict how it all plays out. Suffice it to say, it's never recommended to base one's mental health on the actions of a group of 18-22 year olds.
Speaking of which, I will leave you with this quote by the Head Hog.
"Everyone should have a goal in mind. I don't care what you do for a living," Bielema said in this ESPN report. "But you also need to live your life a little bit. Look around, and see what's there. Find some fun. If you don't, this will drive you crazy. So head it off at the pass and be a little crazy first."
That's Tusk to Tail in a nutshell. We may be a little crazy, but at least we are crazy for the Hogs.
---
---
---