Tusk to Tail: An alleged football game broke out during the wake for War Memorial Stadium
Join the team
If there's one thing Razorback fans know, it's that anything can happen. Sign up for our free headlines and never miss another play.
story by David Rice
Editor's note: Welcome to the fifth season of Tusk to Tail – the sport of tailgating as organized, performed and perfected by a group of Hog fans who have been tailgating together sober and otherwise for more than a decade. Members of the Tusk to Tail Team are Sean Casey, Jack Clark, Dale Cullins, Greg Houser, Craig May, David Rice and Mark Wagner. Tusk to Tail is managed by Talk Business & Politics against the advice of attorneys and family. The diehards may also be followed on their Facebook page. Or follow the crew on Twitter — @TuskToTail
–––––––––––––––––
Golf legend Arnold Palmer passed away last Sunday at the age of 87. In addition to popularizing golf among the masses during his reign of dominance, Palmer is synonymous with a cool drink, a blend of iced tea and lemonade that bears his name.
Saturday's pre-game throwdown on Little Rock's War Memorial golf course seemed like the perfect tribute. Our signature concoction of sweet tea vodka and lemonade was served to dozens of Tusk to Tailgaters before, during, and after the Razorbacks devoured the "hush puppies" of Alcorn State.
Little Rock native Jack Clark referred to the game as an "open-casket funeral," signaling last rites for games to be played in the capital city. Arkansas comes back next year to play the Rattlers of Florida A&M over Labor Day weekend, and an SEC team, likely Vanderbilt, will be the opponent before the War Memorial Stadium contract expires in 2018.
Few expect the contract to be renewed. Since 2018 just happens to coincide with the expansion of Reynolds Razorback Stadium in Fayetteville, some have questioned whether Athletic Director Jeff Long would use low attendance in Little Rock to justify cutting the contract short. He could certainly make the case financially, albeit heartlessly, to terminate the War Memorial series.
That stark reality likely contributed to Craig May's and my 14-year-old sons demanding to be present at the 6 a.m. tailgate setup. Tusk to Tail can trace their roots back to our first tailgates on this golf course, so it was fitting that the next generation came to soak up every last second. The boys and some of their friends unloaded the gear, and we had 200 square feet of tents and our portable bar erected by sunrise.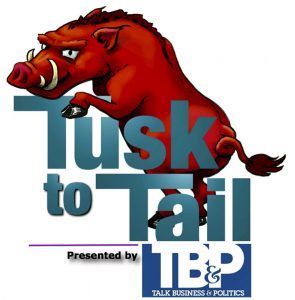 The 11 a.m. kickoff necessitated a basic approach to tailgating. Dining options were mostly limited to breakfast sandwiches and pastries on platters placed between Fall colored mums and pumpkin centerpieces. Nobody besides Jamey Johnson brought any chairs.
"The game starts in just a few hours," Craig said, pouring his first cocktail. "Who needs to sit?"
What the tailgate lacked in ambience was augmented by alcohol, most notably beer provided by Jarrod Johnson at Lost Forty Brewing. Jarrod, a former cheerleader for the Razorbacks, used to bring hot co-eds to our tent. Now working for Lost Forty, he got us several cases of their award winning brews. God help us if Jarrod ever enters the porn industry.
Lost Forty's Love Honey bock was the most popular Saturday, while others gravitated to the Bare Bones pilsner's reduced hoppiness. I stuck to their summer Hefeweizen, which I believe may be German for "ass handed." The more you drink, the more you get your ass handed to you. Jarrod skipped the tailgate to attend a wedding in Atlanta, but rest assured Lost Forty's contributions were felt all the way through the following morning.
For such a lackluster opponent, attendance clearly isn't mandatory. Dale Cullins drove solo from Fayetteville to join the Little Rock portion of the gang. Jason Parker had to leave for his son's football game shortly after setup, but returned in time for the Hogs' kickoff. On his way back, he passed Jordan Johnson leaving for his own children's sporting events. When it became evident that we didn't have enough cooler space, I volunteered to run home for reinforcements through the light Saturday morning traffic. Kissing my wife goodbye for the second time that morning, she asked, "Have you already been drinking beer?"
I made it back a couple of hours before kickoff, and the golf course had sprung to life.  Some tailgates blared loud classic rock and country music, while others filled the air with smoke from their grills. Children whizzed footballs across each of the tees and greens. Fraternity pledges clad in coats and ties chased co-eds sporting boots and miniskirts.
There is far more diversity in the Little Rock tailgating scene, no doubt affected by the surrounding demographics. It also seemed that several fans were attending their first Razorbacks football game. That fact was confirmed by an announcement stating that unsold tickets had been distributed to soldiers, healthcare patients, and other organizations needing a little more Hogs in their lives.
The game was mostly what we expected from our willing victim, the Braves. Two first quarter touchdown drives by Arkansas took exactly one play each. Austin Allen's 29-yard strike to Jared Cornelius in the endzone was followed by Devwah Whaley's 75-yard burst to paydirt on the next possession. Even when Alcorn threatened to make things interesting, driving to the 1 yard line right before halftime, they fumbled the next snap back to Arkansas. Once Henre Tolliver returned an Alcorn interception for a touchdown in the third quarter, a cold can of Hefeveizen sounded far more appealing than staying for the game's conclusion.
Walking back onto the golf course, you wouldn't realize the game had ever started.  Nearly every tailgate that had setup in the predawn light was still going strong, showing commitment to make every last minute count. Tusk to Tail honored that commitment after the game as the neighboring tents around us came down. Several different policemen, patrolling the grounds in golf carts, effectively told us that we don't have to go home, but we can't stay there.
"Next time they come by, put your iPhone in their face, and tell them you are recording and your attorney is Johnny Walker," joked our friend Michael, an off duty State Trooper. "They love that."
It was clearly time to call it a night. Sam Atkinson had already drunk enough free beer to talk to a Democrat, when Senate candidate Conner Eldridge stopped by our tent in his debate cart.
The Hogs leave Little Rock 4-1, ready to take on Alabama.
Throughout 11 hours of tailgating at War Memorial's open-casket funeral, Tusk to Tail chose to cherish the 90 year-old stadium's memories rather than mourn her pending loss. Like recently deceased singer Prince said, "Life is just a party, but parties aren't meant to last."
---
---
---