Tusk to Tail: A growing scorn among Razorback diehards is anything but 'inexcusable'
Join the team
If there's one thing Razorback fans know, it's that anything can happen. Sign up for our free headlines and never miss another play.
Hell hath no fury like a group text thread between scorned Razorbacks fans. The first text came from John Scott at 6:48 am Sunday, as he digested the sports page on his back porch. During church, my phone began blowing up so frequently in vibrate mode, it essentially gave me a free thigh massage. That may have been the highlight of my weekend.
Mark Wagner, who views each Arkansas game from the field as a sideline photographer, took the high road.
"I'm not going to comment until 24 hours have passed since the end of the game. A rule taught to me by my father, basically say nothing while you are angry."
The rest of Tusk to Tail was not so civil, echoing the frustration heard while breaking down the tailgate following the 28-7 loss to TCU.
"Ole Miss just fired their coach for soliciting prostitutes and is facing a possible death penalty from the NCAA," said some random reveler, topping off his cocktail while the bar was packing up around him.
"I'd still rather be a Rebels fan right now," he concluded.
It's a shame the game was so disappointing. The tailgate beforehand was picture perfect, equal parts Norman Rockwell and Electric Kool Aid Acid Test. Victory Village was buzzing and bumping shortly after our morning setup.
Brad Davis was up all night smoking briskets and cigars, creating perhaps the most delicious feast TTT had ever served. Casey Huselton and Kara Cullins poured cocktails and beers for our dozens of guests. The sound of football games playing on our two new 60-inch televisions intermingled with the tailgate jams blasting from a large iPod speaker.
But now, nobody is happy.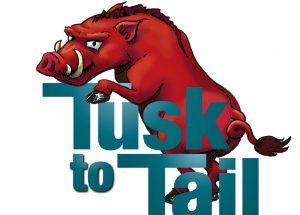 I look around our tent and see tens of thousands of dollars spent annually on travel, tickets, and the mandatory scholarship donations required of season ticket holders.  What did we get in return? Seven lousy points against a Big XII opponent, a league not known for its stingy defense.
Coach Bret Bielema threw a share of the blame on the kicking game, specifically placekicker Cole Hedlund's two short misses, calling them "juvenile" and "inexcusable." Bielema essentially assured the assembled media that Hedlund was done kicking for him. I'm not arguing Bielema's decision. "That guy sure hates those goal posts," my dad said after Hedlund's second short kick clanged loudly off the upright into the $160 million north end zone renovation site.
But calling out a player for a team loss is generally considered a coaching no-no. Contrast Bielema's comments to those made by Arkansas center Frank Ragnow. Clay Henry reported that the team captain shouldered the blame for putting Hedlund in position to fail after the Hogs could not run the ball near the goal line yet again.
While Bielema says he and his staff plan to reassess their previous reassessment of the team's failure to score in the second half (Arkansas has been outscored an astonishing 70-0 in the second half against their last three FBS opponents going back to last year), Ragnow says, "it's time to quit talking about that and start putting some action behind it."
Our center may be a better leader than his coach.
The TCU loss makes Bielema a loser once again, bringing his Arkansas coaching record to 26-27. Sure, he inherited a turd sandwich following Bobby Petrino's wipeout and John L. Smith's "Season from L," but this is year five. Every one of those players, including the kicker Bielema publicly shamed, was hand selected and signed to a scholarship by Bielema. A higher level of success was expected by now.
And what is Bielema's excuse? A common theme throughout our text thread was that the coach gets everything anyone could ask for in terms of money, facilities, and support from a fan base. There have been no outside influences like probation or sex scandals to drive kids away from the program. He's just failing. The Hogs can't block, run, pass, or kick on a competitive level, and they haven't even hit the SEC portion of the schedule.
"This guy gets $4 million a year and talks all kind of trash, and this is where we are in year five? Sorry, but Petrino had us in the BCS in year three, and winning 11 games in year four," said one of the dozens of morning texts.
Jack Clark claimed that Bielema's salary equates to roughly $7,000 per play.
"That's what's frustrating," texted another. "If they were just struggling in, say, the passing game, you could hope that they'd get it straightened out over the course of a few weeks. But they're not good anywhere. How do you improve everything?"
Not everyone was so dire. Take Craig May, known as the godfather of tailgating because of his streak of attending 160 straight, and 240 of the 241 Arkansas games since 1999, all on his own dime.
"I know everyone is disappointed but my expectations for this team was 7 or 8 wins. That's still on the table, although it looks a little tougher. Let's see how they do against A&M."
Waiting is just about all we can do.
This season's quirky schedule presents the only bye in the third week of the season. Thankfully there is little chance of disrupting rhythm, as the Razorbacks have yet to establish any.
––––––––––––––––––––
Editor's note: Welcome to the sixth season of Tusk to Tail – the sport of tailgating as organized, performed and perfected by a group of Hog fans who have been tailgating together sober and otherwise for more than a decade. Members of the Tusk to Tail Team are Sean Casey, Jack Clark, Dale Cullins, Greg Houser, Craig May, David Rice and Mark Wagner. Tusk to Tail is managed by Talk Business & Politics against the advice of attorneys and family. The diehards may also be followed on their Facebook page. Or follow the crew on Twitter — @TuskToTail
---
---
---