Tusk to Tail: A few pointers for those traveling to Auburn
Join the team
If there's one thing Razorback fans know, it's that anything can happen. Sign up for our free headlines and never miss another play.
story by Dale Cullins
Editor's note: Welcome to the fifth season of Tusk to Tail – the sport of tailgating as organized, performed and perfected by a group of Hog fans who have been tailgating together sober and otherwise for more than a decade. Members of the Tusk to Tail Team are Sean Casey, Jack Clark, Dale Cullins, Greg Houser, Craig May, David Rice and Mark Wagner. Tusk to Tail is managed by Talk Business & Politics against the advice of attorneys and family. The diehards may also be followed on their Facebook page. Or follow the crew on Twitter — @TuskToTail
––––––––––––––––––
When you have made as many trips to Auburn as Tusk to Tail has, it's hard to mix it up much.  This will be my seventh trip and I'm sure the Godfather of Tailgating Craig May has been a few more times than that. It's a small group this week, just six of us old diehards traveling on Friday, with a few more catching up on Saturday.
Greg Houser and I will leave Fayetteville with most of the gear by 7 a.m. Friday and plan to meet up with the Little Rock guys to leave for Memphis. If you keep up with us you know we love to eat at Charlie Vergos Rendezvous on most road trips east of the Mississippi. It's not that it brings the Hogs much luck, it's just an old standby and a bit of a tradition for us.
After lunch we are bound for Birmingham. Over the years we have stayed in Atlanta, Montgomery, Birmingham and Auburn for this trip. Atlanta is nice, but just too far. Montgomery is fairly close to Auburn and reasonably priced, but doesn't offer much in terms of restaurants and nightlife. Auburn is fun, but when you are paying $350/night for a Motel 6, it just doesn't make sense.
Birmingham is 110 miles away from Auburn but an easy drive on Saturday morning and gets you that much closer to home on Sunday. It has lots of food options for Friday night and, most importantly, it's a good stopping point. On several occasions when we have tried to stay east and south of Birmingham the Friday afternoon traffic has been a show stopper.
Try as we might to be sitting in the Rendezvous by 11:05, it never fails that we cannot get to or through Birmingham before 3:30. When that's the case, you will give up two hours of your life stuck in traffic, and will not be in Auburn in time for dinner. You will be worn out after a 13-hour day from Fayetteville or a 10-hour drive from Little Rock. So we are cutting our losses and just looking forward to a nice dinner out on Friday night, a good night's rest, and an early rise and drive for Auburn.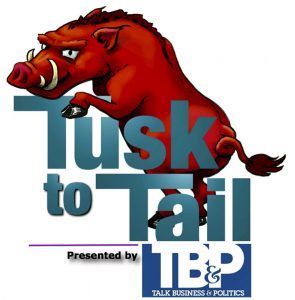 For the past three years we tailgated near the softball fields in Auburn. It is free, has easy access, plenty of parking near the tailgating spot and not a terrible walk to the stadium. The only drawback is the lack of activity. Most people just show up, park and then walk to join other tailgates, which kind of leaves us on our own. We have decided we want to get a bit closer to the action this year and have scouted a few spots out. The pricing of those lots is rather high but it could be worth it to be located around other tailgaters. We will keep you posted on that outcome.
If this is your first trip to Auburn, we have a few pointers. Be sure to check out Toomer's Corner. It's the entrance to the University and something you will want to see. If Auburn wins and you can swallow your pride, it is worth a stop back by after the game to see all of the toilet paper that is thrown into the trees.
Also, be sure to be in your seat in plenty of time to see the War Eagle fly in the pregame ceremonies. It is an SEC tradition and will give you goose bumps even if you aren't an Auburn Tiger fan.
With such a small group this week we are keeping our menu pretty simple. We will serve some Barbeque and some hush puppies from The Oyster Bar in Little Rock and a few sides.  Those hush puppies are quite tasty cold and have become a bit of a road game tradition.  Some good spots to eat or order food from in Auburn are as follows.
• Mike and Ed's BBQ
• Byron's BBQ
• Barbeque House
• Niffer's Place
• Momma Goldberg's
Safe travels and enjoy the trip. It's one of the better game day experiences in the SEC, and well worth the trip time and again.
Go Hogs, Beat Tigers!
---
---
---