Coach Bielema and his borderline neurotic year
Join the team
If there's one thing Razorback fans know, it's that anything can happen. Sign up for our free headlines and never miss another play.
Editor's note: Commentary by David Rice, a member of Tusk to Tail, a group of Hog fans who have been tailgating together sober and otherwise for more than a decade.
–––––––––––––––––––––––
Arkansas Razorbacks football, quite possibly the leading indicator of our state's mental health, experienced extreme mood swings throughout 2016. The manic highs of wins against TCU, Ole Miss, and Florida succumbed to depressing defeats by Texas A&M, Auburn, and Missouri. Our Belk Bowl performance was borderline neurotic.
Nearly everybody seems ready to turn the page to 2017. Unfortunately, misery doesn't look at a calendar. Just about any star of the stage, screen, sports or politics could die this year too, with the exception of Keith Richards.
And if Coach Bret Bielema does not recruit and develop young men who can block and tackle more effectively, the Hogs will remain mired around the seven- or eight-win mark for the foreseeable future. Bielema had the team on a steadily-improving arc, but the Razorbacks have been pulling themselves from a roadside ditch since Bobby Petrino was fired in 2012. Arkansas football is like the stretch of I-40 between Memphis and Forrest City. The rebuilding never stops, but there are few visible signs of improvement.
Contrast that with Penn State. In November of 2011, the football factory was rocked by a child sex abuse scandal. Penn State's president and football coach were fired, and the athletic director resigned. The NCAA sanctions included a $60 million fine and four-year postseason ban. Wins were vacated and scholarships were taken away from the football program. The NCAA ruling was the most severe since granting SMU the death penalty in 1987. A mere five years later, the Nitany Lions narrowly missed a spot in the college football playoffs, landing in the Rose Bowl as a consolation prize.
Meanwhile, Arkansas was eastbound and down at the end of Bielema's fourth season, trucking into Charlotte with a 7-5 record. The Belk Bowl served as a tipping point of sorts. Win and the Hogs performed about as well as could be expected for a team replacing its quarterback and other key offensive weapons.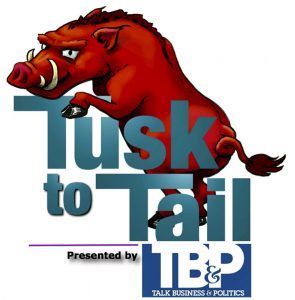 The loss, on the other hand, was a literal step backward. This is the first time Bielema's season win total was lower than the previous year. The second half Charlotte collapse was unbearable, as a 24-0 Arkansas halftime lead vaporized into a 35-24 loss. Bielema said he has "never seen the tide turn so quickly," which is odd, considering it was practically the same script as the previous game at Missouri. The 24 points was the largest blown lead in the modern era for Arkansas, replacing the Louisiana-Monroe debacle in 2012.
The choke job at Missouri was of the mere 17-point variety, but losing to the worst team in the league was a surefire sign the wheels were coming off. When Bielema brought his pro-style offense to the vaunted SEC West, it was doubted that he could out-Bama Alabama by playing the same system. Now we can't even out-Mizzou Missouri.
The fundamentals of Bielema ball have been employed successfully by just about everyone from the Crimson Tide to the Dallas Cowboys: Win the battle of the trenches with superhuman linemen on both sides of the ball. Sign athletic tight ends who can block as well as catch and run. Run the ball, preferably after a fullback blows open a path, and when the defense bites on that, throw downfield to your tough and dependable receivers.
Coach B adds his own wrinkle, recruiting "uncommon" men who abide by his team culture.  Class attendance and grades are up, while arrests, penalties, and turnovers should go down.  His players genuinely seem to like the big palooka who comes to meetings unshaven and wearing flip flops. Whether they actually respect him may be up for debate following the total system meltdown at the Belk Bowl.
Bielema's guiding principles were blatantly ignored in Charlotte. Our plodding line allowed six second half sacks of quarterback Austin Allen, who was also pressured into three interceptions. The running game eked out a mere 36 yards. Twelve penalties for 75 yards further illustrates how out of whack the Hogs were.
Having a bad game would be one thing if the locker room culture remains intact. To Bielema's credit, the team's grades were an all time high last semester, though nobody ever held a pep rally for a chemistry exam. But two incidents involving seniors raised red flags about Bielema's program. Tight end Jeremy Sprinkle was arrested for shoplifting and wide receiver Drew Morgan was ejected for reportedly spitting at a Tech player during the game.
When looking for senior leaders, it's never good to start at the police wire.
Unless these things get turned around, both the Razorback football team and stadium will be under construction in 2017.
---
---
---