Tusk to Tail: Clutch quarterback play, a broken thumb and renewed optimism
Join the team
If there's one thing Razorback fans know, it's that anything can happen. Sign up for our free headlines and never miss another play.
story by David Rice
Editor's note: Welcome to the third season of Tusk to Tail, a special "web reality" presentation of the tailgating experience as organized, performed and perfected by a group of Hog fans who have been tailgating together sober and otherwise for more than a decade. Members of the Tusk to Tail Team are Sean Casey, Jack Clark, Dale Cullins, Greg Houser, Craig May, David Rice and Mark Wagner. Tusk to Tail is managed by The City Wire. Legal representation is iffy at best and professional psychological help is welcome but likely to be ignored. The diehards may also be followed on their Facebook page. Or follow the crew on Twitter — @TuskToTail
Before an Arkansas fourth down in the third overtime, the tension inside Reynolds Razorback Stadium was perceptible. The Hogs needed two yards for the first, and four yards for a touchdown. Even if they got it, the Razorbacks had to score a two-point conversion to stay alive for another period.
At the helm was quarterback Brandon Allen, last seen in Fayetteville five weeks ago versus Texas Tech, failing to mount a comeback against a non-conference opponent for the second straight week. Behind Allen, standing in the spot typically filled by leading rusher Alex Collins, was an old man with a broken thumb. Collins had left his heart and two loose footballs on the field to be replaced by Kody Walker, who has been on The Hill long enough to have tenure. Walker still wears a cast from the injury suffered six weeks ago, but was thrust into action after second-string running back Rawleigh Williams III was carted off on a stretcher.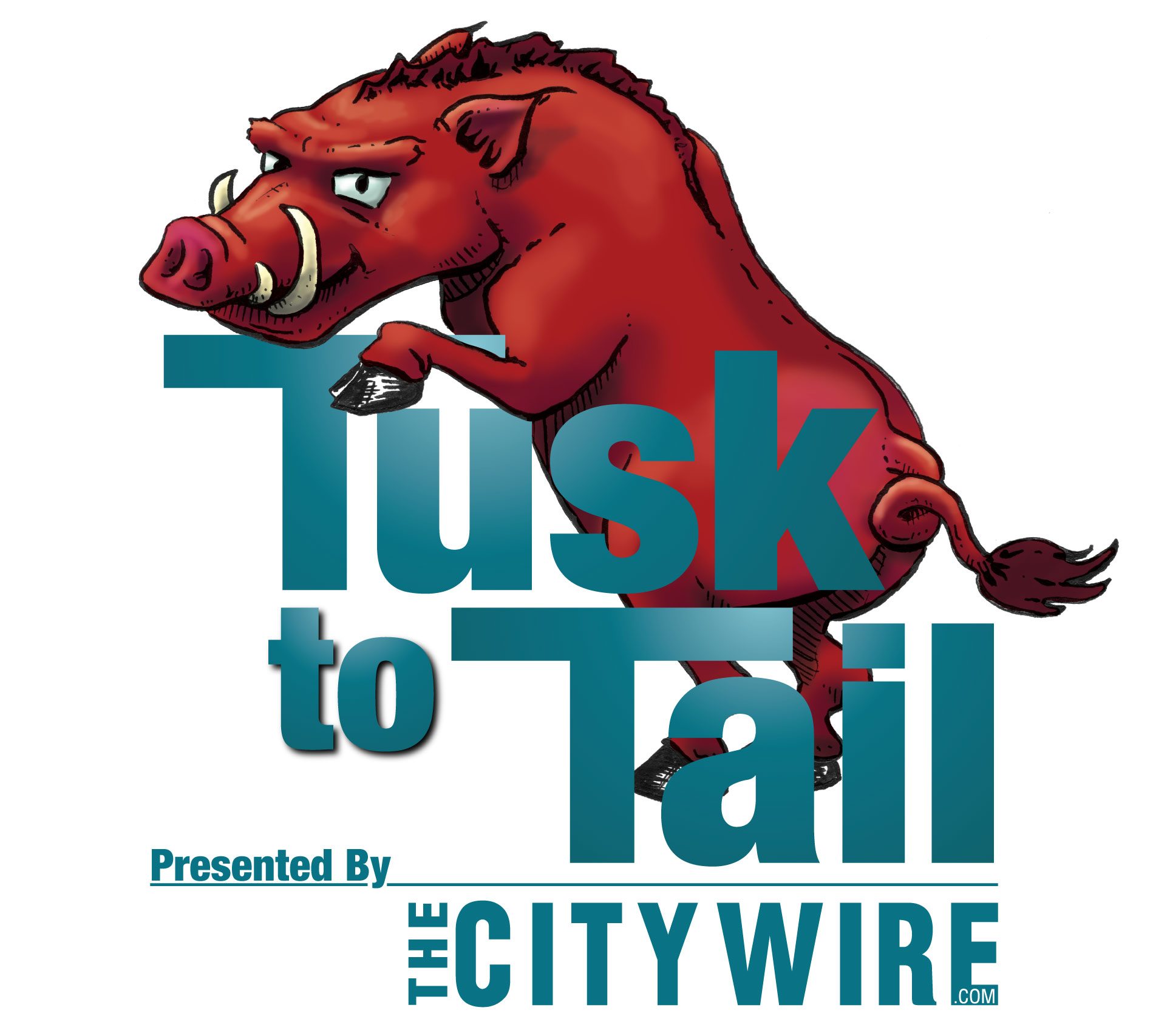 The brains of the outfit, Coach Bret Bielema, is on record for saying "I hate Auburn," and has insinuated that Tigers coach Gus Malzahn's up-tempo spread offense can literally kill. Bielema even added he's not "breaking bread" with Malzahn, presumably quite the insult considering the volume of bread and other edibles broken by the Head Hog.
On top of all that, Arkansas was sitting on a 2-4 record, disappointing even to a fan base that has faced its share of disappointment lately. A loss Saturday would effectively end all but the most optimistic dreams of postseason play. So it was little wonder that the stadium's collective sphincter was starting to tighten.
Auburn's defense, coordinated by failed Florida coach Will Muschamp, crowded into the box to prevent a short run. Walker ran Allen's misdirection pitch around the box for the score. Allen followed that by firing a laser to tight end Jeremy Sprinkle for the tie, and he wasn't finished yet. The very next play was a 25-yard catch and run by Drew Morgan for the go-ahead touchdown followed by a 2-point pass to Walker to give the Razorbacks an 8-point lead.
The crowd's tightness and tension gave way to joy and relief, a raucous roar not heard here since the convincing wins over LSU and Ole Miss last year. My sister Lynn King kissed her husband Edward after every Arkansas score. With 100 total points on the board, they were practically in need of a room. And when the Razorback secondary needed to step up, safety Josh Liddell delivered, batting away Sean White's 4th down pass to Ricardo Lewis to end the game.
Team photographer and Tusk to Tailgater Walt Beazley captured a shot of Allen as the deflected ball was still rolling on the ground. The passion and exhilaration exuding from Allen's face are what you want from a leader. It's what is required of an Arkansas quarterback.  The Razorbacks' accompanying social media post said, "In the 4th quarter & 4 OTs, Brandon Allen was 10-14 for 102 yards, 2 TDs & had a 1st down running & receiving." When it mattered most, Brandon Allen was indeed "clutch."
What mattered most upon the joyous outcome was getting back to the tent for another drink. Following four hours of back-and-forth football, some of Tusk to Tail were starting to realize what the Hogs might look like sober. When I got back to the Big Top, shots of Fireball were lined up for all non-drivers upon the return of Dale and Kara Cullins. The Godfather of Tailgating Craig May was already in front of the TV watching Tennessee-Alabama. May had a head start after a nearby fan attempted to debate him essentially over who loved Arkansas more. Seeing the guy's shirt said "Bitch, I'm a Razorback", May conceded the round, and chose to watch the conclusion elsewhere.
Greg Houser never left the tailgate. Through adoption, Greg and his wife Deborah seem to have more children every time I see them. Greg comes to our 50-person party for peace and quiet. If that means hauling, loading, and unloading a trailer full of party supplies, then keeping an eye on it all while everyone else goes inside for the game, that is a price he's willing to pay. Houser was joined by longtime friend Sam Atkinson. Sam has been laid up with a knee injury, so getting out of the house for a day-long tailgate was just what the doctor ordered, assuming his doctor is a beer drinking Hog fan. Sam's pending surgery may keep him sidelined for the rest of the season, so we were glad he made it out.
Jack Clark arrived early for set-up, but had little time for postgame revelry. Clark owns a home on the coast of Nayarit, Mexico, about 120 miles north of Puerto Vallarta. Though reports indicated his home and the area withstood most of the wind damage of Hurricane Patricia, the entire town was under two feet of water. Concerned for his friends and neighbors, Jack is flying down to offer relief this week.
Relief can mean many things. For a large part of a less developed country, it means help rebuilding what was lost. For fans of Razorback football, it means a renewed optimism for success in this season's stretch run. There are more wins out there, and we intend to get them.
The Arkansas Razorbacks are clutch.
---
---
---